Thailand's military summoned rival political groups for talks Wednesday aimed at diffusing the country's political crisis, as martial law remained in effect following what one rights group said was "effectively a coup."
Army chief General Prayuth Chan-ocha held a meeting of party leaders, Election Commission members and senators to a meeting one day after his surprise dawn declaration of martial law.
The talks ended without a resolution, but will reconvene on Thursday "to find a solution for the country," Puchong Nutrawong, secretary-general of the Election Commission, told Reuters.
The United States "remains very concerned" by Thailand's political crisis, White House spokesman Jay Carney told reporters late Tuesday, urging "all parties to respect democratic principles."
Fourteen television channels were ordered to stop broadcasting after Tuesday's declaration, but the interim government said it was still in charge and echoed the Army's denials that there had been a coup.
Thailand has seen at least 18 actual or attempted coups since 1932, when the country became a constitutional monarchy.
Prayuth said the caretaker government remained in charge and that martial law was aimed at restoring order and forcing all sides into talks to find a solution.
Anti-government protesters – "yellow shirts" - disrupted a February election that was later annulled. They have said they will do the same for any re-run held before electoral changes designed to reduce the influence of ousted former premier Thaksin Shinawatra.
Acting Prime Minister Niwatthamrong Boonsongphaisan, who took over when Thaksin's sister, Yingluck Shinawatra, was forced to step down as premier by a court two weeks ago, proposed that a fresh election should be held on August 3.
Twenty-eight people have been killed and 700 injured since this latest chapter in a near-decade-long power struggle between Thaksin and the royalist establishment flared up late last year.
On paper, the military now has draconian powers of arrest and control over the media and public gatherings – but so far the most visible outcome has been a plethora of social media images from people posing on the streets with soldiers.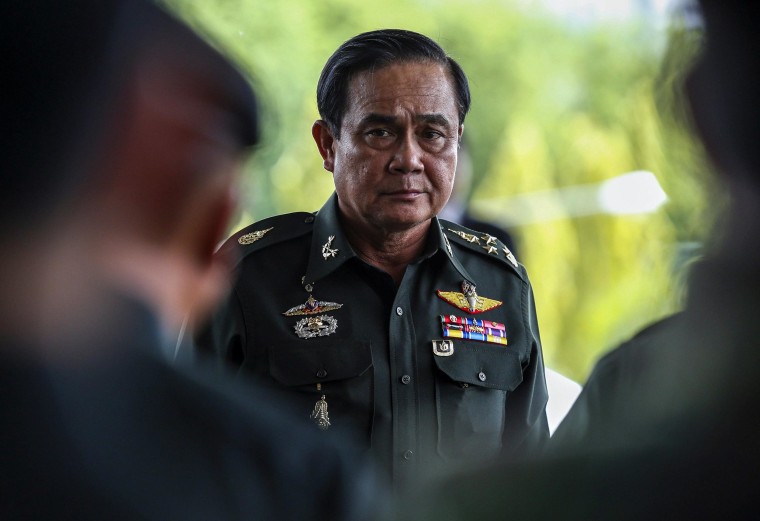 Yellow shirts and rival pro-government red shirts remained out in force in the capital Bangkok on Wednesday, but in separate locations.
"With martial law in place, we believe violence could be contained," Pimpaka Nichgaroon, head of research at Thanachart Securities, wrote in a note, according to Reuters. Pimpaka said the main question was whether an interim government came about through a coup or through a resolution by the upper house Senate, Thailand's only functioning legislature. "Any kind of interim government would be a better scenario for Thailand than the current political deadlock with a non-functional caretaker government."
New York-based Human Rights Watch said Tuesday's declaration of martial law was "effectively a coup that threatens the human rights of all Thais" and urged the U.S. to "call for the immediate restoration of civilian rule and an end to censorship."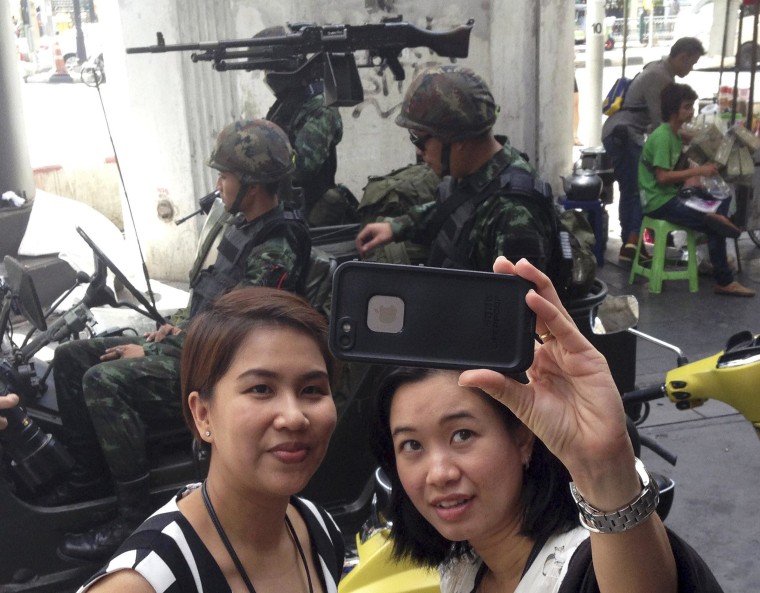 "The military's effective seizure of power and imposition of martial law across the country puts the rights of all Thais in jeopardy," said Brad Adams, HRW's Asia director. "Military spokesmen have denied their intervention is a coup, but what else can one call a situation where the army chief has completely seized power from a civilian administration?"
Pentagon spokesman Rear Admiral John Kirby said the U.S. was "watching the situation very closely."
"We expect that the Thai Army will be true to its word when it says that this is not a coup and this is just a temporary injunction," he said. "It's important for everybody to respect the democratic principles there."