LONDON — To some, Thomas Harvey may have come across as macho. But for those who knew him best, it was his quirks and idiosyncrasies that stood out.
Like the fact that he used to build miniature trucks or liked electronic music, as well as reggae. Or else, it was that time he turned up to a party wearing a kilt.
"I'd never ever in my lifetime seen a black man wear a kilt to a party," his sister, Sonia, told NBC News by phone. "When I saw him, I said, 'Bloody hell, it could only be Tommy.'"
That was the thing about Harvey. He could light up a room.
Always the first up dancing and cracking jokes. And in quieter moments, the person to whom his family felt they could turn — a ready ear for whoever might need it.
On March 29, Harvey, 57, a health care assistant at Goodmayes Hospital in London, died at home after having suffered from coronavirus-related symptoms for 18 days. He left behind his wife, Marcia, a care worker at a home for the elderly, and seven children, ages 11 to 32.
Harvey's family said they called the emergency services three times over the course of his worsening illness, but he was never taken to a hospital or officially tested despite being told by paramedics that he likely had the disease.
As he neared the end, his 19-year-old daughter, Tamira, said she could hear him downstairs, from her bedroom upstairs, as he struggled to breathe. On the day he died, his family had to kick, punch and stab their way through the door of the bathroom where he had collapsed.
Behind the news last month that British Prime Minister Boris Johnson was released from a London hospital where he was treated for coronavirus — and where, he says, his time in intensive care saved his life — are the stories of those who didn't make it.
Some say their loved ones died because the country wasn't locked down soon enough, which allowed the infection to spread more widely — the decision on timing having been made by Johnson's government.
From a lack of testing to shortages of personal protective equipment (PPE) for health care workers, Harvey's daughter, like thousands of others bereaved by the coronavirus, said her family was frustrated by the British government's apparent lack of preparedness.
As of Thursday 901,905 tests for coronavirus have been carried out in the U.K., according to U.K. government figures, with 171,253 people found positive.
Britain's government pledged to undertake 100,000 tests per day by the end of April but it was touch and go Friday whether the target would be met. The government has come under criticism for a slow and patchy rollout of tests, citing huge international demand for materials such as swabs and chemical reagents.
"Given that finite capacity, we've had to prioritize," the health minister, Matt Hancock, said in a report published in April. "My overriding goal is to protect life and I stand by that decision."
Download the NBC News app for breaking news and politics
Currently, tests are mostly being given to hospitalized patients suspected of having the virus, as well as front-line health and social care workers and their families and other essential workers, according to the government.
As of Thursday 48 regional testing sites, 21 satellite testing sites and 50 mobile testing units were also in operation across the country. But thousands of ordinary people with corona-like symptoms are frustrated at not being able to establish definitively whether or not they carry the virus.
A month after his death, Harvey's family had yet to receive his death certificate, however, Tamira said the coroner had told the family he had died of COVID-19.
This week, the government announced a scheme to financially compensate families of those who die from the coronavirus in the course of front-line work, with each to receive a payment of around 60,000 pounds ($74,600).
So far 85 NHS staff and 23 care worker deaths have been reported in England, as of Wednesday, according to the government, which this week said the country had overcome the peak of the crisis.
"Nothing can make up for the tragic loss of a loved one during this pandemic. We owe a huge debt to those who die in service to our nation and are doing everything we can to protect them," Hancock said in a statement.
The grim U.K. coronavirus death toll breached 26,700 people Thursday. Figures included for the first time this week those who died while hospitalized and elsewhere such as in nursing homes.
The latest figures make Britain's death toll among the highest in Europe.
Other European capitals are beginning to ease social restrictions, with countries such as Germany thought to owe a relatively low death toll to massive national testing programs.
Those perhaps most at risk in Britain, as elsewhere, are front-line workers.
In the weeks before his death, Tamira said, Harvey was concerned about the quality of his PPE at the hospital where he worked, in the northeast of the city.
"He more so expressed that to my mother, so that we wouldn't worry," Tamira said referring to herself and her siblings. "But he did just say that everything was sort of flimsy and not intact, low-quality plastic aprons. … Everything just wasn't up to standard in a sense."
A spokesperson for the North East London NHS Foundation Trust, which runs the hospital where Harvey worked, said it was following national PPE guidelines and that at the time he went off sick, there were no symptomatic patients in the ward.
"Thomas was a longstanding dedicated member of our intermediate care team. This is a huge loss to both NELFT and the wider NHS," the trust's chief executive, Oliver Shanley, said in a statement, referring to Britain's beloved National Health Service.
Tamira said her family was frustrated with the government for not being prepared and not having enough protective equipment for those on the front line.
"We're not only pushing for our dad but we're pushing for everybody else who is still on the front line, and essential workers within society," she said.
The apparent lack of protective equipment has also become a source of concern for the public, with the British Medical Association, which represents doctors, warning last month that NHS staff had reported "dangerously low levels" of PPE, putting medics and patients increasingly in harm's way. Meanwhile, some hospital workers protested Tuesday against inadequate PPE supplies.
A spokesperson for Britain's Department of Health and Social care told NBC News it was "working around the clock" to support health and social care workers with the equipment they needed to tackle the virus. Last week, it also announced a plan to widen testing to include the families of essential workers in England, who are showing coronavirus symptoms.
"Since the start of the outbreak, we've delivered over 1 billion pieces of PPE to the frontline and have published clear guidance setting out the safest levels of PPE to protect healthcare workers in different settings, in line with WHO advice," a spokesperson for the department said by email, referring to the World Health Organization.
"We are working hard to increase testing capacity and have now tested over 170,000 essential workers or members of their household."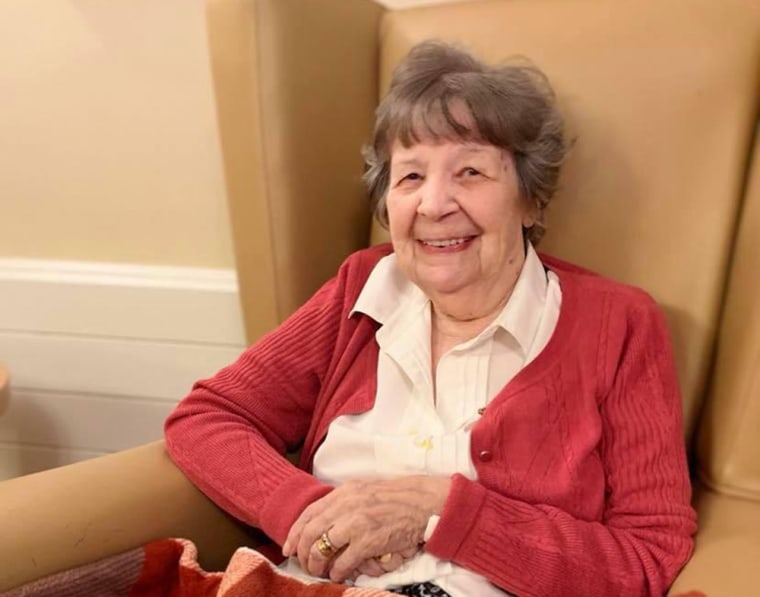 Away from hospitals, Britain's nursing homes have long felt underfunded and overlooked; and the pandemic appears to have only exacerbated this sense of neglect.
"I am bitter," said Elys Poppy, who lost her 96-year-old grandmother, Barbara Wells, to suspected coronavirus on April 13. "I think the elderly are taking the brunt force and my personal opinion would be that, yeah, the government thinks that's fine."
Her grandmother was one of 17 residents of the Stanley Park Care Home in northeast England to die after displaying symptoms of the virus since the outbreak began, making it one of the worst-affected care facilities in the country.
Few residents have been officially tested for the virus, according to the care home, leaving grieving families with unanswered questions. The government has recently promised to test social care workers and residents in care homes, whether or not they show symptoms of COVID-19.
"It's absolutely crazy. No one could get tested," Poppy said. "In fact, Grandma still hasn't been tested. On her death certificate is 'suspected Covid-19' because the government aren't doing anything with them — they are forgotten."
Poppy's anger is not directed at the staff, whom she hails as "angels" for the love they showed her grandmother in her final hours, but rather at the Conservative lawmakers whom she accuses of abandoning the vulnerable residents and those — often on the lowest wages — who look after them.
"They are completely second class as far as the government is concerned," she said, criticizing the lack of PPE offered to front-line carers.
"The NHS workers, they're getting a lot of press at the moment and that's excellent and I'm chuffed to bits for them. But what the government have to realize is that care workers are equally as important. I'm sure they feel second class, but not in my eyes."
Other families bereaved by COVID-19 also feel frustrated at both the governmental and the public response to the pandemic.
Neil Hames' 75-year-old father, Walter, known as Wally, died of the coronavirus March 22 in a hospital in Birmingham, one of the U.K.'s largest cities.
Watching his father from a distance rushed into an ambulance, struggling to breathe, Hames didn't know it would be the last time he'd ever see him.
Hames, 48, said he was angry at the "slow" implementation of lockdown measures by the government and at those still recklessly defying the bans.
"This virus doesn't transport itself," he said. "It's moved by people, and these people are making horrendous decisions to go and socialize."
He said that while he had been a Johnson supporter, he now believed the government had wasted critical time in shutting down the country.
"If we went into lockdown quickly, people didn't need to die," he said as he cried on the phone. "I do think the government got this wrong and it probably has cost my dad his life."
Hames said he hoped Johnson's personal battle with the virus would "open his eyes" to the urgency of getting the right equipment, from ventilators to masks, to those who need it the most.
Meanwhile, questions about whether his father would have survived had he been taken to the hospital sooner play on his mind.
Following national guidelines, Walter Hames called emergency health hotlines on multiple occasions, his son said, each time being advised to stay home and told he would not be tested, as the tests were primarily reserved for those admitted to hospital.
After several days, his breathing deteriorated and he was rushed to the emergency room, dying two hours after arrival — and one day before his wife's birthday.
NHS England said they could not comment but a spokesperson for the West Midlands Ambulance Service said the trust had launched an investigation into the circumstances surrounding the care provided to him.
"We would like to pass on our deepest condolences to his family at such a sad time," the service added.
Hames attended his father's funeral, with only six people allowed. He traveled in a car separate from his mother and sister, and they were forced to stand apart at the cremation — in keeping with social distancing rules to limit the transmission of the virus.
"I can't even give my mum a hug. I have to stand and keep my distance," Hames said the day before the funeral. "It's the most horrendous of situations."
The niggling question — 'what if' — is familiar to Harvey's daughter, Tamira, as well.
She said part of her felt that the National Health Service — the organization under whose umbrella her father worked for 20 years — had let him down to some extent.
"I understand the workload they're currently facing, but in a sense, I feel his death could have been prevented," she said.
The first time paramedics came to the house March 22, Tamira said, they diagnosed her father with the virus but did not test him and told the family to self-isolate at home.
The second time the family called, on March 26, she said they were told to follow guidelines on the health service website.
The third time they called March 29, the paramedics who arrived and tried to save her father's life instead pronounced him dead.
The London Ambulance Service confirmed they had sent a crew to an address in Shoreditch on March 22 and then again March 29, the latter in response to reports that the same patient was in cardiac arrest.
They said they did not have a record of another call, on March 26, but were checking other triaging systems to try and track it.
"Sadly, despite the best efforts of our staff, the patient died at the scene," a spokesperson for the service said of the March 29 call.
"One of the paramedics came upstairs and I remember the exact words, I'll never forget," Tamira recalled.
"He said, 'the virus has got him and we're going to have to stop.'"