BEIJING — The Chinese New Year began with the traditional lighting of firecrackers on Friday, but the country's military has been working on incendiaries on an entirely different scale.
Over the past year, the nation that invented gunpowder has been rolling out an array of high-tech weapons that some experts say could threaten the global superiority of the United States.
"The U.S. no longer possesses clear military-technical dominance, and China is rapidly emerging as a would-be superpower in science and technology," said Elsa B. Kania, an adjunct fellow at the Center for a New American Security, a Washington think tank.
The Chinese People's Liberation Army "might even cut ahead of the U.S. in new frontiers of military power," she added.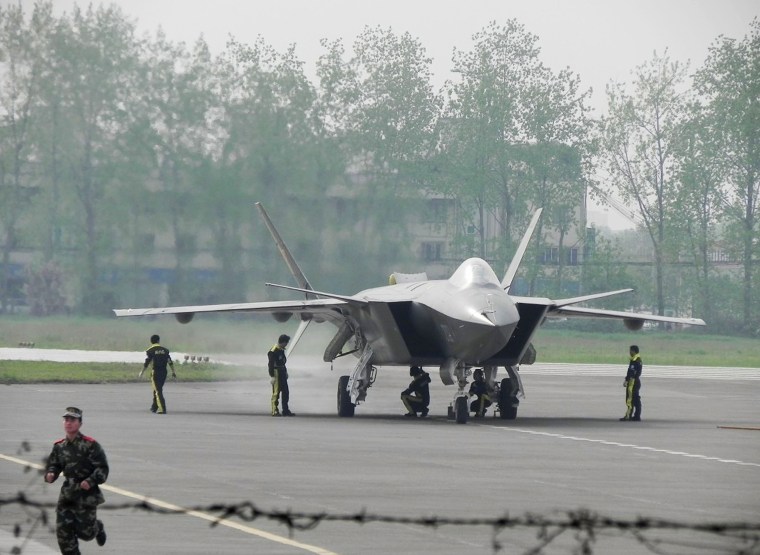 Despite the recent sharp rhetoric from President Donald Trump, analysts say an open conflict between Beijing and Washing is unlikely. Others dismiss the idea that China might soon outpace the U.S. in military power.
"There is serious self-congratulation and boastfulness about China's real military ability," according to Wu Ge, a military analyst and columnist for China's liberal-leaning Southern Weekly newspaper.
Still, it is clear that significant milestones have been reached by a country that, alongside Russia, is categorized in Trump's national security strategy as a "revisionist power" — a nation seeking to redefine the world along values contrary to America's.
Here are five of China's most eye-grabbing innovations:
1. An electromagnetic railgun
Earlier this month, pictures emerged showing what some experts believed was an electromagnetic railgun mounted on a ship. A Chinese military analyst, Cheng Shuoren, was quoted by the state media as saying it was an engineering feat of "epoch-making significance."
Instead of explosives, railguns use powerful electromagnets to fire projectiles as far as 100 nautical miles (115 miles) at seven times the speed of sound. This dwarfs the range and speed of conventional guns, whose ammunition can travel only 10 to 20 nautical miles.
That allows a railgun to attack ships, aircraft and land targets with the range and accuracy normally expected from missiles.
The U.S. has tested similar technology but never at sea. If confirmed, the Chinese variant would be the first time such a weapon had been deployed on water.
2. High-tech warships
A potential flashpoint between China and the U.S. lies in the South China Sea. A web of overlapping territorial claims in the energy-rich region has not stopped Beijing from building military facilities on small islands and reefs.
This has coincided with China making serious upgrades to its naval ability. Last summer, it launched its most modern military vessel, the Type 055.
The 12,000-ton stealth guided-missile destroyer, given the code name "Renhai" by NATO, is expected to go into full service this year. It has been built for anti-aircraft, anti-missile, anti-ship and anti-submarine warfare and is expected to play an instrumental role in China's future aircraft-carrier battle formations.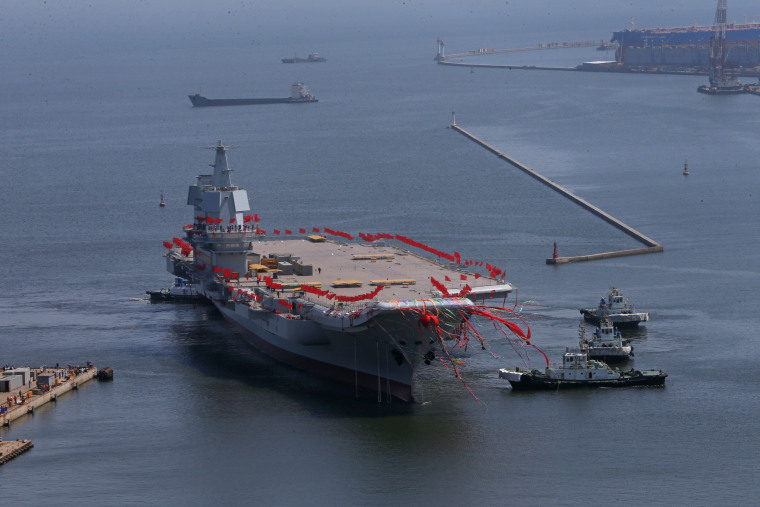 It follows the launch last year of China's second aircraft carrier, Type 001A. This 65,000-ton vessel is a domestically produced variant of its first carrier, the Liaoning, a retrofitted Soviet model built in 1985. The Type 001A can host 35 aircraft compared to only 24 on the Liaoning, and could enter service by the end of the year according to some analysts.
China is now working on a third carrier, an 80,000-ton vessel dubbed Type 002, that will be able to host more than 40 aircraft and is expected to feature an advanced catapult that can launch heavier jets more quickly.
Some local experts predict China's strategy of regional strength means it will eventually need four to five carrier battle groups, smaller than the U.S. global strategy that requires 10 to 11 groups.
"China's naval modernization covers all areas of the fleet, and the speed and scale of it is impressive," the International Institute for Strategic Studies, a London-based think tank, noted in July.
3. Familiar fighter jets
China last week announced that the Chengdu J-20, its first homemade stealth jet dubbed Black Eagle, had entered combat service, breaking the stealth fighter monopoly of the U.S. and its allies in the Asia-Pacific region.
An answer to America's F-22 and F-35, the J-20 is a fifth-generation fighter that can engage targets 120 miles away and deliver precision strikes.
But the similarities between the Chinese aircraft and its American counterparts may not be coincidental. U.S. officials have accused the Chinese military of hacking into their computer systems and stealing information relating to their cutting-edge equipment.
Some experts say that the striking similarities are clear evidence that this stolen know-how has allowed Beijing to play catch-up.
Undeterred, China is now developing its second stealth fighter, the Shenyang J-31 Falcon, which experts say could eventually be deployed on China's aircraft carriers and compete in the global export market.
Boosting the Chinese Air Force further was the recent successful flight of the world's largest amphibious aircraft, the AG600 Kunlong, which was designed for maritime rescue but, with a range of 2,800 miles, can play a potentially important role in the South China Sea.
China is also improving its Y-20, the world's largest military transporter currently in production, by replacing its Russian engines with ones produced at home. With a cargo capacity of 70 tons, it could serve as a carrier of China's air-launched rocket system.
4. A hypersonic glide vehicle
China carried out the first tests in November of a "hypersonic glide vehicle" named the DF-17, according to The Diplomat, an online magazine covering the Asia-Pacific region.
This medium-range weapon differs from a regular ballistic missile by gliding back to Earth on a slower, flatter trajectory that evades the gaze of radar-enabled U.S. missile defenses.
Neither the U.S. nor Russia are believed to have test-flown this type of technology but both are developing it.
Once deployed, the DF-17 could supplement the DF-21D, a medium-range ballistic missile known as China's "carrier killer."
Last year, China also brought into service its latest generation of intercontinental ballistic missile, the DF-41, which can carry 10 maneuverable warheads and has a range of 7,500 to 9,300 miles. That capability puts the entire U.S. within range.
5. Artificial Intelligence
Chinese researchers have revealed plans to upgrade the country's nuclear submarines with artificial intelligence, signaling efforts to tap into military uses for AI.
China unveiled an ambitious plan in July to "lead the world" in this field, with a goal of creating a $150-billion AI industry by 2030.
In the same month, swarm intelligence — the coordinated deployment of autonomous machines — was demonstrated when a state-owned company successfully launched 119 drones that performed formations in the sky.
For the Chinese People's Liberation Army, said Kania of the Center for a New American Security, effective military applications of artificial intelligence will include cyber and electronic warfare as well as "swarms of drones that might be used to target high-value U.S. weapons platforms, such as aircraft carriers."
She added that China's armed forces could also use AI to help them make better decisions on the battlefield.