BANNU, Pakistan — Dr. Sameena Khan lays her hand on a new mother's forehead in the Bakakhel Temporarily Displaced Persons Women's Hospital, comforting her and occasionally shooing away flies and wasps that buzz through the wards.
"Childbirth in this camp is becoming common. This is not right — this was supposed to be temporary," Khan said, bemoaning the fate of women like her latest patient, forced to live in this army-made tent city housing 26,000.
"Can you imagine being protected and shrouded your whole life, and then being displaced, and then living in a tent for years?" she said. "With scorpions below, helicopters above and not enough water and food? With your relatives not around ... with your children not playing out in their gardens but inside a military fence?"
"That's the Waziristani woman in a displaced people's camp," she added.
Khan is among an estimated 1 million civilians from a conservative region in northwest Pakistan who have been forced from their homes by a massive anti-insurgent operation launched in mid-June. And it is women and girls like Khan and her patients who pay a disproportionate price for the region's long war on terror.
"Their rapes don't matter. And their babies don't matter. And their lives don't matter."
"The situation of women in the camps presents a grave problem because they lack the survival tools to navigate basic service provision," according to Rafia Zakaria, who has written about the conflict's effect of the local population for rights group Amnesty International. "Many have never seen money before and lack the basic mathematics skills to do simple transactions. They don't fit in because they don't belong."
Taken out of their village environment and dropped into a camp full of strangers makes women and girls extremely vulnerable. That's because the vast majority of North Waziristan's women live according to unwritten codes of behavior that restrict them from leaving their homes, and being seen or even heard in public. This makes them and their experiences invisible both at home and in the camps, Zakaria said.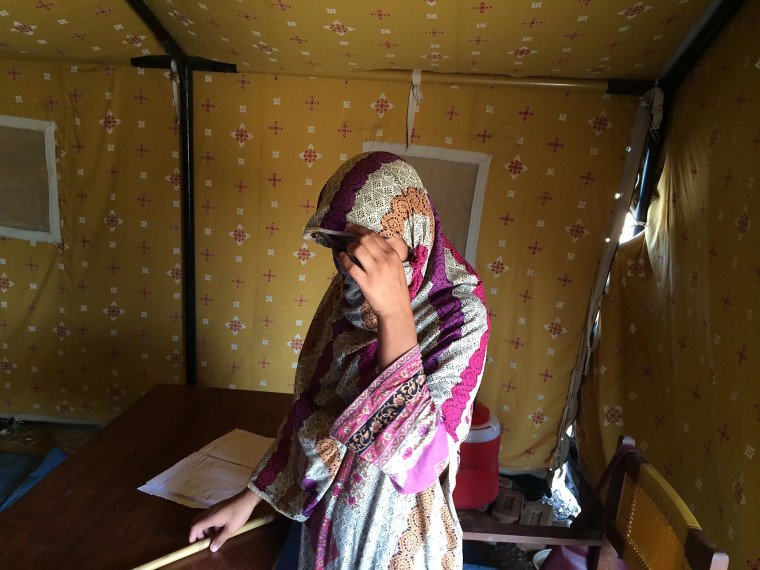 "They've been deemed to be completely irrelevant to the war," she said. "That affects the public debate, but as well as their personal lives. And so their rapes don't matter. And their babies don't matter. And their lives don't matter."
This grim existence, in camps where women are forced to remain in crowded, hot tents, comes after years of trauma in a war zone that has been targeted by U.S. drones from the sky and now by Pakistani forces on the ground.
Even before the latest bout of fighting began, females in the region had it hard. An estimated 600 out of 100,000 die while giving birth, according to the local government - far above the national average of 170. Meanwhile, most lack basic skills necessary to make a life outside the home. Nationwide only 32 percent of women learn how to read and write. That falls to a shocking three percent in the tribal region.
'Forever war'
Dozens of young girls loudly recite their ABCs while sitting of the floor of a canvas tent in Bakakhel Camp. Their teacher, 18-year-old Zainab, pines to return home to Mir Ali, the second-largest town of North Waziristan, which now stands "decimated, evacuated, but minus militants," according to a Pakistani military officer who spoke to NBC News on condition of anonymity.
"I don't care if this this a fair war or an unfair war," said Zainab, who covered her face as she spoke because even talking to journalists is a breach of cultural norms. The army has told her that she, her family and students will be in Bakakhel camp for the next three to five years.
"Yes, there were bad things going on in my town. There were terrible people there," said Zainab, referring to the local and foreign militant groups that essentially ran Mir Ali before it was taken by the army. "But it was my home. This camp is not. And I want to go home, whether it was a good place, or not."
It is unclear whether she will ever return home. The military officer said it was "too premature to give a hard return date" for Zainab and thousands of others like her displaced by the war.
The campaign was meant to be a "clean sweep against militancy," he said, adding that it would come at a cost: "It can become a forever war."