SANTA MARIA, Brazil — Pablo Bizzi Mahmud might have died in the fire that tore through Kiss nightclub on Sunday morning, but the 20-year-old chose not to go. It turned out to be a fateful decision: 10 of his friends were among the 234 who died as flames and smoke engulfed the club before dawn.  
When asked if any of his friends survived that night he said no. "They were all killed," he said as he walked through the streets of his hometown, Santa Maria.
Mahmud's closest friend made it out but then went back in to help. He lost his life trying to rescue others. Another friend was taken to the hospital with serious injuries. He also perished.
Mahmud has never protested before but on Tuesday he led a march of around 1,000 people through Santa Maria to the mayor's office.
"Justice!" the protesters chanted in Portuguese.
"Police, government, give us justice!" Mahmud shouted to the crowd through a megaphone, his determination driven by his duty to the friends he lost.
Many on the march were friends of the the mostly young people who died in the blaze.
Barbara Henriquez, 28, and Natalia Isaia, 30, knew five who died. They said they had many questions and few answers.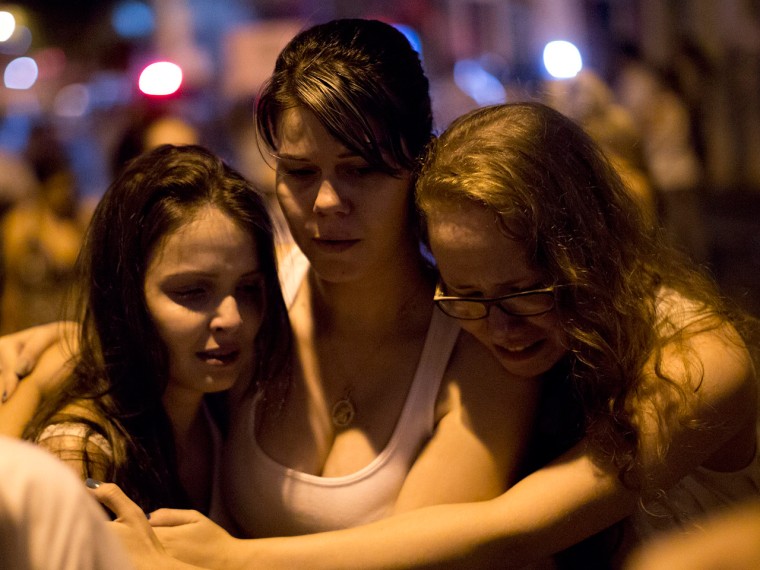 "Brazil doesn't do anything about it," said protester Mariana Barros, 22. "It takes a long time to do anything. We can't wait 10 years — we need it now."
According to local fire chief Moises Fuchs, it's the laws that need to change, and fast. Brazil is hosting both the World Cup soccer tournament next year and the 2016 Olympics.
"We need stronger reforms on our safety regulations," Fuchs said. 
Questions for investigators include why there was no sprinkler system, no fire alarm and only one way out.
Police now believe a flare used during a live music performance inside the club was intended for outdoor use only and may have started the blaze. It is also feared that toxins in the smoke included cyanide and dioxin, making it all the more deadly.
These are all issues the young people of Santa Maria want addressed.
As the march slowed, Mahmud handed the megaphone to another protester and listened. Overwhelmed, he buried his face in the shoulder of a friend.
"I have a Facebook message from one of my friends who was there," Mahmud said. "He is saying let's go to Carnival this year."
Related:
Brazil club blaze survivor: 'An angel saved my life'
Brazil nightclub fire survivor: 'I felt her heart stop beating'
'Doomed to repeat history': Painful memories for survivors of '03 Rhode Island nightclub fire