LONDON — Women carrying lacy underwear took to the streets across Ireland this week after a man was acquitted of rape in a trial that featured a 17-year-old's thong as a line of defense.
The demonstrations organized under the hashtags #ThisIsNotConsent and #EndVictimBlaming were launched after the 27-year-old was found not guilty on Nov. 6.
"Does the evidence out-rule the possibility that she was attracted to the defendant and was open to meeting someone and being with someone?" defense attorney Elizabeth O'Connell asked jurors in the southern city of Cork, according to the Irish Examiner. "You have to look at the way she was dressed. She was wearing a thong with a lace front."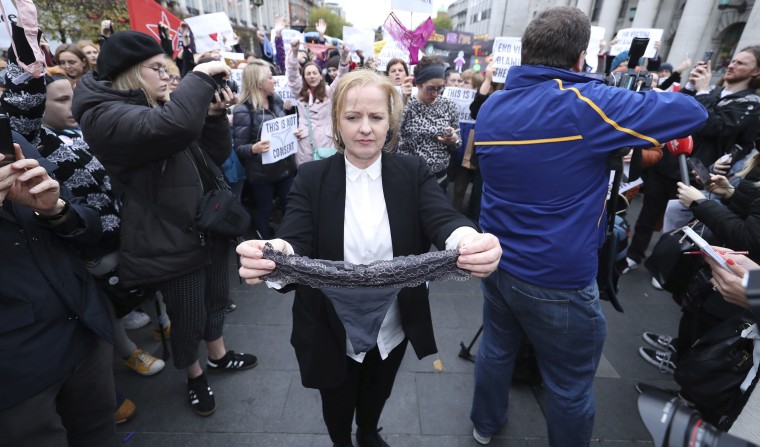 Protests were held in Dublin, Limerick and Cork Wednesday, and another was slated for the city of Waterford on Friday.
On Tuesday, lawmaker Ruth Coppinger held up a blue lacy thong in Ireland's parliament, known as the Dáil, to protest the government's inaction over the issue of sexual consent.
"It might seem embarrassing to show a pair of thongs here in this incongruous setting of the Dáil," she told fellow lawmakers. "But the reason I'm doing it is, how do you think a rape victim or a woman feels at the incongruous setting of her underwear being shown in court."
Coppinger later tweeted that in Ireland victims can have their underwear passed around as evidence in court, and called on people to join the protests.
Pictures of the protests in Cork posted on social media showed a sea of lacy thongs draped along the steps of the courthouse as activists held placards in protest against victim blaming.
One sign read: "Why does the Irish court have their knickers in a twist over ours?"
In video of the Dublin protests, women's rights activist Rita Harrold told crowds that using a teenager's underwear as an indication of her intentions was "despicable."
"This culture that tells us we have to keep ourselves safe, we have to wear conservative clothes, we can't go to certain places is a culture that tolerates rape and blames victims," she said. "We won't take it anymore."
As Irish women and men took to the streets, social media users across the world posted pictures of their underwear under the hashtag #ThisIsNotConsent. Several said they were doing so in solidarity with their Irish sisters.
The protests over the court's handling of the case follows the acquittal of two high-profile Irish rugby players who were accused of rape in Northern Ireland earlier this year.
In the trial — which captivated populations on both sides of the Irish border and triggered large and angry demonstrations — the complainant's underwear was shown to the court and explicit text messages were used as part of the evidence.