As many as 5,000 people were being evacuated Wednesday from the French town of Vitrolles to escape one of several wildfires blazing across southern France, authorities told NBC News.
French Interior Minister Barnard Cazeneuve told reporters that 1,800 firefighters were battling multiple fires. Four firefighters were injured, three of them seriously, by one of the fires, in the nearby Herault region, he said.
The fires started in Rognac, north of Vitrolles, authorities said, adding that the cause remained unknown.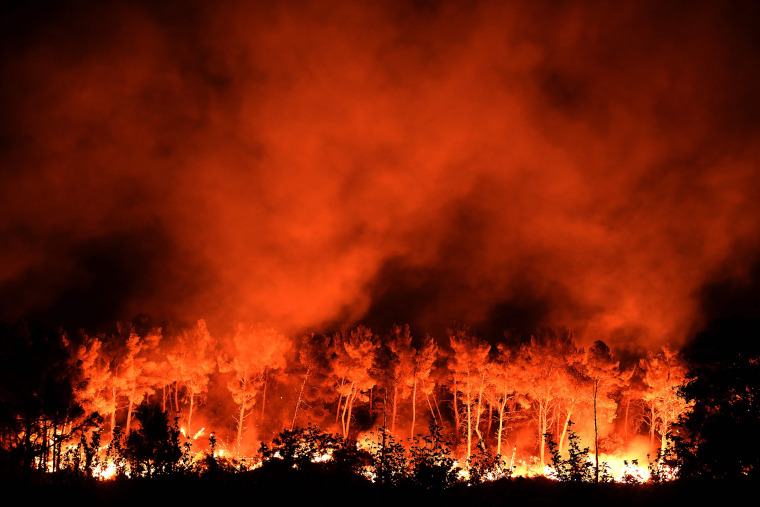 Two people were reported injured, one of them seriously, as the fire in Vitrolles moved toward Marseille, about 15 miles south. Firefighters told The Associated Press that 20 to 25 homes were burned.
The evacuations Wednesday represent almost 15 percent of the population of Vitrolles. Marseille Provence Airport was closed for a period, but it had reopened Wednesday night.
Vitrolles officials told NBC News that more residents were likely to be evacuated as fire crews ramped up efforts to keep the flames out of Marseille, the third-largest city in France and capital of the Provence-Alpes-Côte d'Azur region.
Deputy Mayor Julien Ruas said that firewalls had been set up on the corridor leading toward the city but that if the fire passed those, "it will move toward the northern neighborhoods of Marseille."
"The fire is progressing. It's progressing fast," he said on BFM-TV.
Related: Wildfires in Portugal's Madeira Kill Three as 1,000 Evacuated
The Associated Press reported that the most dangerous fire was burning around Fos-Sur-Mer, 25 miles northwest of Marseille, which is home to a large vast industrial zone where oil and petrochemicals are stocked. Thick, ochre-colored smoke could be seen from Marseille, it reported.