EASTERN GHOUTA, Syria — Thousands of Syrian civilians fled from a rebel pocket in eastern Ghouta on Thursday, crossing by foot to army positions in the first mass exodus from the besieged enclave since Syrian government forces launched an assault to capture it a month ago.
Men, women and children staggered under the weight of blankets, bags and suitcases as they walked along a dirt road to army lines on the outskirts of Hammouriyeh town. Some wept.
One man carried a baby in a suitcase, the child's head and arms peaking out through the zipper.
"We had been trapped in the basements and did not dare come out, in the cellars and tunnels," a man who left the rebel pocket to government territory told Reuters on the outskirts of Hammouriyeh. "We could not do anything.... There was no food."
"There was no water, no electricity, no education for the children," said another man from Hammouriyeh, Amer al-Shourbaji.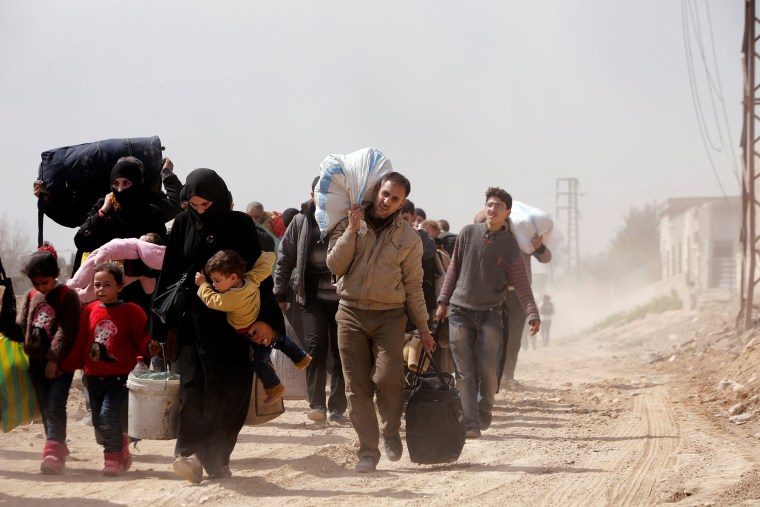 The exodus could prove a key moment in eastern Ghouta, one of the seven-year-old war's biggest battles, in which the fate of civilians trapped in the siege zone has been central.
The United Nations has estimated 400,000 people had been under siege in eastern Ghouta, the last large rebel bastion near the capital Damascus, with little access to food or medicine.
The government and its Russian allies have been pounding the area with air strikes since mid-February and launched a ground assault that has seized much of the territory since last week, cutting towns off from each other.
Fighting has raged on there despite a U.N. Security Council demand for a ceasefire. Moscow and Damascus argue the enemies they target are members of terrorist groups unprotected by the truce. They say rebels are preventing civilians from escaping.
The rebels deny this and say most residents are now fleeing because of the government's bombs falling on Ghouta.
The UK-based Syrian Observatory for Human Rights, which monitors the conflict, said at least 12,500 people left towards government territory.
Earlier this week, small groups of sick and wounded people were evacuated from another zone further north, around the town of Douma, under a deal between the Jaish al-Islam rebel faction and Russia. There has so far been no mass exodus from there.
The International Committee of the Red Cross (ICRC) said 25 aid trucks entered that besieged pocket and headed to Douma, eastern Ghouta's biggest town.
The army's month-long onslaught of air and artillery strikes on eastern Ghouta has killed more than 1,100 people and injured thousands more, the United Nations says.
The Syrian government and its key ally Moscow say their forces only target armed militants. They have said they seek to end the rule of Islamist insurgents over civilians and stop mortar fire on Damascus.