SEOUL, South Korea — Tens of thousands of North Koreans marched in anti-U.S. rallies over the weekend, pledging "merciless" revenge against "U.S. imperialists," as the country marked the 73rd anniversary of the start of the Korean War, state media said Monday.
More than 120,000 people participated in Sunday's mass rallies in the nation's capital, North Korea's official Korean Central News Agency said.
While the 1950-53 conflict was triggered by a North Korean surprise attack, the demonstrators mobilized in Pyongyang promoted their government's version of events and accused the United States of provoking the war and leaving Koreans with "wounds ... that can never be healed."
Meanwhile in South Korea, a North Korean defector-turned-activist said he flew balloons carrying some 200,000 anti-Pyongyang propaganda leaflets and COVID-19 medical supplies across the border Sunday night, continuing his yearslong campaigns that have often triggered angry responses from the North.
At the rallies Sunday, North Koreans also expressed pride in Kim's expanding nuclear weapons and missile programs, insisting their country now has the "strongest absolute weapon to punish the U.S. imperialists and the war deterrence for self-defense which no enemy dare provoke."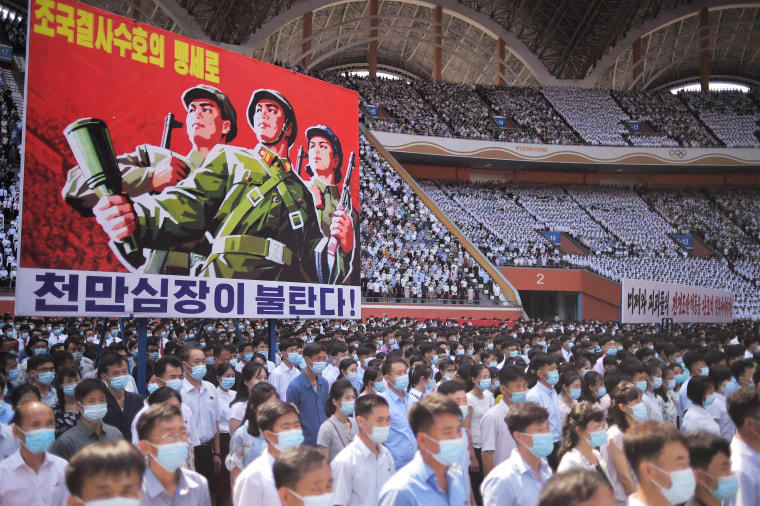 Photos published by the North's Rodong Sinmun newspaper showed a stadium packed with likely tens of thousands of people in COVID-19 masks, raising their fists in the air and holding signs that read: "Let's eradicate U.S. imperialist invaders" and "The entire U.S. mainland is within our striking range."
The rallies came amid heightened tensions in the region, as the pace of North Korean weapons demonstrations and the United States' joint military exercises with South Korea have both intensified in a cycle of tit-for-tat.
In their latest telephone discussion over North Korea, the U.S. and South Korean nuclear envoys accused Pyongyang of distorting history by repeating old claims that the United States caused the Korean War, South Korea's Foreign Ministry said.
The South Korean official, Kim Gunn, and President Joe Biden's special representative for North Korea, Sung Kim, also noted how Pyongyang in likewise manner was blaming Washington and its Asian allies for recent tensions triggered by its intensified weapons tests and verbal threats of nuclear conflict. They vowed tighter diplomatic and security cooperation between Washington, Seoul and Tokyo to cope with the threat, the South Korean ministry said.
Since the start of 2022, North Korea has test-fired around 100 missiles of various ranges as Kim attempts to display a dual ability to conduct nuclear strikes on both the U.S. mainland and South Korea. The North is also speeding up efforts to launch its first military reconnaissance satellite into orbit, following a failed first attempt in May.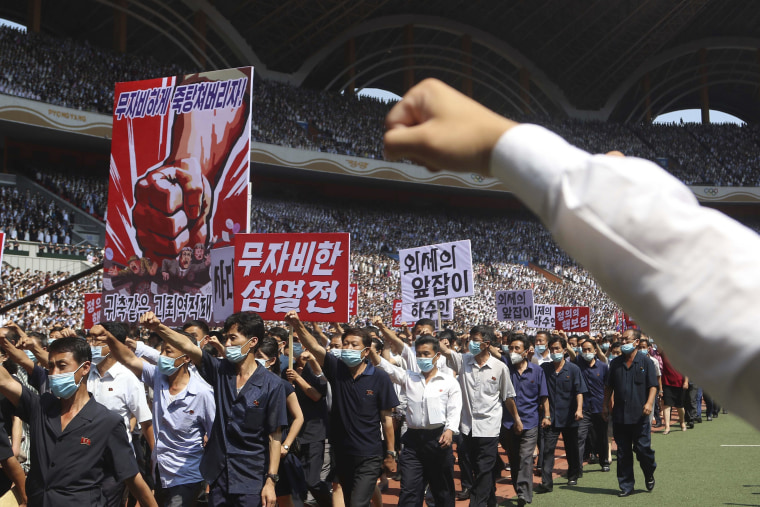 There are signs that North Korea is planning a huge military parade in Pyongyang where it would likely showcase its new military hardware.
Recent commercial satellite images have shown troop and vehicle movements and the building of structures suggestive of preparations for a parade, likely for the July 27 anniversary of the Korean War armistice agreement.
Lee Sung Joon, a spokesperson for South Korea's Joint Chiefs of Staff, said during a briefing that the South's military was closely analyzing the North's presumed parade preparations but did not provide specific details.
At a military parade in February, Kim and his daughter took center stage and his military rolled out what appeared to be a new solid-fuel intercontinental ballistic missile, which was likely the same system the country flight-tested for the first time in April. If perfected, the weapon would give Kim a more mobile and harder-to-detect weapon to target the continental United States.