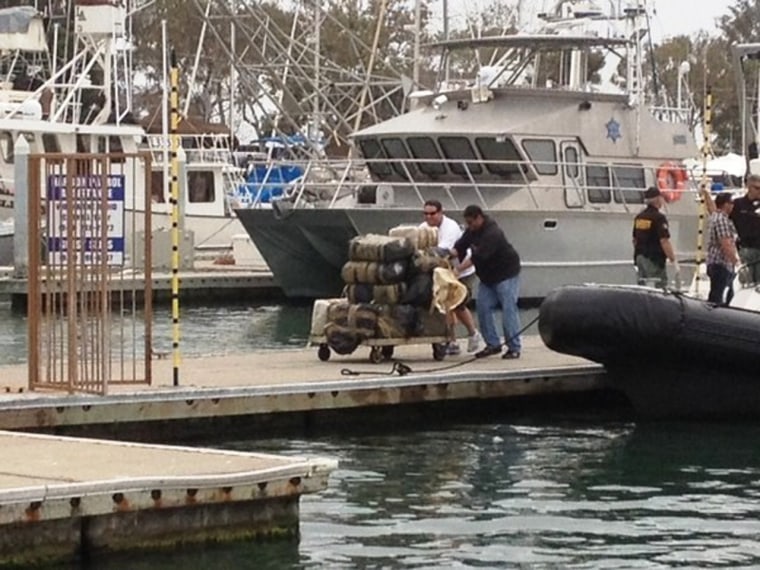 Harbor Patrol officers found nearly 8,000 pounds worth of marijuana floating off the coast of Orange County, Calif., on Sunday, according to reports.
The marijuana found south of Los Angeles was packed in around 160 bales and had an estimated street value of $3.6 million, border patrol agents told CBS Los Angeles.
"Shortly before noon on Sunday, May 20, maritime law enforcement authorities received a tip about suspicious bales floating in the water off the coast of Orange County, near Dana Point," border patrol agent supervisor Michael Jimenez said in a statement.
The haul reportedly totaled 7,263 pounds.
Marijuana grows openly in California towns, not just for medicinal purposes
Coast guard petty officer Seth Johnson told the Orange County Register that the bales were first reported by a boater who saw them floating around 15 miles offshore.
Three Harbor Patrol ships and a Coast Guard cutter were sent to recover the marijuana from the water.
The incident was out of the ordinary, Jimenez told the Register.
Report: Marijuana use grows, cocaine falls among men arrested in 10 US cities
"At other events, they've dumped the bales to get rid of weight if they're being chased," he said. "Generally in these cases we're aware they're being dumped. What's more unusual is that the bales were floating with no boat in sight."
No suspects or vessel have been identified in connection to an ongoing investigation, the Register reported.
More content from msnbc.com and NBC News: