More than 500,000 people swarmed the streets of Barcelona Saturday to proclaim "We are not afraid" after last week's terrorist attack that killed 15 people and injured more than 100 others.
The massive anti-violence march was led by first responders to both of the attacks in Spain's cultural center and the nearby coastal town of Cambrils.
In first for the country's monarch, Spain's King Felipe also joined the demonstration, marching alongside Prime Minister Mariano Rajoy and other government officials.
Behind him, a sea of demonstrators waved signs with the Catalan slogan "No Tinc Por" — "I am not afraid"— while volunteers handed out red, yellow and orange roses to match the colors of the city's seal.
Barcelona Mayor Ada Colau called for people to "overflow" the streets of the city to show that Barcelonan's are "brave" and "diverse" in the face of violence.
Related: Wife of American killed in Spain Attack Lost 'Love of My Life'
The ISIS group claimed the attacks in Barcelona and Cambrils that used vehicles and knives in what was Spain's deadliest terrorist attack in more than a decade. Eight suspects are dead, two are jailed under preliminary charges and two more remain under investigation.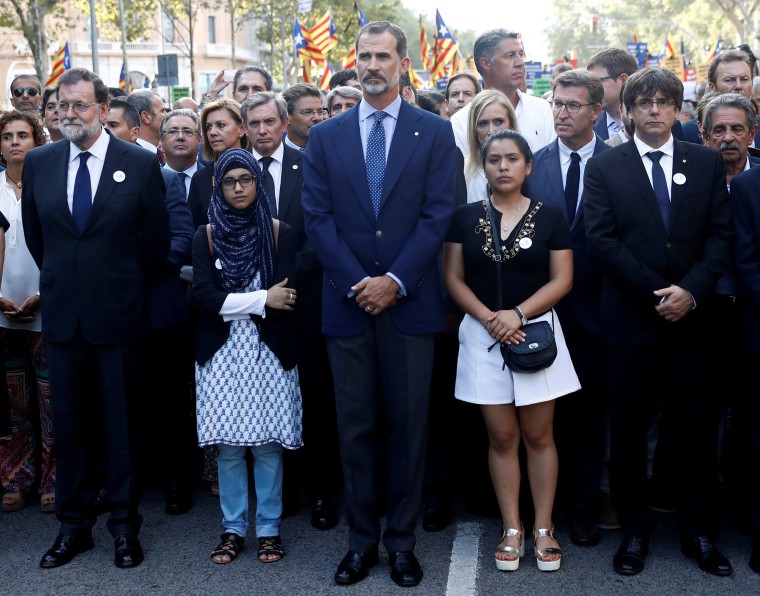 Medical authorities said Saturday that 22 of the more than 120 wounded in the Aug. 17 to 18 attacks are still being treated in hospitals. Six of them remain in critical condition.
At the end of the march Saturday, famed Catalan actress Rosa Maria Sarda and Muslim activist Miriam Hatibi read a poem from a stage in the city's main central square.
"We are not afraid because the behavior of our fellow citizens has shown a society of solidarity," Sarda said.
Hatibi responded: "We are not afraid because we know that love triumphs over hatred."