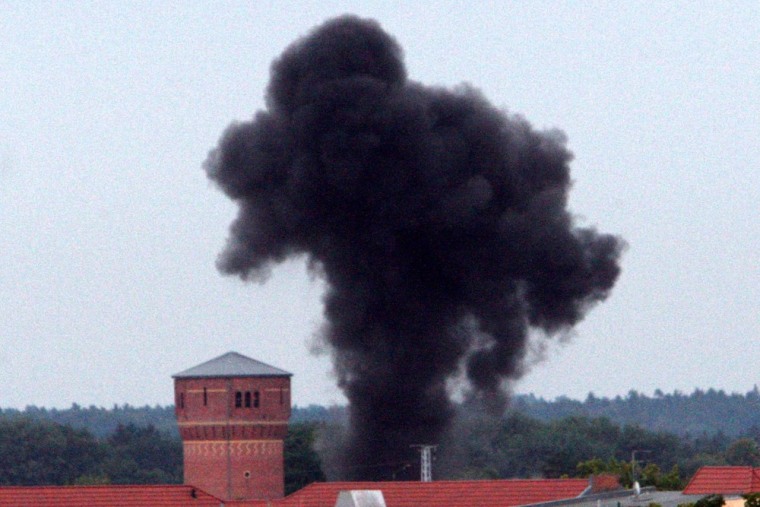 MAINZ, Germany -- Another bomb scare hit Germany Thursday with the discovery of two unexploded devices dropped by U.S. forces during World War II.
Bomb-disposal experts have begun to disarm a 550-pound bomb in the city of Oranienburg, near Berlin, formerly part of East Germany. Later in the day, a controlled explosion of a second bomb was carried out near the city's main train station.
Thursday's bombs will be number 137 and 138 in a long list of unexploded ordinances that have been found since officials started searching for them in 1990, shortly after the fall of the Berlin Wall. According to local media reports, more than 22,000 bombs were dropped on Oranienburg by allied forces at the end of the war.
Such incidents are routine for the bomb experts in Brandenburg state.
But, after a large controlled explosion of a bomb in the city center of Munich on Tuesday caused a bright fireball, smashed shop windows and set nearby buildings alight, media attention and public interest are higher than usual.
PhotoBlog: Controlled explosion of WWII bomb ignites Munich fires
Two days after they were evacuated from their homes, many residents in the southern German city still cannot return as at least 16 buildings are at risk to collapse and need to be inspected by local engineers.
'Difficult situation'
Meanwhile, a debate about compensation for the damages has started.
In the aftermath of the supposedly controlled explosion in Munich, the situation was tense in Oranienburg.
"This is an exceptional and difficult situation," city spokesman Bjoern Luettmann told NBC News.
"The many undetonated bombs are a burden for the city and its residents, especially on days like this," Luettmann added.
Nearly 6,000 residents were due to be evacuated Thursday. Public transportation has come to a near standstill and the majority of train connections in and out of Oranienburg have been cancelled.
"The explosive devices in Oranienburg are a ticking time bomb because many were equipped with so called long-period delay detonators," Luettmann said.
"These are detonators that do not trigger an explosion upon impact to the ground and those that did not explode at all can go off at any time now," he added.
Designed to 'create chaos'
The delayed-action bombs were designed to explode between 2 and 150 hours after impact.
"They were designed to create chaos on enemy territory," Luettmann said.
Oranienburg is the only city in Germany that has been systematically searching for unexploded World War II bombs, mostly with the help of old aerial photos that were released by Britain and the United States in the 1990s.
Unexploded WWII bomb disrupts Amsterdam Schiphol airport
During World War II, Allied forces suspected there was a nuclear bomb research site in Oranienburg. The city also hosted an aircraft factory and had other strategically important manufacturing facilities.
Several years ago, the local state had a professional assessment done that offered short- and long-term plans on handling the threat. Officials stated in their report that an unusually high number -- more than 4,000 -- of the delay-action bombs were dropped on Oranienburg.
While the detonators are decaying underground, the explosives within – mostly TNT -- are not. Several construction workers in Germany have been injured or killed in the past when their heavy maintenance vehicles accidentally ran over such bombs.
"We wish that we could get more financial support from the German government, the search and subsequent measures are costly," Luettmann said.
City officials say that on average nearly 3 million euros -- the equivalent of $5 million -- are spent on the search for explosive devices.
More world stories from NBC News: