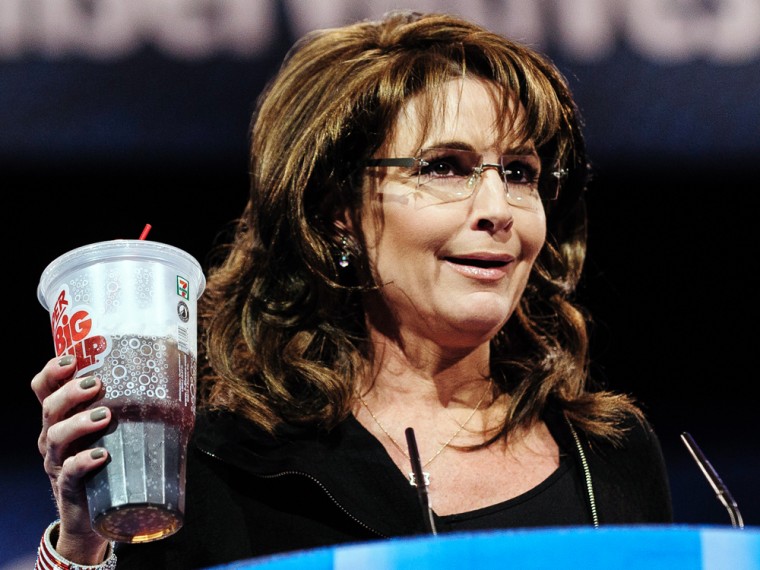 Their guy lost badly in 2012. They're not quite sure whom they want to pick up the pieces. But this weekend, the thousands of activists gathered on the shores of the Potomac outside Washington had an overarching message for the Republican Party's political class: Butt out.
At the Conservative Political Action Conference this weekend, the stars were Marco Rubio and Rand Paul -- both men who won their elections even though the GOP establishment didn't think they could.
Sarah Palin, the fiery former vice presidential nominee who some blame for John McCain's 2008 loss, brought down the house when she took a 7-Eleven Big Gulp onstage in protest of the New York mayor's ban on large sodas. That came after the laughter and cheers for her statements in opposition to gun control -- she declared that she and her husband have a deal: "He's got the rifle, I've got the rack," she said.
After three days, dozens of speakers, over a hundred hours of panel discussions, and a strong straw poll showing from a guy who didn't even get invited, here are eight takeaways from CPAC.
2016: It's on
Call it the parade of presidential prospects, marching by nearly four years out from the 2016 election. With Paul, Rubio, Jeb Bush, Paul Ryan, Scott Walker, Bobby Jindal, and more all in attendance, the list of potential contenders goes on and on. (Bush and Walker have pointedly left the door open to presidential bids, with both refusing to rule it out.)
And almost all delivered speeches with an eye toward positioning themselves as the person best suited to lead the party to victory in 2016.
Related: With eye on 2016, Walker rouses CPAC crowd
"The GOP of old has grown stale and moss-covered," Paul declared to cheers during the conference's first day. "In America, we believe in the people and not in the government," said Walker, the Wisconsin governor. 
For the first time in a generation, the party has no frontrunner
For cycle after cycle, the Republican Party has been rewarding the next-guy-in-line with their presidential nomination -- but this time, it's all a jumble.
Romney was waiting in 2012 after he lost in 2008 to John McCain, who had been waiting since he lost to George W. Bush in 2000.
Bush, Bob Dole, George H.W. Bush, even Ronald Reagan, were all the next guy up. Now, there's no clear heir to the GOP throne. Many of CPAC's old guard -- Romney, Palin, Newt Gingrich, Rick Santorum -- don't hold elective office.
Among the new -- Rubio, Paul, Walker, Jeb Bush -- there's no clear favorite.
It leaves a wide-open -- and crowded -- GOP primary field. 
Gay marriage isn't the wedge issue it used to be
In 2011, opposition to same sex marriage was front and center at CPAC -- the opening day featured a panel on "traditional marriage" on the main stage. Not this year.
While the conservative Republican group GOProud was relegated to a small room on the sidelines of the conference, the group's evening panel -- at the invitation of a different conservative group -- was packed.
There were still plenty of older attendees who defended traditional marriage, but many of the younger ones had a different take.
"I'm of the prospect that government should not be involved in marriage, and that should not be an issue if people of the same-sex want to get married, they should be able to do so," said Mike Fox, a 23-year-old student at Northeastern University who came to Maryland for the conference.  
The other two legs of the GOP stool are also wobbly
President Ronald Reagan famously defined the Republican coalition as a three-legged stool of social, economic and foreign policy conservatives.
Gay marriage moving to the back burner takes one animating issue from social conservatives. And now there's confusion on the other two fronts, too.
Paul's stand against drone strikes and his call for a more isolationist foreign policy separates him from Republicans like McCain -- who labeled Paul a "wacko bird" when he took his anti-drone politics to the Senate floor.
The GOP's also divided on the sequester, with some warning that the cuts are terrible for defense and some looking the other way.
Conservatives are hanging more tightly together on economic policy, but they're still divided on what specific policies to push.
Risk proposing cuts in Medicare and Social Security? Threaten to shut down the Department of Education at a time when many Republicans identify student learning as a top priority?
And earlier this year, they lost the argument on taxes to President Obama. 
Politicians who want immigration reform are still afraid of the Right
Rubio is supposed to be the Republican champion for immigration reform -- a Cuban-American who ran as a Tea Party conservative. But he didn't even mention it from the stage at CPAC.
Contrast that with the right wing talk radio blitz Rubio launched after he announced that he was supporting a bipartisan immigration reform framework in the Senate.
Back then -- just months ago -- he even argued with Rush Limbaugh about how good it would be for the country.
But at CPAC, other speakers largely followed his lead in ommitting immigration talk. The cheers from the crowd came instead for lines like this, from Ann Coulter: "If amnesty goes through, the country will turn into California and Republicans will never win again."
When she questioned why Rubio was supporting immigration reform, someone in the audience yelled: "Traitor!" 
No one really argued conservatives need a fundamental change in attitude — except Jeb Bush
Conference speakers railed against the consultants -- "the Republican consulting class is just plain wrong," said Newt Gingrich.
They insisted new thinking isn't needed -- "We don't need a new idea. There is an idea. The idea is called America, and it still works," said Rubio.
And while Paul labeled the party "stale and moss-covered," his pitch wasn't aimed at widening its appeal to new voters -- but rather embracing libertarian values.
Almost completely missing from CPAC was the demographic handwringing that has consumed Republican Party leaders since Romney lost badly to Obama in the general election.
Instead, they were angry and defiant, with Rep. Allen West labeling such sentiment "malarkey" and Sarah Palin declaring: "We're not here to dedicate ourselves to new talking points coming from D.C."
Bush was an exception. "We're associated with being anti-everything," he said in a speech on Friday. "Way too many people believe that Republicans are anti-immigrant, anti-woman, anti-science, anti-gay, anti-worker. Many voters are simply unwilling to choose our candidates because those voters feel unloved, unwanted, and unwelcome in our party." 
CPAC stands with Rand
This year, CPAC stands with Rand Paul. The libertarian senator brought down the house on Thursday -- his speech drew cheers almost as loud as Palin's rousing address -- and his filibuster was constantly cited as an example of the kind of courage the new GOP needs.
"Stand with Rand" stickers were all over the lapels of college kids' blazers -- and by Saturday, the similarly designed posters were scarce on the ground and became a hot commodity.
He follows in his father's footsteps; former Rep. Ron Paul won the straw poll here in 2010 and 2011. The elder Paul's ardent supporters famously organized to win the straw polls, believing they would help give him national attention -- and some of that infrastructure helped his son out in 2013.
Chris Christie won by not showing up
The bombastic New Jersey governor was barely mentioned by speakers, but his presence loomed over the conference.
His specific non-invitation just drove headlines before CPAC. In the halls and ballrooms, everyone was talking about him.
"I was fundraising for him just last Thursday," said Walker, who shook his head in disbelief when asked about CPAC's decision not to invite the popular Christie.
The snub made CPAC seem at odds with the GOP push to build a bigger tent if the party's to win elections in blue states and nationwide.
And anyway, Christie didn't need to take the train down from Trenton for the cattle call to get noticed here -- he came in fourth in the straw poll, ahead of all the speakers except Paul, Rubio and Santorum.