MEXICO CITY — Three men dressed as mariachi musicians were being sought Saturday by authorities after gunmen with rifles and pistols killed four people and injured at least nine in a downtown tourist plaza.
After years of keeping a lid on the worst violent crime that has plagued Mexico, its capital has seen homicides surge since 2014 to record levels, presenting a major challenge to an incoming city government that has vowed a clean-up.
In a statement, police said the victims in Friday's shootings were killed at an intersection on the edge of Plaza Garibaldi, a major tourist destination packed with mariachi bars, just as the capital was kicking off independence day weekend celebrations.
Mexico City prosecutors' office said at least one foreigner was among those wounded.
The victims had been at a restaurant when the shooting started around 10 p.m., local media reported, adding that forensic officials had counted more than 60 bullet cases at the scene.
"People were screaming and running," said a disabled woman who sells cigarettes in Garibaldi, shortly after hearing what she thought were fireworks. She declined to be identified.
The identities of the dead were not immediately clear, but the Milenio newspaper said they were men. Another newspaper said two of the injured were women.
Four of the injured were hurt as the gunmen fled, Mexico City police chief Raymundo Collins told reporters.
"Nothing like this has ever happened before," said Samuel, a man who added that he had worked for 30 years around the square in one of the world's biggest, most populous cities. He declined to give his last name.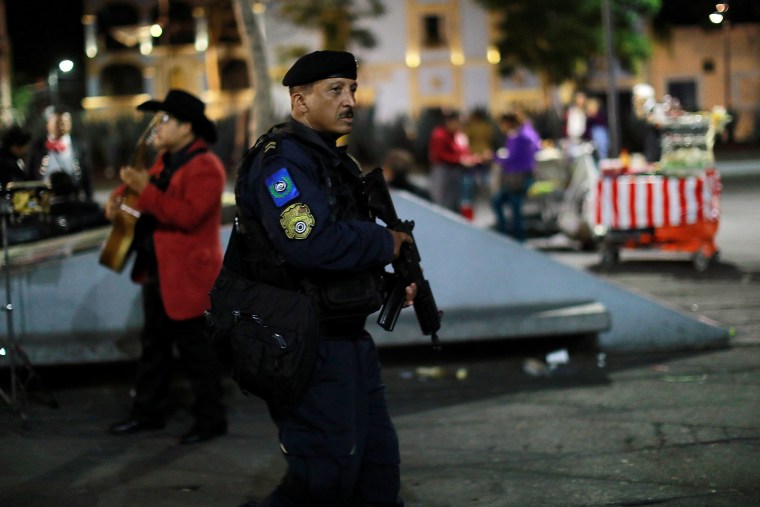 Videos on social media and television showed a heavy police presence, with the attack site cordoned off and yellow markers where the bullet casings fell, but dozens of people continued to drink and listen to live music nearby.
Police blame much of the capital's crime on retail drug dealing and protection rackets run by violent gangs, though the government says at least one of these has links to a major national trafficking group, the Jalisco New Generation Cartel.
Plaza Garibaldi borders one of Mexico City's most notorious neighborhoods, Tepito, home to La Union gang police say is behind a spurt in drug-dealing and protection rackets.
In August, police arrested the presumed leader of the gang, Roberto Moyado Esparza "El Betito". Since then, the Tepito neighborhood has suffered a wave of violence, including several killings.
Garibaldi, on the edge of the touristy, colonial historic center of Mexico City, is known for seedy strip clubs and dive bars, aside from mariachis.
In 2013, U.S. civil rights leader Malcolm X's grandson, Malcolm Shabazz, was beaten to death near the square after a dispute over a nightclub bill.