Three alleged Russian gang members were killed in a shootout at a Moscow regional court on Tuesday after at least one of them overpowered a guard and took the officer's weapon, according to an official cited by state-run media.
The deadly incident occurred at around 1:50 p.m. local time (5:50 a.m. ET) at a regional court after five handcuffed members of a group the media has dubbed the "the Grand Theft Auto gang" were being transported in an elevator with two armed guards, Russian Investigative Committee spokeswoman Svetlana Petrenko told the TASS news agency.
"One of the five attacked a guard and began to choke him. In the melee, the defendants managed to break free and stole the officer's weapons. Meanwhile, the second guard managed to call for backup," Petrenko told the news agency.
When the elevator reached the third floor security officers were waiting and three of the defendants were killed in a shootout, Petrenko told TASS. Two other of the suspects were wounded, and a Russian National Guard officer was wounded in the shoulder, Petrenko said according to TASS.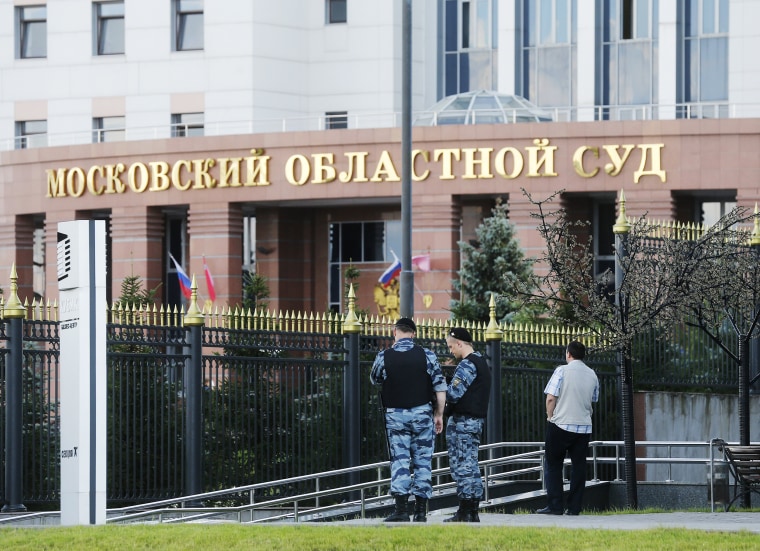 The suspects involved were not identified in the TASS or other media reports. A total of three police and National guard officers were injured, and the two wounded defendants had "gunshot wounds of medium degree of gravity," a spokesman for Russia's Ministry of Health told TASS.
Prosecutors said the gang, named by the media as "the Grand Theft Auto gang" due to similarities with the video game, involved 14 men who were placing spikes on roads, forcing the motorists out of their vehicles and shooting them dead, according to the Associated Press.
The suspected ringleader, a native of Uzbekistan, was killed in a gunbattle with the police who came to arrest him in 2014. His brother was among the defendants killed in Tuesday's gunbattle, the AP reported.
Nine suspected members of the gang have been on trial since last summer, and prosecutors have asked for life sentences. Another four are still at large.
The nine people charged are accused of killing 17 people, TASS reported. The killings happened in the Moscow and Kaluga regions between 2012 and 2014, according to the news agency.