Three UCLA men's basketball players were arrested on suspicion of shoplifting while on a tour of China, local police said Wednesday.
Freshmen LiAngelo Ball, Cody Riley and Jalen Hill were detained at the team's hotel in Hangzhou, about 100 miles southwest of Shanghai, on Tuesday according to ESPN, which broke the story.
Ball is the younger brother of NBA rookie Lonzo Ball of the Los Angeles Lakers, and the son of LaVar Ball, outspoken former player and founder of sportswear company Big Baller Brand.
The arrests came a day ahead of President Donald Trump's arrival in China on a visit, where he is expected to meet President Xi Jinping.
A spokeswoman for the police bureau of Hangzhou told NBC News that three players were being detained and would be released or charged within 48 hours of their arrest. ESPN reported the players were released on police bail.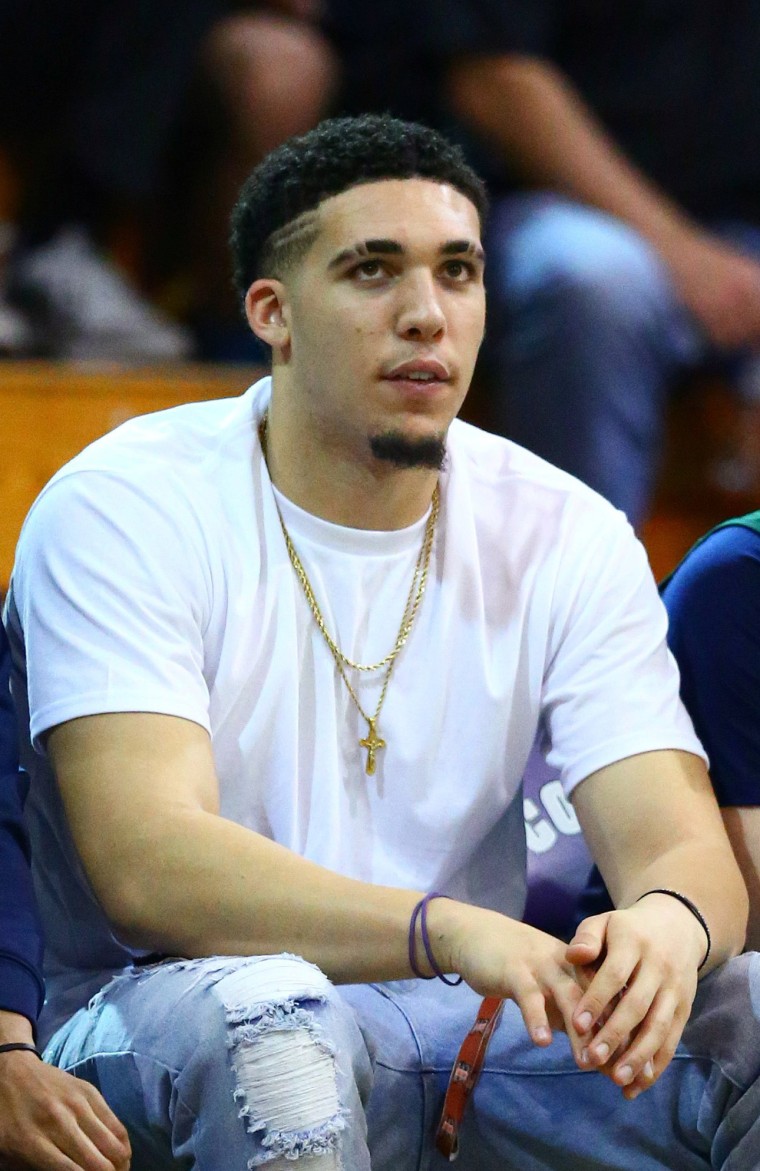 The UCLA team is in China for a season-opening game against Georgia Tech as part of the Pac-12 college sports conference.
LaVar Ball, who is also in China for the Nov. 10 opening of a pop-up store in Shanghai, and for his upcoming Facebook Watch reality show "Ball in the Family," gave few details to reporters about his son's arrest.
"He'll be fine," Ball told ESPN. "Everyone's making it a big deal. It ain't that big a deal."
A spokesman for the Hangzhou Hyatt said the players were arrested at the hotel and were still registered as guests Wednesday.
Larry Scott, commissioner of the Pac-12, expressed disappointment at the arrests. "Yesterday in Hangzhou, China, UCLA student-athletes were involved in a situation, and UCLA is cooperating fully with local authorities," he said in a statement.
"We are very disappointed by any situation that detracts from the positive student-athlete educational and cultural experience that this week is about. Whether in the United States or abroad, we expect student-athletes to uphold the highest standards."
UCLA Athletics said in a statement: "We are aware of a situation involving UCLA student-athletes in Hangzhou, China. The University is cooperating fully with local authorities on this matter, and we have no further comment at this time."
The State Department said it was "ready to provide appropriate consular assistance for U.S. citizens," but declined to comment further "due to privacy considerations."
Georgia Tech Athletics said in a statement that some of its players, who were staying at the same hotel, had also been questioned.
"During the questioning, it was determined that Georgia Tech student-athletes were not involved in the activities being investigated," the statement said. "They have resumed their scheduled activities in advance of Saturday's season opener versus UCLA in Shanghai."