BEIJING – A heavy security presence and the memory of a bloody military crackdown 25 years ago today did little to halt the thousands of tourists who rushed into Tiananmen Square in China's capital on Wednesday.
All this week, police-manned checkpoints and armed paramilitary patrols on foot and in open jeeps have canvassed a 3 mile radius around Tiananmen Square. Inside and immediately outside Tiananmen, plain-clothed police and other security forces formed an imposing cordon that was quietly supplemented by heavy anti-riot equipment staged on the side streets off the square.
On the street where the Supreme Court and the Beijing Police Museum are located, armored vehicles installed with plows, water cannons and firing slots were lined up in case of emergency.
However, on Tiananmen square itself, it was business as usual as thousands of tourists flocked to see one of China's most iconic sites. Long lines awaited them though. At one entrance to the square, there was a 45 minute wait just to get to the security check, where some disappointed tourists soon found out that for today at least, a valid national ID or passport was required to enter.
When asked by those agitated local tourists why today of all days they needed identification to enter, police only shrugged and asked them to please not hold up the lines by arguing.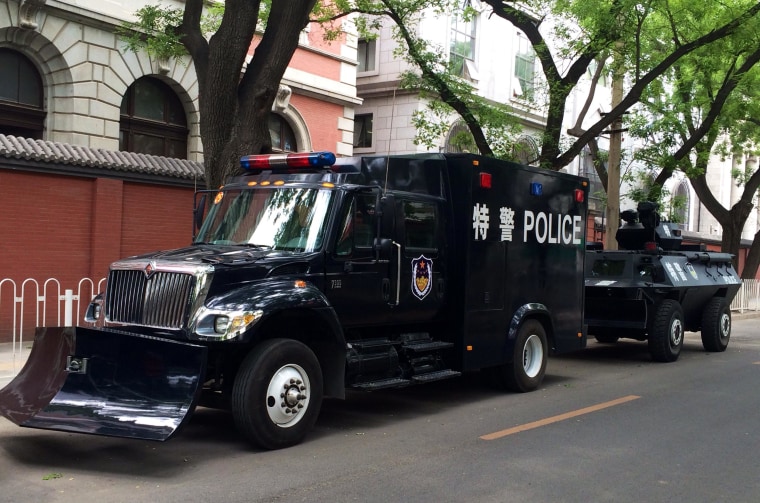 By late afternoon there were no reports of any public protests or remembrance events around the Tiananmen, a testament perhaps to the intense and extensive security provisions China's ruling Communist Party put in place in the runup to the anniversary.
On China's burgeoning internet, oftentimes a boisterous forum for societal issues, words and images related to the student-led protests were blocked. On China's twitter-like service, Weibo, terms like June 4, Tiananmen, and 25th Anniversary were no longer searchable. Even the emoticon image of a candle was also banned from use for today. In addition, the Google search engine and email service were excruciatingly slow to load. Western media news sites like the New York Times, Bloomberg and Wall Street Journal remained blocked.
Coverage of the anniversary on TV channels like CNN, CNBC and the BBC were also regularly blacked out for viewers in China.
All of this pales compared to the human toll taken by China's crackdown in the lead up to June 4th anniversary. According to Human Rights in China, between April 3rd and June 1st this year, 91 Chinese nationals across the country have been detained, had their movement restricted or have simply disappeared due to their possible connection to June 4th or other remembrance events.
Meanwhile, student leaders from the pro-democracy protests in 1989 who escaped from China, like Wang Dan and Wu'er Kaixi, have been repeatedly denied the right to return back to the mainland.
Beijing has been quick to condemn accusations of political persecution against these dissidents, branding them simply as criminals.
"In China, there are only law offenders," said Foreign Ministry spokesman, Hong Lei, at a regularly scheduled news conference, "The so-called dissidents as you mentioned do not exist."
China's heavy handedness has not been felt in other areas with large Chinese communities worldwide. In Hong Kong, thousands marched through the city on Sunday in remembrance, while organizers are expecting an estimated 150,000 people to participate in an annual candlelight vigil in the city's Victoria Park on Wednesday.