Ten more bodies have been found at the site of last week's massive explosions in the Chinese port city of Tianjin, raising the death toll to 114, municipal officials said Monday morning.
With storms moving into the area, environmental officials raised concerns that sodium cyanide exposed by the explosions Wednesday could release poisonous hydrogen cyanide into the air.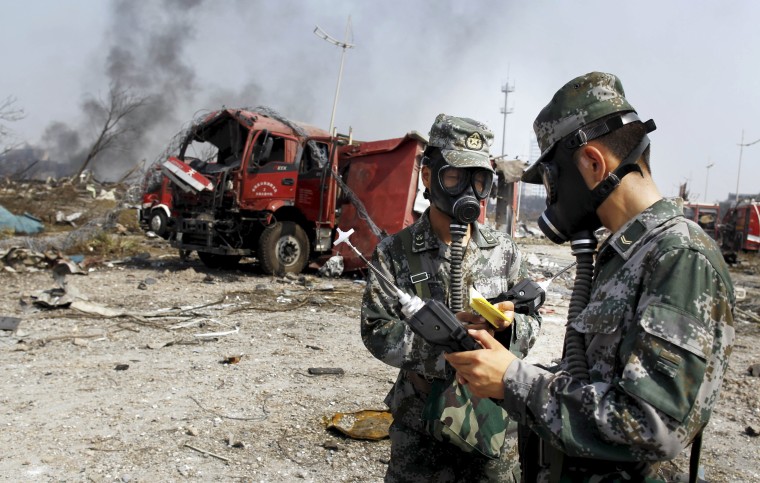 Seventy other people remained missing Monday morning, many of them firefighters, five days after the huge blasts at a warehouse storing hazardous materials, officials said at a news conference in Tianjin.
He Shuishan, vice mayor of Tianjin, said crews were racing to collect dozens of tons of sodium cyanide at the site by late afternoon Monday.
Sodium cyanide is water-soluble, and "if there is rain, it will produce hydrogen cyanide, so we are monitoring it closely," said Bao Jingling, chief engineer for the Tianjin Environmental Protection Bureau.
While "we can say currently it isn't very serious," Bao said, members of the Army's anti-chemical warfare division were dispatched to the scene Sunday, where they could be seen working in gas masks.
Hhydrogen cyanide gas is a highly toxic chemical that interferes with the body's ability to use oxygen, according to the U.S. Centers for Disease Control and Prevention, which describes it as "rapidly fatal."
Authorities evacuated a 1.8-mile zone around Tianjin on Saturday as new explosions could be heard and fires continued to rage.
Related: Tianjin, China, Explosion Area Evacuated as Death Toll Rises
Police and military staff were deployed at checkpoints leading to the explosion site, and helicopters hovered above.
About 6,300 people have been displaced by the blasts, with about 721 injured, 33 of them in serious condition, the official Xinhua news agency said.
He, the vice mayor, said criminal investigators as well as rescue crews were swarming the scene.
"Once we find out if there is any illegal act, we will punish them so we can explain this to those who are injured," he said.
Xiao Xu, an 18-year-old firefighter who was among the first to arrive at the scene Wednesday night, described a landscape of "hell" amid the explosions on Monday.
"The whole sky was lit up, and the blast wave sent me into the air," Xiao told the Asian news service Channel News Asia. "My helmet was gone. It was like a different world, with flames falling like raindrops on my head."
Related: Toyota Halts Tianjin Operations Through Wednesday After Explosions
Xiao told the agency that one of his colleagues, who was 23 years old, was killed in the explosions.
He "had just celebrated his birthday before the mission," Xiao said. "I feel very bad, as I will never be able to see him again."