LONDON — The firing of Rex Tillerson as secretary of state is the latest high-profile departure from President Donald Trump's team, a trend that has left both allies and adversaries unsure what to expect next from the revolving-door administration.
Not everyone is unnerved by Tillerson's ouster. Rivals of Iran, such as Israel and Saudi Arabia, welcomed the nomination of CIA Director Mike Pompeo, a vocal hawk against the Iran nuclear deal, as Tillerson's replacement.
The high turnover in the upper echelons of the U.S. government has provoked unease elsewhere, however, notably in Japan and Germany, two key U.S. allies that each host more American troops than any other foreign country — around 38,000 and 34,000 respectively.
"He was really someone I could trust and, be honest with, and I thought we could work together toward resolving issues surrounding North Korea," Japanese Foreign Minister Taro Kono said of Tillerson. "Personally, I am very disappointed this had to happen."
Germany's deputy foreign minister, Michael Roth, tweeted: "The dismissal of Rex Tillerson does not make anything better."
Tillerson was seen by other governments, particularly in Western Europe, as a moderating influence on the Trump White House, someone they hoped could steer the president toward a more conventional political path.
Countries with more strained relationships with the U.S. also expressed disquiet.
In China, The Global Times, which is controlled by the ruling Communist Party, ran an editorial on Tillerson's firing saying Washington was a "superpower in disarray."
And even though Russia did not comment publicly on Tillerson's departure, Kremlin spokesperson Dmitry Peskov could not resist a wry quip.
"The important thing is that the United States speaks with one voice rather than incoherent babbling"
"It's hardly possible to get worse," he said of the U.S.-Russia relationship.
Iran's ambassador to the U.K., Hamid Baeidinejad, noted that the U.S. had lost its chief diplomat while the future of the Iran nuclear deal was still uncertain.
The latest departure from the Trump administration is not an isolated event. Trump's 14-month presidency has seen more than two dozen high-profile departures from some of the most senior positions in his team.
And more could be on the way. NBC reported that national security adviser H.R. McMaster could be out as early as next month, although the White House has pushed back on these reports.
This churn of high-ranking personnel could have tangible, real-world implications, according to Shashank Joshi, a senior fellow at the Royal United Services Institute, a think tank in London known as RUSI.
"If foreign interlocutors do not know if their American counterparts will be replaced in a week, of course that is destabilizing," he said. "When someone like McMaster speaks to a foreign official, and says that he can assure them of something, how does that official know Trump won't just replace him tomorrow?"
Pompeo, though, has been far more critical of the Iran nuclear deal than Tillerson, which is one reason his nomination pleased enemies of the Islamic Republic.
"This is a positive reaction," Michael Oren, former Israeli ambassador to the U.S., told NBC News on Wednesday. "Mike Pompeo is a sworn opponent of the Iran nuclear deal and of the Iranian regime, which is precisely Israel's position."
Arab News, Saudi Arabia's leading English-language newspaper, carried a front-page editorial criticizing Tillerson and welcoming Pompeo.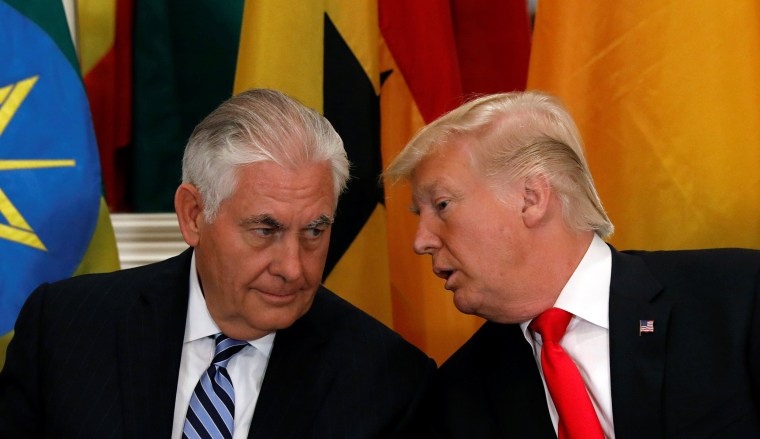 "Tillerson will probably go down in history as one of the worst secretaries of state the U.S. has ever had," the paper said, accusing him of sitting "on the fence" when it came to the Iran nuclear deal.
Iran was not the only issue Trump and Tillerson differed over, with Tillerson offering softer, more diplomatic language on North Korea, the Paris climate accord and other topics.
While Pompeo's positions may not please everyone, Joshi said the fact that his words are more likely to echo those of the president will be more useful to allies than Tillerson's statements were, since Trump would often contradict him hours later.
"If Pompeo leads to a more stable State Department, that's going to be welcomed by allies and everyone else," he said. "The important thing is that the United States speaks with one voice rather than incoherent babbling."