WASHINGTON — North Korea has released Otto Warmbier, the American student serving a 15-year prison term with hard labor for alleged subversion, Secretary of State Rex Tillerson said Tuesday.
The 22-year-old University of Virginia undergraduate, from Cincinnati, Ohio, was convicted in March 2016 of attempting to steal a propaganda banner from a restricted area of his hotel at the request of an acquaintance.
He was sentenced to 15 years in prison with hard labor after a tearful one-hour trial.
Warmbier landed in Cincinnati late Tuesday night and was taken to a hospital for treatment. The State Department said in a statement earlier that Warmbier was headed to the U.S. to be reunited with his family, but said it would have no further comment on his case, citing privacy concerns.
The department "continues to have discussions with [North Korea] regarding the three other American citizens who are detained."
Warmbier's parents told the Washington Post and the Associated Press that he was medically evacuated from the isolated nation in a coma. NBC News has attempted to reach Warmbier's parents to confirm those reports. The student was evacuated via U.S. military base in Sapporo, Japan, the Post reported.
Warmbier arrived at Lunken Airport in Cincinnati just after 10 p.m. Tuesday night and was taken to University of Cincinnati Medical Center for treatment, officials said.
The University of Virginia, the school where Warmbier was a student before his imprisonment, said it was "deeply concerned and saddened to learn from his family that he is in a coma."
Warmbier had been staying at the Yanggakdo International Hotel, which is located on an island in a river that runs through Pyongyang, the capital. It is common for sections of tourist hotels to be reserved for North Korean staff and off-limits to foreigners.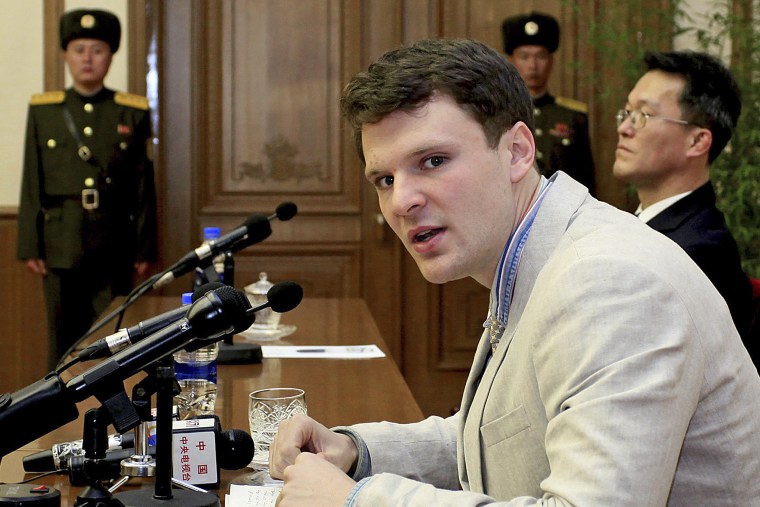 North Korea regularly accuses Washington and Seoul of sending spies to overthrow its government to enable the U.S.-backed South Korean government to control the Korean Peninsula.
U.S. tourism to North Korea is legal, but the U.S. State Department strongly advises against it.
The announcement came as former NBA player Dennis Rodman paid a return visit to North Korea. State Department spokeswoman Heather Nauert said Tuesday afternoon that Rodman "had nothing to do with the release" of Warmbier.
Senator Sherrod Brown, D-Ohio, said he hoped the privacy of Warmbier's family would be respected "in the weeks and months ahead."
In a statement, he said: "My first priority will be continuing to support Otto, his parents and family, whose strength and love of family inspire me every time I speak with them. North Korea's despicable actions in detaining and holding Otto were unacceptable and must be condemned. "
Hans Nichols reported from Washington, D.C., and Alastair Jamieson reported from London, England