Secretary of State Rex Tillerson's blunt comments that "all options are on the table" over thwarting North Korea's weapons program was met with immediate alarm by national security analysts and academics.
The possibility of military action raised questions about how far America would want to engage North Korea militarily, and the scope that any action would entail.
While U.S. leaders have given no indication of their next steps, they haven't stopped ratcheting up the rhetoric.
"Let me be very clear: the policy of strategic patience has ended. We are exploring a new range of diplomatic, security, economic measures. All options are on the table," Tillerson told reporters Friday during a stop in Seoul, South Korea, a day after declaring 20 years of North Korean diplomacy has failed.
President Donald Trump later chastised North Korea in a tweet for "behaving very badly. They have been 'playing' the United States for years. China has done little to help!"
Tillerson was in China on Saturday to meet with Foreign Minister Wang Yi, and the pair took a softer approach, saying they agreed to work together to persuade North Korea to take "a different course" and begin dialogue without having to resort to conflict. But whether Pyongyang will be receptive — or feels antagonized — is another issue.
"What worries me is that if the North Koreans believe this is empty rhetoric from the Americans, they're going to test it," said Jeremi Suri, a professor at The University of Texas and author of the forthcoming book "The Impossible Presidency." "They've already become very belligerent since Trump took office. Now there's a serious possibility that we can get into an escalation spiral."
The year began on a tense note when North Korean leader Kim Jong Un menaced America by proclaiming the rogue nation is readying a test-launch of a ballistic missile that could reach U.S. shores. It conducted two nuclear tests last year.
Related: Rex Tillerson: Military Action Against North Korea Is 'on the Table'
So how might America show its force?
One option is targeting North Korea first with airstrikes to take out its missiles, Suri said. The U.S. has the satellite capabilities to locate the missiles, and obliterating one before it's launched could avoid a larger disaster.
Suri acknowledged, however, that North Korea has become more sophisticated by using mobile launch pads, which make it harder to lock down where to hit.
Another option, he added, is bombing North Korea's weapons factories, although that would "almost certainly trigger retaliation."
Steven Weber, an expert on North Korea and professor of political science at the University of California, Berkeley, said a tactical strike against the current regime led by Kim Jong Un is another possibility — but especially risky because of the power vacuum it would create and the multitudes of unknowns.
The U.S.'s "shock and awe" campaign of 2003 may have supplanted Iraqi leader Saddam Hussein from power, but it forced America to deal with a bloody insurgency and pour tens of billions of dollars to rebuild the country, Weber said.
To bring down Kim Jong Un, American leaders would need to present South Korea with "a really compelling plan that would include reconstructing North Korea," Weber said. "Then they might be open to hearing the proposal. Even the Chinese might be open to that if the conditions were absolutely right."
But that would be exceedingly complicated, according to Anthony Cordesman, a foreign policy expert at the Center for Strategic and International Studies.
"This situation is like a slow-growing cancer"
He said the U.S. could instead show its military might without dropping bombs by continuing to engage in exercises with its South Korean ally, flying military planes and deploying carriers in the region.
"These are all measures that the U.S. has been taking with hopes that somehow, China is becoming more aggressive with how it deals with North Korea," said Cordesman, who was a consultant to the departments of State and Defense during the wars in Afghanistan and Iraq. Afghan. "But deterrence of the current Dear Leader is dependent on clear military commitment."
ML Cavanaugh, a U.S. Army strategist writing for the Modern War Institute at West Point, also made the point that ground troops fighting in North Korea would find fighting there difficult logistically because of its "mountainous, Afghanistan-like geography and road network."
Cyberespionage is already reportedly being used to try to sabotage North Korea's nuclear missiles program, although The New York Times reported this month that the U.S. still hasn't effectively countered it.
"We're more vulnerable to cybermeddling from them than they are to us," said Suri, alluding to the North Koreans allegedly hacking Sony Pictures Entertainment in 2014.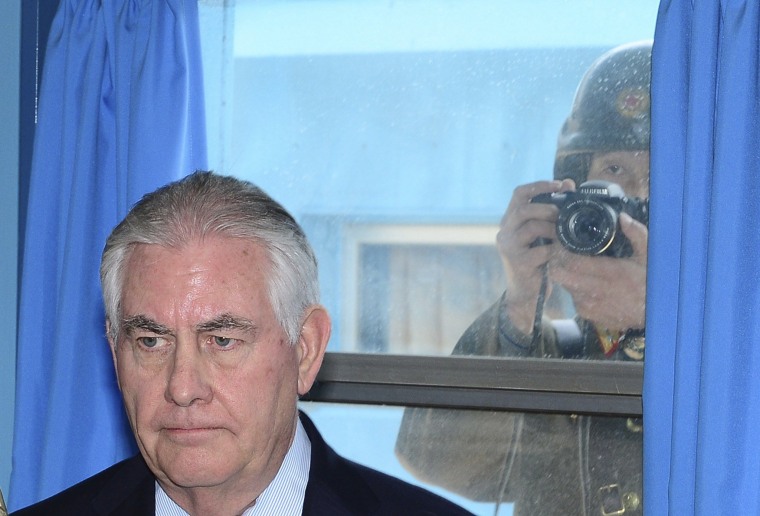 Suri said he sees little enticement for North Korea's neighbors to get dragged into conflict as well. China has historically provided the country with much-needed aid to its destitute people, while war would be unwelcome by U.S. allies Japan and South Korea, the latter which is under political turmoil with the impeachment of its president.
The region is also tense because the South Korean capital of Seoul is just 35 miles from the border with North Korea known as the Demilitarized Zone — created after the Korean War ended in 1953. Tillerson visited the DMZ during his Asia trip this week, the first by the Trump administration's top diplomat.
The Obama administration's handling of North Korea came with a tightening of sanctions, but critics charge North Korea has only grown emboldened in recent years. Since Tillerson hasn't ruled out further diplomacy, engaging with China will be crucial, observers say.
Trump's tweet Friday called out China to step in, although Chinese leaders say they've done their best to relay to North Korea it must denuclearize. Last month, China said it would halt importing coal from North Korea, rankling Pyongyang so much that state media issued a response that China is "dancing to the tune" of the United States.
What happens next remains anyone's guess, said Weber, adding that Trump and his tweets — and his North Korea policy — can be hard to decipher.
"This situation is like a slow-growing cancer. It's just gotten worse and worse and worse," Weber said, "and now it's at a point where you may have to treat it or be willing to suffer the consequences."