ABOARD A U.S. GOVERNMENT AIRCRAFT — Hours before being ousted as secretary of state, Rex Tillerson called the poisoning of an ex-Russian spy and his daughter with a military-grade nerve agent in the U.K. "a really egregious act" that appears to have "clearly" come from Russia.
On his way back from a trip to Africa, Tillerson said late Monday that it was not yet known whether the poisoning "came from Russia with the Russian government's knowledge."
The comments came before President Donald Trump announced Tuesday morning that CIA Director Mike Pompeo would replace Tillerson.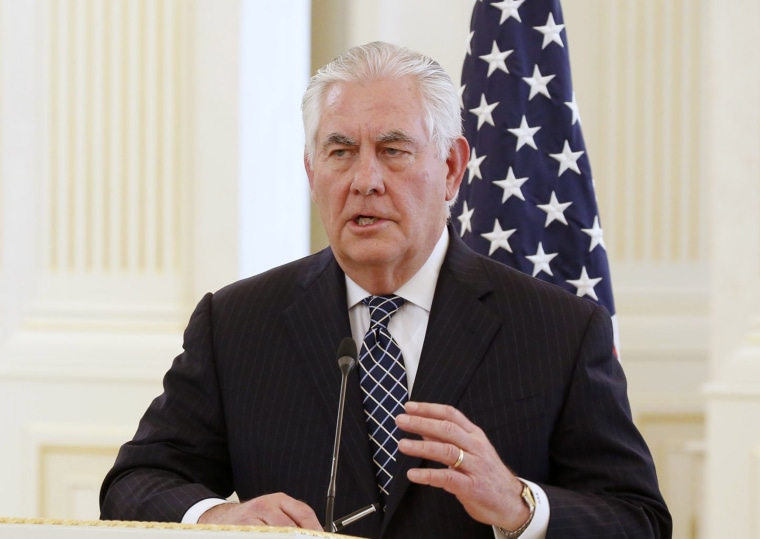 Trump said he would speak with British Prime Minister Theresa May on Tuesday about the poisoning.
"As soon as we get the facts straight, if we agree with them, we will condemn Russia or whoever it may be," he said.
In a statement released by the State Department on Monday evening, Tillerson called Russia "an irresponsible force of instability in the world, acting with open disregard for the sovereignty of other states and the life of their citizens."
Tillerson's remarks echoed those of May, who had said Monday that it is "highly likely" Russia is responsible for the poisoning, either directly or because it lost control of the nerve agent.
May gave Russia a deadline of midnight Tuesday to explain how Sergei Skripal, a former Russian military intelligence officer and onetime double agent for Britain, and his daughter, Yulia, were poisoned.
However, Russia's Foreign Minister Sergey Lavrov suggested on Tuesday that Russia would cooperate with Britain only if it gets access to the nerve agent so it could carry out its own analysis. Britain has thus far denied its requests, he said, adding that Russia was "not to blame" for the poisoning.
Tillerson also expressed bewilderment that another country would deliberately target people in public, using a dangerous substance in a foreign country.
"It's almost beyond comprehension that a state, an organized state, would do something like that," he said while traveling aboard a U.S. airplane during a trip to Africa.
"A nonstate actor, I could understand. A state actor — I cannot understand why anyone would take such an action," he said.
Asked if the poisoning will trigger a mutual defense response with the close NATO ally, Tillerson said that "it certainly will trigger a response. I'll leave it at that."
The European Union also said it would stand by Britain, which is due to leave the bloc in just over a year's time. May spoke to French President Emmanuel Macron, who Downing Street said condemned the attack and offered his solidarity with Britain.
Tillerson, who spoke Monday by phone with British Foreign Secretary Boris Johnson, said he's become "extremely concerned" about Russia, noting that he spent most of the first year of the Trump administration trying to solve problems and narrow differences with the Kremlin. He said after a year of trying, "we didn't get very far."
"Instead, what we've seen is a pivot on their part to be more aggressive," Tillerson added.
The comments mirrored those of Johnson, who said Tuesday that conversations with the U.S. highlighted that the use of a nerve agent was part of a pattern of behavior by Russia.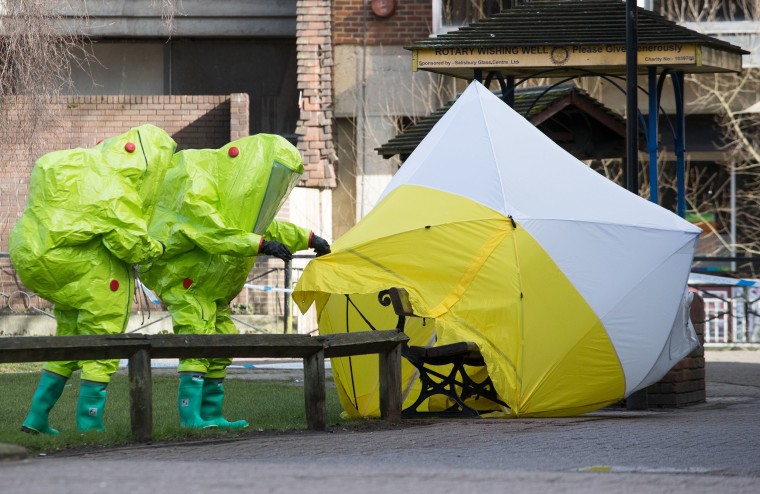 "You're seeing this reckless support for the use of chemical weapons all the way from Syria to the streets of Wiltshire in our country," he said.
The nerve agent used against Skripal and his daughter is part of a group of nerve agents known as Novichok, May said Monday in the House of Commons. It was developed by the Soviet Union in the 1970s.
This appears to be the first time that a nerve agent has been used in Europe since the end of World War II, Johnson said.
Skripal and his daughter remain in critical condition more than a week after they were found unconscious in Salisbury on March 4. A British police officer who was one of the first to attend to the stricken spy was also affected by the nerve agent. He remains in serious condition, officials said.
Skripal, 66, was a Russian military intelligence officer before flipping to the British side in the 1990s, going to jail in Russia in 2006 and being freed in an exchange of spies in 2010.
The case has similarities to the killing of former Russian spy Alexander Litvinenko, who was poisoned with radioactive tea in London in 2006. A British inquiry concluded that his death was the work of the Russian state and had probably been authorized by Russian President Vladimir Putin.
British Home Secretary Amber Rudd said Tuesday afternoon that police and the security services would investigate allegations of Russian state involvement in a number of other deaths in recent years in Britain, a letter published on Tuesday showed, Reuters reported.
On Tuesday morning, Putin responded to a question by a BBC reporter asking if Russia was behind the poisoning, saying: "Look, we are dealing with agriculture here ... and you ask me about some tragedies. Get to the bottom of things there first, then we'll talk about this."
Abigail Williams reported from aboard a U.S. government aircraft, Rachel Elbaum reported from London.