Secretary of State Rex Tillerson said Tuesday that the United States is open to talks with North Korea without preconditions, saying it is unrealistic for the country to give up its nuclear weapons program before discussions can begin.
"It's not realistic to say we're only going to talk if you come to the table ready to give up your program, they have too much invested in it," Tillerson said at the Atlantic Council think tank.
Tillerson said that President Donald Trump "is very realistic about that as well."
Related: U.S. joint drills simulate attack targeting North Korea missile
"We've said from the diplomatic side, we're ready to talk any time North Korea would like to talk and we're ready to have the first meeting without precondition," Tillerson said.
"Let's just meet and we can talk about the weather if you want. We can talk about whether its going to be a square table or a round table if that's what you're excited about," he said. "But can we at least sit down and see each other face to face and then we can begin to lay out a map, a roadmap of what we might be willing to work towards."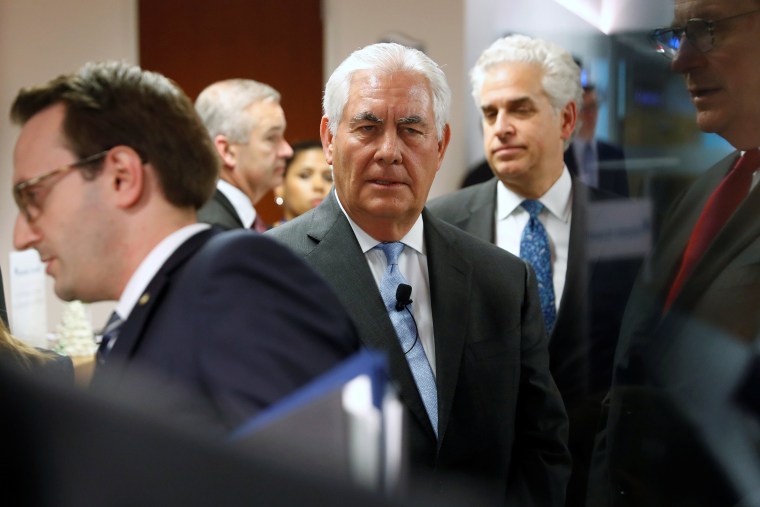 The seeming softening of tone on North Korea comes after that country has conducted three intercontinental ballistic missile tests this year in defiance of United Nations resolutions and international sanctions imposed on the regime over its weapons program. In September, North Korea conducted its sixth nuclear test.
Tillerson said that the U.S. is ready to talk to North Korea but would need "a period of quiet" without new tests for talks to be productive.
Related: Trump's North Korea policy could trigger famine, experts warn
Trump and North Korean dictator Kim Jong Un have been engaged in a war of words over recent months, with Trump warning that North Korea faces "fire" and "fury" if it threatens the United States and calling Kim "little rocket man." Kim has responded by calling Trump a "dotard" and continuing to carry out missile tests.
Tillerson said during a visit to South Korea in March that "all options are on the table" to deal with North Korea, including military options. He said in response to an ICBM test in July that "we will never accept a nuclear-armed North Korea."
Tillerson said Tuesday that a nuclear-armed North Korea is different than other nuclear-armed states like Russia or China.
"The past behavior of North Korea, it's clear to us that they would not just use the possession of nuclear weapons as a deterrent. This would become a commercial activity for them, because we already see elements of it in the commercial marketplace," Tillerson said.
"And in the world we live in today where our greatest threats are non-state actors, we simply cannot accept that," he said.
Tillerson said diplomatic efforts to deal with the crisis are the top priority, but the U.S. is prepared with military options. "I will continue our diplomatic efforts until the first bomb drops," he said. Tillerson added he is confident diplomatic efforts will be successful.