As President Donald Trump and North Korean dictator Kim Jong Un trade increasingly fiery threats, a far more measured tone came from Secretary of State Rex Tillerson, who said he saw no imminent threat.
"I think Americans should sleep well at night," Tillerson said Wednesday during a refueling stop on his way back to Washington, D.C. "I have no concerns about this particular rhetoric over the last few days."
Trump has threatened North Korea with "fire" and "fury" and the isolated nation responded by saying it is considering "making an enveloping fire" around Guam, the Pacific U.S. territory home to military bases.
During a planned stop in Guam, however, Tillerson said he had seen nothing in the past 24 hours that made him think military action was more likely, and that he had no reason to reroute his trip.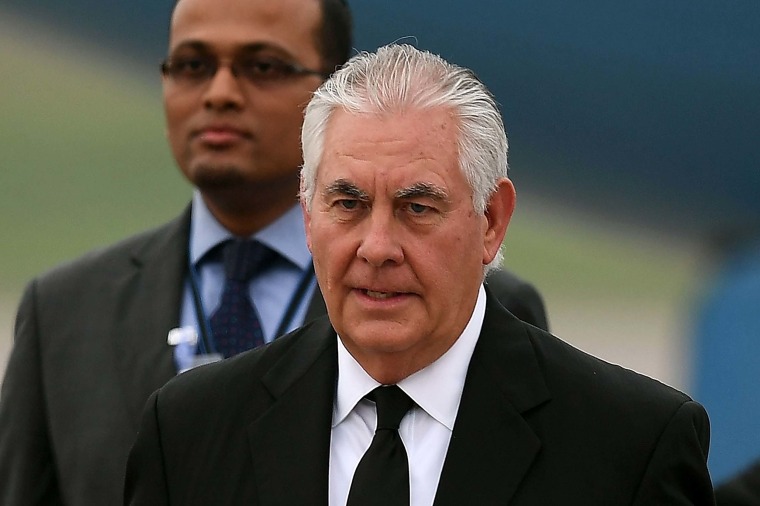 "Well, the North Korean missile capability can point at many directions, so Guam is not the only place that can be under threat," he said in Andersen Air Force Base — the very same facility mentioned in North Korea's statement.
Tillerson also explained Trump's more colorful language by saying he was trying to get Kim's attention.
"I think what the president was doing was sending a strong message to North Korea in language that Kim Jung Un would understand because he doesn't seem to understand diplomatic language," Tillerson told reporters on the plane.
"The President just wanted to be clear to the North Korean regime that the U.S. has an unquestionable ability to defend itself, will defend itself and its allies, and I think it was important that he deliver that message to avoid any miscalculation on their part," he added.
The increasingly heated comments from both sides followed new United Nations Security Council sanctions estimated to cut off one third of the government's $3 billion revenue stream.
North Korea has tested two intercontinental ballistic missiles in the last month alone, and over a dozen since the year began.
Now, U.S. intelligence agencies assess that North Korea has constructed a nuclear weapon small enough to fit on a missile, a crucial milestone in their already rapidly accelerating nuclear program.
The North Koreans have yet to prove they can deliver a weapon that survives reentry but this puts the unpredictable Kim Jung Un regime one step closer to achieving the capability to strike the American mainland.