Secretary of State Rex Tillerson will attend a NATO meeting at the end of the month, the State Department announced Friday, after previous mixed signals on whether he would attend sparked alarm among some allies.
Acting State Department spokesman Mark Toner said Tillerson will meet with NATO in Brussels on March 31.
Monday night State Department officials said he would skip what would have been his first official meeting of NATO countries' diplomats which had been scheduled for April 5-6. The Secretary's trip to Russia later in April was also confirmed.
By Tuesday afternoon, the State Department left open the possibility of his attendance, saying Tillerson had a scheduling conflict and suggested alternative dates. NATO has said it was in contact with the State Department on scheduling.
A NATO official on Friday confirmed it is currently planning to hold the meeting of NATO foreign ministers on March 31 but added "consultations on scheduling among allies are ongoing."
Changing the date of the NATO Foreign Ministerial requires a consensus among all 28 member countries.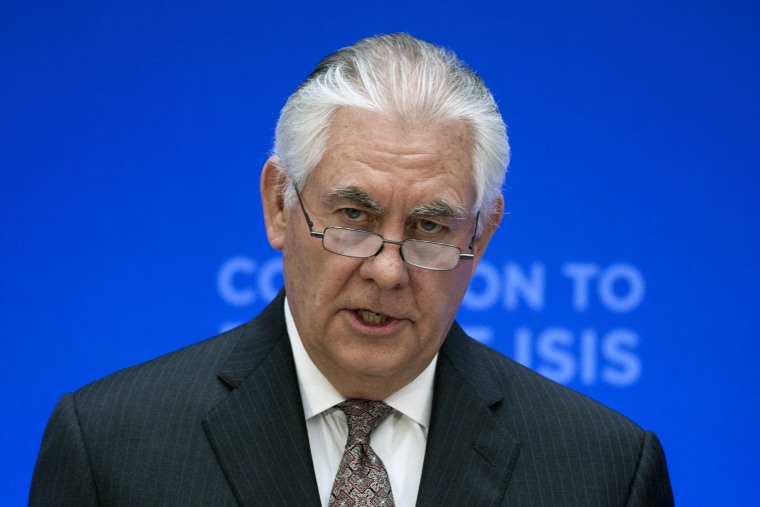 The State Department said Tillerson on March 30 will travel to Turkey to meet with Turkish President Recep Tayyip Erdogan and other government officials, where he will discuss strategies to defeat the terror group ISIS.
President Donald Trump will attend a meeting of NATO heads of state and government in May, something White House Press Secretary Sean Spicer repeated on Twitter this week after news broke that Tillerson could skip the April meeting.
Trump has in the past called NATO "obsolete" and suggested he would not protect allies unless they upped their military spending.
Trump has recently spoken in more reassuring terms toward NATO, but many analysts say that even the suggestion that the U.S. might not respond to an aggression might leave allies vulnerable.
At a press briefing with German Chancellor Angela Merkel at the White House last week, Trump said he "reiterated to Chancellor Merkel my strong support for NATO, as well as the need for our NATO allies to pay their fair share for the cost of defense."
But Trump created new controversy when he said on Twitter a day after that meeting that Germany "owes vast sums of money to NATO & the United States must be paid more for the powerful, and very expensive, defense it provides to Germany!"
German Defense Minister Ursula von der Leyen rejected Trump's claim in a statement on Sunday, saying that "there is no debt account at NATO." Von der Leyen added that it was "wrong" to link the alliance's bar for member nations to spend 2 percent of their gross domestic product on defense by 2024 to NATO alone.
Ivo Daalder, a former U.S. NATO ambassador, also dismissed Trump's characterization, saying in a Tweet "that's not how NATO works" and the United States decides how much it contributes to defending NATO countries.