RIYADH, Saudi Arabia — The course of true love never did run smooth. While applicable the world over, Shakespeare's words are particularly true in swiftly changing Saudi Arabia.
Long forbidden, dating has arrived in the ultra-conservative Gulf kingdom with some Saudis meeting and marrying without the help of relatives. Well-heeled millennials meet via Tinder, Snapchat, Twitter and Instagram.
While most restaurants still separate men and women into sections for men and "families," young couples are increasingly appearing in public together in a handful of cafes and other eateries.
"Two years back we wouldn't even be able to sit together — people would get the wrong idea," says Waleed, a 27-year-old software engineer with the square jaw of a model. "Change has come to Saudi Arabia."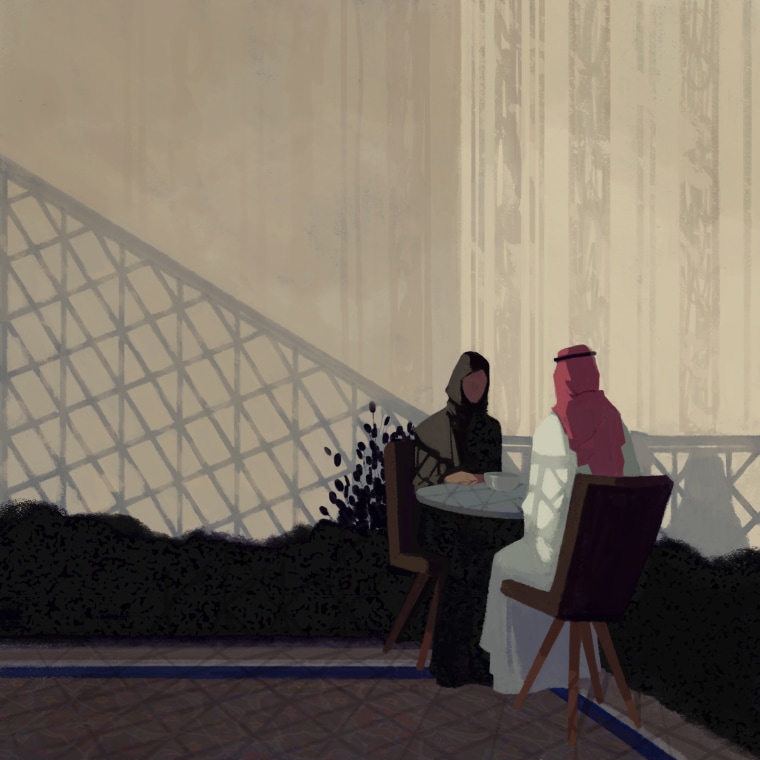 Much of Waleed's "love relationship" with his girlfriend has taken place online. The pair finally met in person in Egypt, where gender mixing is more accepted than in Saudi Arabia, long dominated by a puritanical form of Islam that has been challenged recently by Crown Prince Mohammed bin Salman's push toward a more moderate interpretation of the religion.
"Our culture here, they make love a sin," Waleed said. Because sex and romantic love remain highly controversial subjects in the kingdom, interviewees spoke to NBC News on condition of anonymity, and pseudonyms have been used.
American boyfriend
Waleed is an outlier in Saudi Arabia, where many marriages are still set up by families and where couples sometimes don't meet in person before getting engaged. While there have been noticeable social changes recently, men and women who are not closely related still traditionally don't mix, and some avoid even looking at an unrelated person of the opposite sex. Girls and boys are educated separately, and workplaces that employ women are nominally segregated.
So meeting, dating and getting married can be a treacherous obstacle course. Secrecy is the norm, particularly when it comes to sex.
"The elephant in the room is that everybody engages in it, but nobody talks about it," says Lulwa, an aspiring filmmaker who wears bright red lipstick and lets her headscarf slip off when she thinks she can get away with it.
Lulwa, 27, bridles at a deep-seated sexism in Saudi society that she says reduces women to their reproductive functions, even among some members of her liberal circle in which the genders mix and alcohol is sometimes served at parties.
"You were born to give birth — that's your mission in life," she says. Then she channels her father and says: "Why would you date — where does this go?"
It is both a blessing and curse that Lulwa is not searching for a partner in her native Riyadh. She spent years studying abroad and has an American boyfriend whom she says she would "never" introduce to her family.
But the relationship has no future unless Lulwa leaves her country, or he proposes marriage and converts to Islam.
No pressure, then.
'They took me to jail'
Finding and maintaining a relationship is a challenge even for those who haven't fallen for a foreigner.
Fadila, 29, an accountant, has been looking for love in all the wrong places since she was a teenager.
Early on, her beguiling smile had boys asking for her telephone number. Fadila sometimes complied, but often gave a wrong number to prevent gossip. One day a boy tracked her down and left a note on her older brother's windshield, she says.
"I know your sister, she does bad things," the note read.
When Fadila was 17, she fell in love with a member of the country's vast but powerful royal family.
"I thought he was the one," she says.
The two used to sit in his car, where she felt safe. But the couple was, in fact, being watched by the religious police. They arrested Fadila, but not the prince. She says it later emerged that he had been having affairs with a number of women and drinking regularly.
"They wanted him, but they used me to get to him," she says. "They said, 'If you sign, we'll take you home and not tell your parents.' Instead they took me to jail."
Her mother and brother got her released the next day, and the episode has been kept secret from everybody else except her best friend. Fadila is lucky — experiences like hers have cost other women their lives. Whole families can be disgraced if one member — particularly a female — is seen to have stepped outside of society's strict social norms.
Afterward, Fadila decided to focus on academics, where she has excelled. She gained an honors degree in accounting and now has a good career. "I like my job — I speak numbers," she says, smiling.
Since her experience, the religious police have been stripped of much of their power.
And thanks to government efforts at increasing Saudi Arabia's employment rate, more and more women are working and studying near if not alongside men, providing a plethora of romantic possibilities. This social loosening was given a boost on Oct. 24 when the powerful crown prince declared that the country would return to "moderate" Islam and "eradicate" extremism.
Unlike her career, Fadila's love life has been a string of disappointments. She tried Tinder but that didn't work.
"They think you're bad because you go out with them and make out with them," she laments. "My friends say, 'If you like him, don't let him touch you.'"
So about six months ago, her heart aching, Fadila gave up and decided to do the unthinkable. She let her older brother find her a husband.
"I don't have feelings for him"
"I just want to settle down, focus on my career, go home and find someone there," she says. "I just want to have my own house."
Single Saudi adults hardly ever live outside the family home.
First a suitable match was identified. Then the respective fathers and brothers gathered in Fadila's home, which is when she first met and assessed her future fiance. Finally, the mothers got together to drink tea and check each other out.
After meeting her intended just twice, Fadila went through an official engagement ceremony, which involved the couple signing a contract specifying that she would never be forced to live with her in-laws and prevented from working outside the home. Now the two see each other openly and have even taken a trip abroad together.
On paper her fiance is ideal — an IT specialist who is handsome, open-minded and respectful, she says. But there's a big problem: He is not her chosen love.
"I don't have feelings for him," Fadila said. "Some people say love comes after, respect comes first, but I don't know."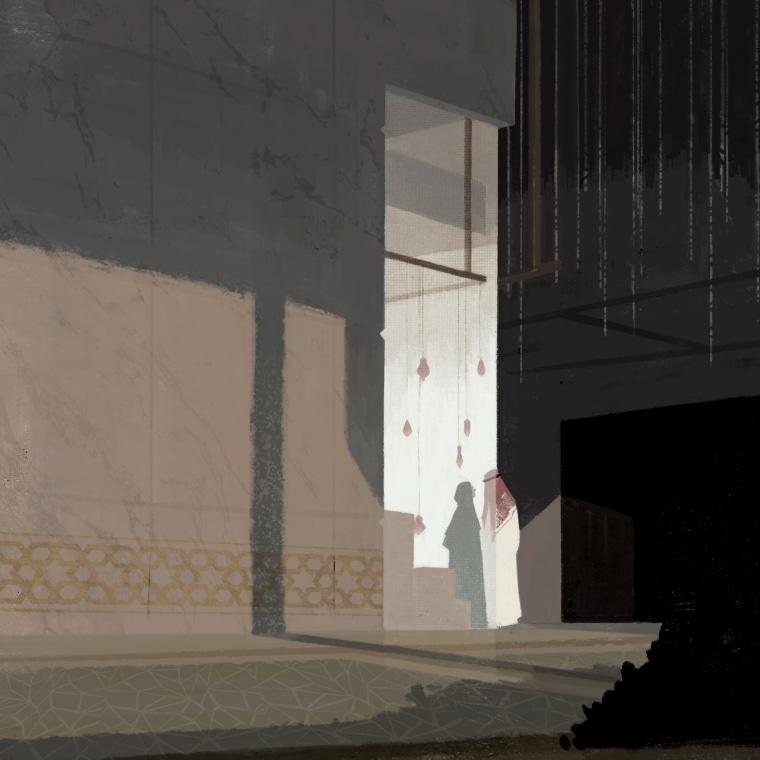 Tangle of customs and morals
Like Fadila, Omar is now looking into getting hitched traditionally after trying the alternative.
A U.S.-educated engineer, Omar laughs easily over fries, coffee and pineapple juice in an upscale Riyadh eatery. The lights are dim, making it hard to make out anyone's features. It looks like the handful of couples at nearby tables are on dates.
Omar, 26, is candid about sex, a subject that looms over any discussion about how men and women interact. The issue is a complicated tangle of customs and morals, with many Saudis viewing women and their behavior as "a risk to tribal honor," Omar says.
This affects the way they act, including in bed, he and others tell NBC News. Because Saudi women are expected to be virgins when they marry, many opt not to have vaginal intercourse and instead engage in other types of sex when dating, Omar says.
While he has more experience with women than many unmarried Saudi men, because of his time in the U.S., Omar says dating is difficult and a constant subject of conversation among his peers.
Friends have tried to set him up at dinner parties, and asked him to go on hiking outings. So he hangs out with women. Still things haven't worked out for him.
He is also tired of what he calls the secrecy and "hypocrisy" of Saudi society, with so many peers pretending they aren't dating and sleeping with people.
One problem for single people like him, he says, is that there is "no place built for socializing," so people can't easily meet and relationships are carried on largely via social media.
"I would like the company, but I don't want a relationship on a screen," he says.
Omar says he is reconciled to never getting married, which would be extremely rare for a Saudi.
While he concedes that it would be nice to find the right person, he explains his feelings this way: "Eating is essential, but sharing a meal is just preferable."