The first full-size digital scan of the Titanic has revealed the world's most famous shipwreck as never seen before, and experts hope that it will provide more insight into how the liner came to sink in 1912. 
Created using deep-sea mapping, the unique 3D view of the entire vessel could break through "a century's worth of human interpretation" about what happened to the liner as it made its maiden voyage from Southampton, England, to New York, Parks Stephenson, a Titanic analyst and historian, told NBC News on Wednesday.   
The new scan "blew me away," said Stephenson, who was asked to assess the image. He added that it was a "major step to driving the narrative of the Titanic towards evidence-based, scientific research and not speculation."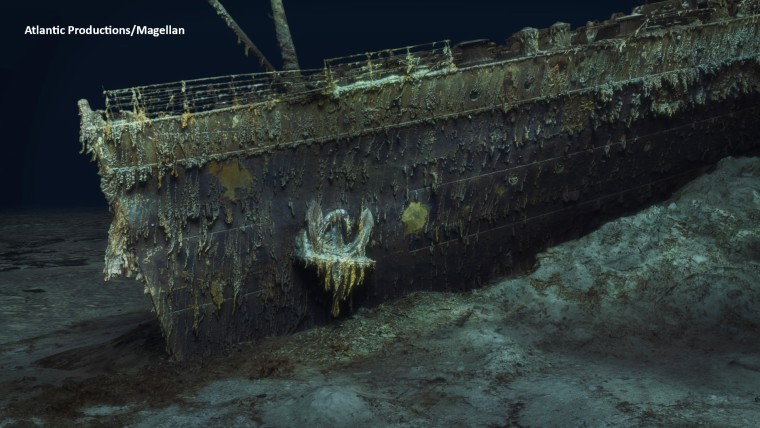 The scan was carried out last summer by Magellan, a deep-sea mapping company, and Atlantic Productions, which is making a documentary about the project.
Atlantic Productions said on its website that specially adapted cameras had been used "to produce footage and stills of the Titanic wreck as never been seen before."  
"Using the submersible camera systems, the team performed dedicated photogrammetry passes on the wreck, allowing highly accurate and photoreal 3D models of RMS Titanic to be produced," it said.
Photogrammetry involves taking overlapping photographs of an object, structure or space, and converting them into 2D or 3D digital models.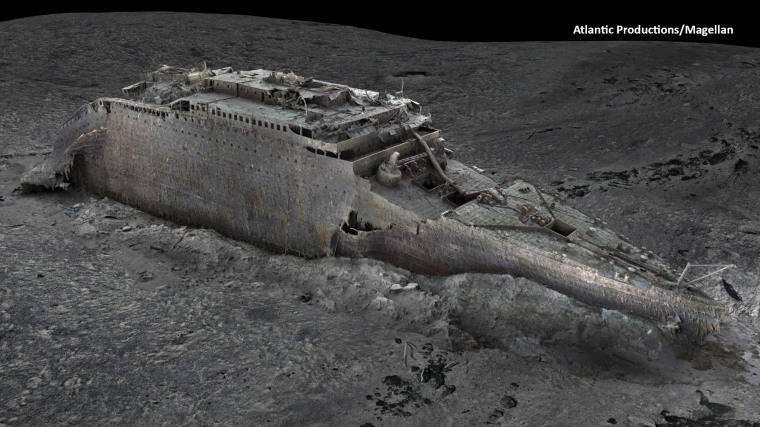 More than 1,500 people died when the Titanic went down and it was long assumed to have sunk in one piece.
It was only after the wreck was discovered in 1985, around 350 miles off the coast of Newfoundland, Canada, that it was found to have broken up. Surrounded by debris, the ship's two main pieces are around 2,000 feet apart.
While footage has been taken of the wreck, Stephenson — who serves as the executive director of the ship and museum USS Kidd  — said submersible cameras "only see small portions of the wreck site at any given moment." 
Previously, he said, people filled in the gaps by referring back to what the Titanic looked like as a whole ship, "so as you paint the ship or try to build a model of it, it's going to have a bias to how it originally looked."
"It will be accurate but you'll tend to make it more complete than it actually is," he said.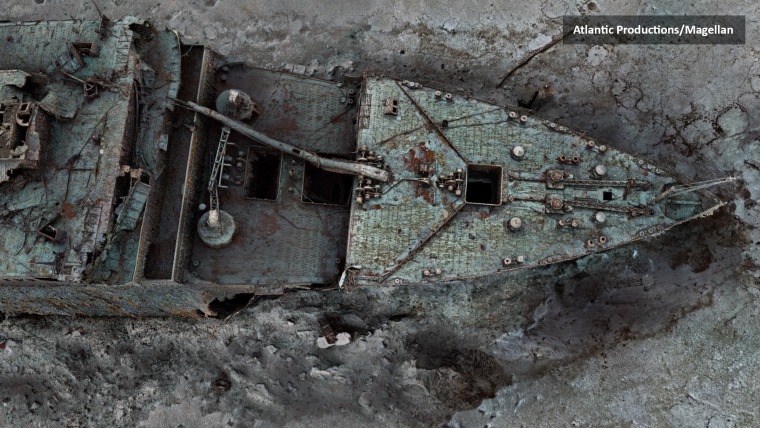 The new scan was "devoid of that," he said, adding, "It is completely based on data and not human interpretation and that is why we are now seeing it in its larger context for the first time ever."   
Atlantic Productions said "one major area of deterioration" had already been observed in the officers' quarters. "This included the room of Captain Edward John Smith and discovered that the iconic captain's bathtub has now disappeared from view," it added.   
"Now we're getting objective, so we can get really serious with the science of understanding the wreck," Stephenson said. 
He added that he was "absolutely convinced," that the photogrammetry model would now be used "not just for Titanic, but for all underwater exploration," because it "ushers in a new phase of exploration and analysis."