RIYADH, Saudi Arabia — Nuclear-armed Pakistan's most powerful men kicked off a two-day diplomatic effort aimed at cooling tensions between Middle Eastern rivals Saudi Arabia and Iran on Monday.
Pakistan is in a unique position to mediate between the two countries, according a senior military official aboard the plane carrying Prime Minister Nawaz Sharif and Chief of Army Staff Gen. Raheel Sharif to the Saudi capital Riyadh on Monday. Prime Minister Sharif later held a meeting with Saudi King Salman.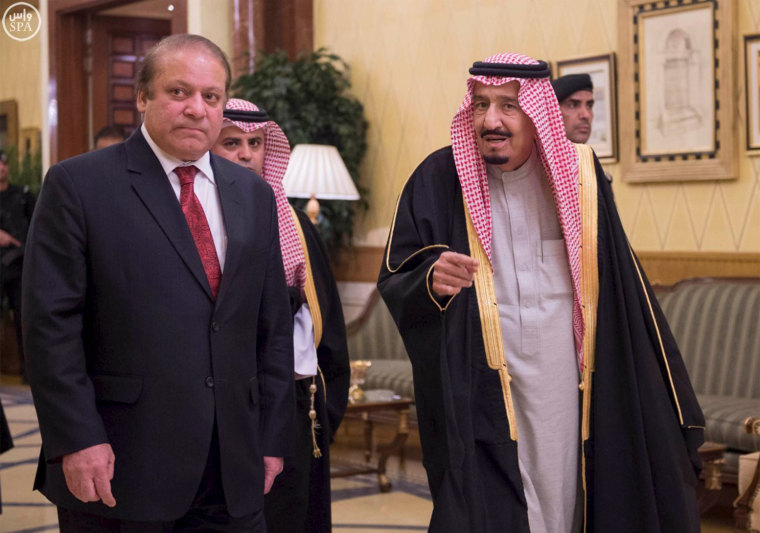 "We have a border with Iran, and a 30 percent population of Shiites," the official, who was not authorized to speak to the media, said on condition of anonymity. "We also have the largest army in the region that is closely connected with Saudi. And, yes, we have nukes, so we can't just stand around as tensions mount."
Pakistani officials planned to travel to Iran's capital Tehran on Tuesday to continue the diplomatic efforts. Chinese President Xi Jinping will be visiting Tehran on Jan. 22, according to state-run Xinhua news service — a sign that the emerging world power also has a vested interest in calming Mideast tensions.
Iran, a Shiite Muslim theocracy. has been locked in a regional power struggle with Sunni kingdom Saudi Arabia for decades. Already high, tensions between the two powers flared on Jan. 2 when Saudi Arabia executed dissident Shiite cleric Sheikh Nimr al-Nimr and 46 others convicted of terror charges.
News of his execution sparked attacks by Iranian protesters on Saudi missions and the severing of ties with Iran by the kingdom.
Saudi Arabia became the main supporter of rebels fighting to topple Iran's ally, President Bashar Assad in Syria. Riyadh accused Assad of "genocide" and Iran of being an "occupying power." Tehran accused Riyadh of backing terrorism.
In March 2015, Saudi Arabia began a military campaign in neighboring Yemen to stop the Houthis, allied to Iran, from taking power. Riyadh accused Iran of using the militia to stage a coup. Tehran said Riyadh's air strikes targeted civilians.
Related:The Rocky History of Iran-Saudi Relations
The need to fight terrorism lies at the heart of Islamabad's diplomatic push, according to another senior Pakistani government official aboard the flight.
"Our first priority is selling how extremism is the real threat and countering it. Our second priority is encouraging bilateral ties and getting their diplomatic channels and embassies to work as normal," he said, also speaking on condition of anonymity because he is not allowed to speak to the press. "Our bottom line is making sure this region doesn't become like Syria."