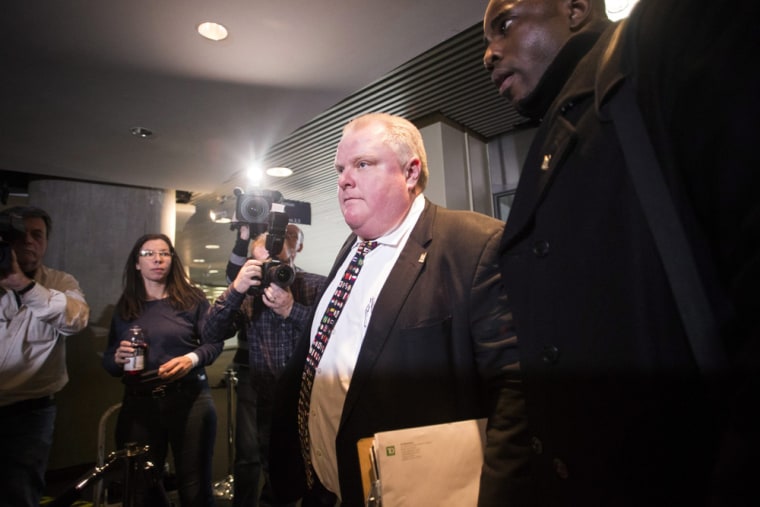 Toronto's tough-talking, crack-smoking Mayor Rob Ford has lost his television show after just one episode — a day after he lost most of his powers.
Canada's Sun News Network canceled "Ford Nation," starring the scandal-scarred mayor and his ever-loyal brother Doug, without explanation less than 24 hours after its debut.
"No more stand alone show," a network spokesperson confirmed in an email Tuesday. "We will however welcome them as regular guests on other programming."
The spokesman said that the Ford brothers' show did well for the network, but "the economics [of producing more episodes] don't work well over the long term."
The day was full of bad news for Ford: He was also denounced by a high-level national Canadian official and saw more than half his staff defect to the deputy mayor's office on Tuesday.
In a scandal that has been unfolding since May, the 44-year-old conservative has admitted smoking crack, buying drugs and driving drunk but has refused to resign and insist he's not an addict.
In an interview with Canadian TV station CP24 on Tuesday, Ford said he had stopped drinking three weeks ago after a "come to Jesus moment."
A fed-up City Council finally took action and stripped him off much of his budget and power at an emergency meeting on Monday — where Ford accidentally knocked down a female lawmaker and declared "outright war" on his enemies.
During an interview with TODAY, Ford admitted to flaws.
"I'm embarrassed,'' he said. "Not just myself, my family, my friends, my supporters, the whole city. I take full responsibility for that. We've all made mistakes. I'm not perfect. Maybe you are, maybe other people are, (but) I've made mistakes. I admitted to my mistakes."
But he also said he's still fit to serve.
"They're not going to find another Rob Ford,'' he said.
While the City Council motions to turn him into a figurehead passed overwhelmingly, government officials at the provincial and federal level have been less critical.
But on Tuesday, a Cabinet minister joined those saying he should step down.
MP Jason Kenney, a conservative from Calgary, told reporters that Ford had brought "dishonor" to his office and should have taken a leave of absence.
"But not having done that, I personally think he should step aside and stop dragging the city of Toronto through this terrible embarrassment," said Kenney, who is Minister of Human Resources and Skills Development. 
Toronto Deputy Mayor Norm Kelly has assumed most of Ford's authority. He announced Tuesday that 11 of 20 staffers in the mayor's office — including the chief of staff — were joining his office.
Related coverage: