The man suspected of deliberately driving a van onto a sidewalk in a bustling intersection in downtown Toronto, running down panicked pedestrians in his path, appeared in court Tuesday and was charged with 10 counts of first-degree murder.
Alek Minassian, 25, of suburban Toronto also faces 13 counts of attempted murder after Monday afternoon's mayhem in Canada's largest city — the worst mass killing in the country in three decades. Authorities said Tuesday afternoon that they expect an additional count of attempted murder after some additional investigation.
Canadian authorities have as yet given no indication of what motivated the massacre, while also downplaying any link to terror. And law enforcement sources said social media posts were still being examined to determine the suspect's mental state.
Minassian wore a white jumpsuit in court with his hands cuffed, and only spoke his name during the brief hearing, reported CTV News.
The suspect rented a van on the morning of the attack, Graham Gibson, a detective with the Toronto police, said at a news conference Tuesday afternoon.
Minassian "posted a cryptic message on Facebook minutes before he began driving" onto the crowded sidewalk, Gibson said. The detective did not elaborate on the content of the post and said he was restricted from discussing evidence about motive because Minassian has been charged in the case.
Multiple Canadian and U.S. officials familiar with the investigation confirmed to NBC News that a message on what they say was the suspect's Facebook page referenced Elliot Rodger, the 22-year-old gunman who killed six people in 2014 near Santa Barbara, California. Rodger, who died of a self-inflicted gunshot wound, was described by police as a loner who was unhappy about his lack of sexual experiences with women during college.
Investigators say they believe that Minassian posted the Facebook message. He has not made any statements that might help in the investigation, they said. Officials and neighbors have said he has a history of mental health issues.
The officials familiar with the probe said investigators were looking through social media posts that may be connected with Minassian to determine whether he was associated with an online community known as "incel," or "involuntary celibate" — made up of men who are sexually frustrated that they cannot be with a woman. The Facebook post confirmed by officials as having been posted to what they believe is the suspect's Facebook page mentions the term "incel."
Reddit reportedly banned one such community last year because some members advocated rape.
Gibson, the detective, said at the news conference that the victims were "predominantly" women, but did not elaborate on whether that included the injured as well as the deceased.
Dirk Huyer, chief coroner for Ontario Province, declined to discuss the identity of the victims or say if many of them were female, saying his office was still working on officially confirming the identities of those killed.
At another news conference Tuesday, Prime Minister Justin Trudeau said there was "no reason to suspect any national security element to this attack."
While the country is trying to make sense of the "horrific tragedy," he added, "we cannot as Canadians choose to live in fear every single day as we go about our daily business."
Law enforcement officials in Canada and the United States who have been briefed on the case have said the leading theory appears to be mental illness.
Authorities said Minassian was not previously known to police.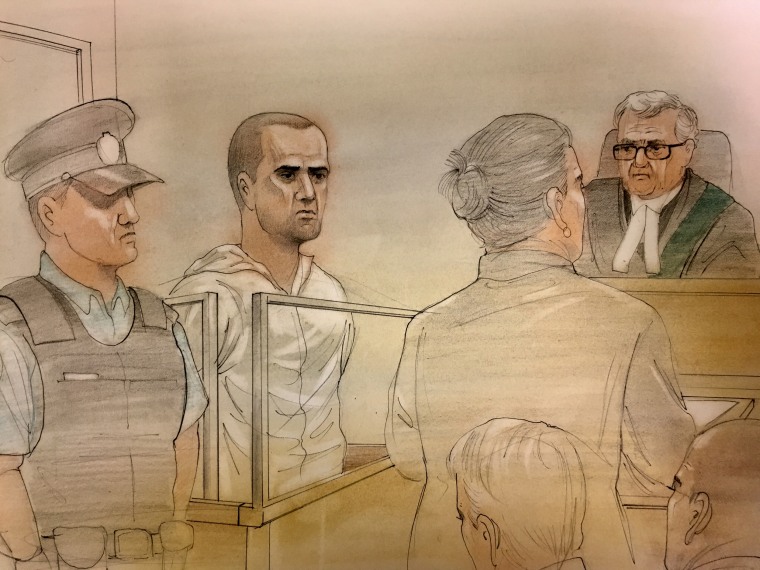 A spokeswoman for Canada's Department of National Defense told The Associated Press that he was a member of the Canadian armed forces from Aug. 23 until Oct. 25, 2017, but did not complete his recruit training and asked to be voluntarily released.
His home in the town of Richmond Hill was cordoned off Tuesday while officials continued their investigation.
Amid Monday's rampage in Toronto, which occurred at about 1:30 p.m. ET, witnesses described a white van apparently rented from Ryder swerving back and forth between the sidewalk and the road. The vehicle sped through crowds at about 30 mph, the witnesses said. Police originally said 15 people were also injured, but later clarified that to 14.
The majority of the victims have not been identified. John Flengas, the acting emergency medical services supervisor at the Sunnybrook Health Sciences Center, which received 10 people, called the scene "pure carnage," reported CTV News.
Videos shared on social media show a brief sidewalk standoff between a police officer and the suspect after he got out of the van:
"C'mon, get down!" the officer, whose weapon was drawn, yells in the video. "Get down or you'll be shot!"
"I have a gun in my pocket!" the driver responds. "Shoot me in the head!"
Police were able to arrest him without firing a shot, and no weapon was found on the suspect, officials said.
Canada's national threat level has been at "medium" since October 2014, when a man gunned down a Canadian soldier at the National War Memorial in Ottawa before he was shot and killed by the Parliament's sergeant at arms.
The car attack Monday follows several other deliberate attacks around the world — including in New York, Spain and France — that were connected to or at least inspired by terrorism.