Updated at 12:31 a.m. ET: Up to a dozen tornadoes touched down in areas south of Dallas on Tuesday, tossing tractor-trailers hundreds of feet into the air and causing widespread damage, especially in Lancaster and Arlington. At least 17 people were injured but there were no reported deaths.
As the storm system moved northeast, it spawned another tornado in Forney, a suburb just east of Dallas, where the fire station and several homes were hit and the high school saw roof damage, NBC News reported.
Dallas-Fort Worth International Airport was hit by large hail and more than 225 outbound flights were canceled, NBCDFW.com reported. Travelers were taken to shelters as the storms passed. American Airlines canceled all its remaining flights Tuesday to inspect for hail damage.
One tornado hit the Flying J Truck Plaza in Dallas, tossing two trucks, said driver Michael Glennon, who caught the destruction on his video camera.
"The second trailer is ripped to pieces and thrown 50 to 100 feet into the air," Reuters quoted him as saying.
Ten to 12 tornadoes touched down during a massive storm that brought chaos from high winds, rain and hail to the nation's fourth most populous metropolitan area, said National Weather Service meteorologist Jesse Moore.
Seven people were injured in the suburb of Arlington, police said. Most suffered only minor injuries but one person hit by a falling tree was in critical condition, said Arlington police spokeswoman Cheryl Carpenter.

In one of the hardest hit areas south of Dallas, Lancaster, tornadoes damaged 300 structures.

Of the 10 people injured in Lancaster, two of them were severely hurt, said Lancaster police spokesman Paul Beck.
A huge funnel cloud was seen flinging large truck trailers high in the air as flashes of exploding power lines lit the sky. "There's lots of 18-wheelers," said one NBC 5 reporter near Arlington. "I've never seen this before."
The orange tractor-trailers were from the operations yard for Schneider National trucking company. The yard saw "massive" damage, the Wisconsin-based company said in a statement.
Video highlights from Texas tornadoes, storms
Arlington's mayor declared a state of emergency, and many homes there were destroyed or damaged, NBC 5's Mola Lenghi reported.
Three people suffered minor injuries in Arlington, officials said. Two were taken to a hospital from a wind-clipped nursing home, they said.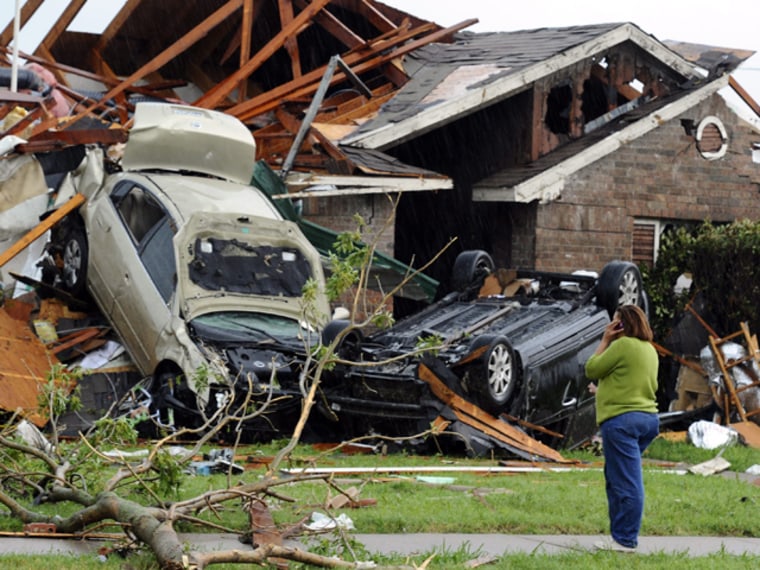 In Lancaster, at least 10 people were injured, two severely, officials said. About 300 structures were damaged, Mayor Marcus Knight told a news conference Tuesday evening, the Dallas Morning News reported. A curfew was put in place from 7 p.m. Tuesday until 9 a.m. Wednesday, he said. A shelter was opened at the city recreation center, but Knight advised residents to seek shelter outside the city if possible.
Images, video of the tornadoes from NBCDFW.com
NBC 5 reporter Ken Kalthoff said, "there's tremendous damage here." More than 100 children and adults inside a daycare center appeared safe, but the building was heavily damaged, Kalthoff said.
"People have stumbled out of their houses surprised they survived," reported Kalthoff, who saw the funnel cloud from about a mile away.
Lancaster High School and a large water tank barely avoided damage, he added.
Live video from NBCDFW.com showed a Lancaster subdivision along Pepperidge Drive East in which dozens of houses had been damaged or destroyed. Emergency crews were staging in a parking lot at Cedar Valley College to the east of the subdivision.
Lancaster resident Devlin Norwood was at home when he heard the storm sirens. He was making a quick trip to a nearby store when he saw the funnel-shaped tornado come down and kick up debris, The Associated Press reported. 
"I didn't see any damage until I got back home. We had trees destroyed, fences down, boards down, boards penetrating the roof and the house, shingles damaged," said Norwood.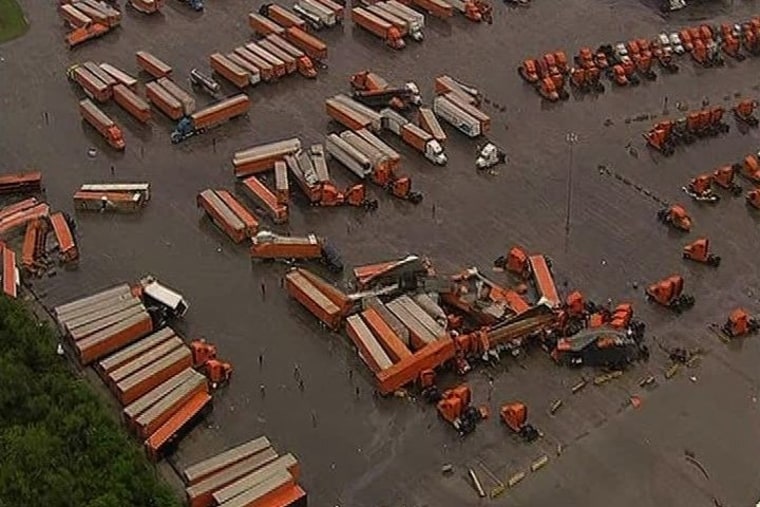 Schools south of Dallas were locked down, NBC's Charles Hadlock reported, adding that one of the funnel clouds touched down in the town of Red Oak.
At least 40,000 customers lost power in the storms, which also dumped hail the size of golf balls across the area.
In Dallas County, the storm pushed cars into fences and toppled trees. A motor home was torn apart and crumpled in a driveway where a home's roof was torn off.
Mobile homes and businesses were destroyed or damaged in Kennedale and one person was hospitalized, the fire department said.
The massive Parks at Arlington mall along Interstate 20 shut down and management ordered shoppers and others into the basement, the Fort Worth Star-Telegram reported. Employees at Cowboys Stadium in Arlington were moved into the tunnels, the newspaper said.
At Dallas-Fort Worth International Airport, American Airlines was having to inspect 68 planes for hail damage. Several airlines canceled Dallas-bound flights for the rest of Tuesday.
A member of New Zealand's Parliament, Jacinda Ardern, was among those at the airport when the tornado siren went off, the New Zealand Herald reported.
"It was really loud; it was a real roar," said Arden, who was attending a leadership conference. "I was away from the windows but there were hailstones the size of golf balls coming down
The Associated Press and Reuters contributed to this report.
More content from msnbc.com and NBC News: