ISTANBUL — An American pastor facing up to 35 years behind bars denied accusations that he aided terrorist groups or spied against Turkey as his trial began Monday.
Andrew Brunson — a 50-year-old evangelical pastor from Black Mountain, North Carolina — has spent the last 23 years living in Turkey, where he and his wife raised their daughter and two sons.
According to the American Center for Law and Justice, which is representing Brunson in the U.S., he was running the Resurrection Church in the western city of Izmir and applying for permanent residency when he was detained in October 2016.
"He's a pawn in a political game between Turkey and the U.S."
The case has strained relations between the U.S. and NATO ally Turkey.
"I don't accept any of the allegations or accusations," the state-run Anadolu Agency quoted Brunson as telling the court. "I did not engage in any illegal activity. I had no relations with anyone engaged in such activity."
He added: "I am a Christian pastor. I did not join an Islamic movement. Their aims and mine are different."
The agency said the pastor delivered his defense statement in Turkish.
Speaking to NBC News before the hearing, Brunson's daughter Jacqueline Furnari said that relatives were happy the case was moving forward but concerned it could drag on further.
"I'm not sure exactly why my dad was chosen," she said. "He's a pawn in a political game between Turkey and the U.S."
Furnari said Brunson's mood has recently improved and he had started to gain back some of the 50 pounds he lost while in detention.
"The start was very, very difficult. It was a dark time," she said. "He's anxious … but altogether he's doing a lot better."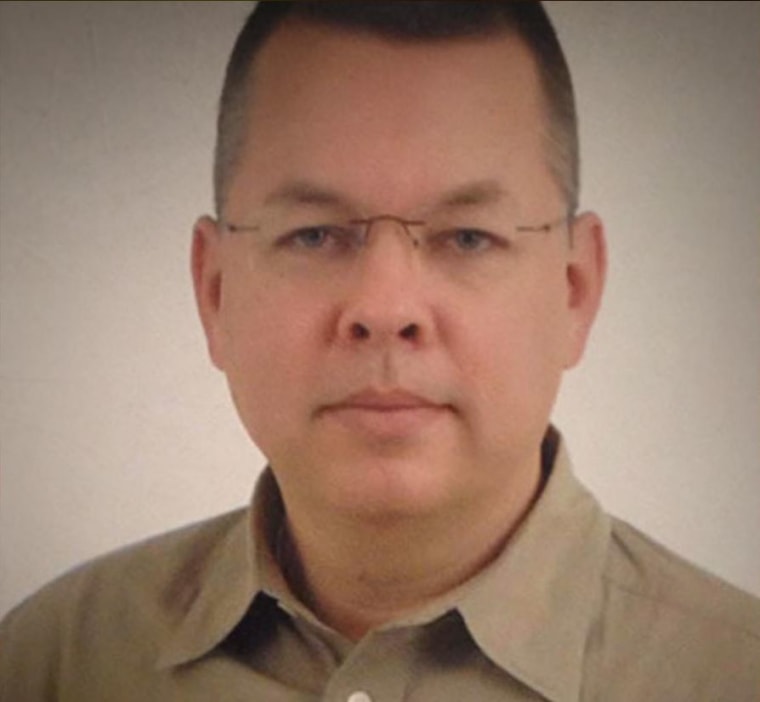 She added: "He's done nothing wrong, he's a peaceful loving man, he's a pastor. These charges are absolutely absurd."
Brunson was arrested during the mass detentions and firings soon after a failed July 2016 coup attempt, initially on immigration violation charges.
He's now accused of having links to the Kurdistan Workers Party (PKK), a Kurdish militant group which Turkey and the United States deem a terrorist organization, as well as links with the network of Pennsylvania-based cleric Fethullah Gulen. Ankara blames Gulen for being behind the coup attempt.
The indictment also alleges Brunson revealed state secrets and communicated with people who gathered details about gas and railway stations, information which would potentially be of strategic importance during a war or occupation.
The indictment states the charges are based on evidence obtained from Brunson's phone, as well as from witnesses given pseudonyms to mask their identity.
The pastor's lawyer, Ismail Cem Halavurt, told NBC News before the trial that he's not been told who the witnesses are and that Brunson denies the charges.
The United States has repeatedly demanded Brunson's release.
In March, then-Secretary of State Rex Tillerson met with Brunson's wife during a trip to Turkey to visit President Recep Tayyip Erdogan.
A senior U.S. official told NBC News: "We are following this case closely, and since his arrest, we have visited Mr. Brunson regularly. We believe that Turkey is a state of law, and we have faith in the Turkish people's commitment to justice."
Republican Sen. Thom Tillis of North Carolina attended Monday's hearing.
After visiting Brunson in prison in March, Tillis said that "Brunson is being used as a political pawn by some elements of the Turkish government."
In September, Erdogan said that Turkey would send Brunson back to the United States if Washington extradited Gulen.
"Give him [Gulen] to us," Erdogan said. "Then we will try him [Brunson] and give him to you."
Washington said it did not receive sufficient evidence showing Gulen's connection to the coup attempt.
Halavurt said he expects his client to be released later on Monday over what he called "very weak" accusations, but added that recent cases have shown that may not happen.
"This is a special, delicate trial and if we look at other trials that have been held in this last period, we see that some people have been condemned without enough evidence, so it's a risk we have to consider," he added.
Since the failed coup,Turkey has jailed over 50,000 people including journalists, academics and judges. The purges have led to widespread criticism of the country's authoritarian president.
Soner Tufan, a spokesperson of the Association of Protestant Churches and who attended Brunson's church, said Brunson was not connected to any political organizations.
"He's not guilty, he's not a spy, he's not working for CIA or other kind of organization," Tufan said. "He's just a [pastor]."
Several other U.S. citizens are being detained in Turkey, including NASA scientist Serkan Golge, who was sentenced to over seven years in prison on terrorism charges.
The State Department said it was deeply concerned by Golge's conviction.