A search plane has spotted the wreckage of an Indonesian aircraft that went missing with 54 people on board Sunday over the remote region of Papua, rescue officials said.
There was no immediate word on whether there were any survivors from the crash, which happened in bad weather in Indonesia's mountainous easternmost province of Papua. Officials said the wreckage was spotted about seven miles from Oksibil, and Henry Bambang Soelistyo, the chief of the National Search and Rescue Agency, or BASARNAS, said search and rescue teams were preparing to try to reach the crash site by air and foot.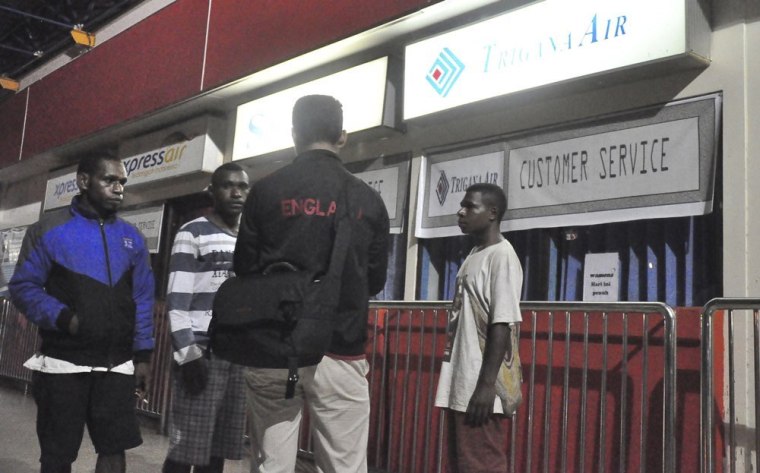 The ATR42-300 twin turboprop plane was carrying 44 adults, five children and five crew members when it went missing. All those on board are believed to be Indonesian.
The flight took off from Sentani Airport in Papua's provincial capital of Jayapura after 2 p.m. local time (1 a.m. ET) en route to the city of Oksibil. Jayapura is about 175 miles from Oksibil, and the flight should have lasted less than an hour.
Julius Barata, a spokesman for the Transport Miniustry, told The Associated Press there was no indication that the pilot had made a distress call.
There were conflicting reports over when and how the plane last contact, in fact. One BASARNAS official told NBC News that the airliner lost contact at 2:55 p.m. — before it was due to arrive.
However, local BASARNAS search and rescue officer Raymond Konstantin told NBC News that air traffic control said the plane last made contact at 3:21 local time — after it was due on the ground — saying it was unable to land because of poor visibility.
The reason for the discrepancy wasn't immediately clear.
The plane's manufacturer, ATR, said in a statement that the company was "standing by" to assist in the investigation.
Trigana is a small regional carrier based in Jakarta.