Updated at 1 a.m. ET: BOISE, Idaho -- Idaho National Guard rescuers plucked a California fireman, his wife and their adult daughter from a snow-covered mountainside Sunday afternoon, more than 15 hours after the trio survived a nighttime plane crash onto a steep, forested slope in a remote part of the state.
Authorities said the group was flying in a Cessna 172 from California to Mountain Home, Idaho, when the plane went down at about 9 p.m. MDT Saturday (11 p.m. ET). One of the three used a cellphone just after midnight to report that they had survived the crash but had suffered head and back injuries.
A medical helicopter was the first to spot the wreckage Sunday morning, but white-out conditions didn't allow for an immediate rescue, said Col. Tim Marsano of the Idaho National Guard.
Officials said ground rescuers traveling through 6-foot snow drifts and on 60-degree slopes reached the crash site first. They wrapped the family members in blankets and built a fire until a military helicopter could lift them out with a hoist.
"It was inhospitable for a landing," Marsano said. "The use of the helicopter was indispensable for this type of rescue operation."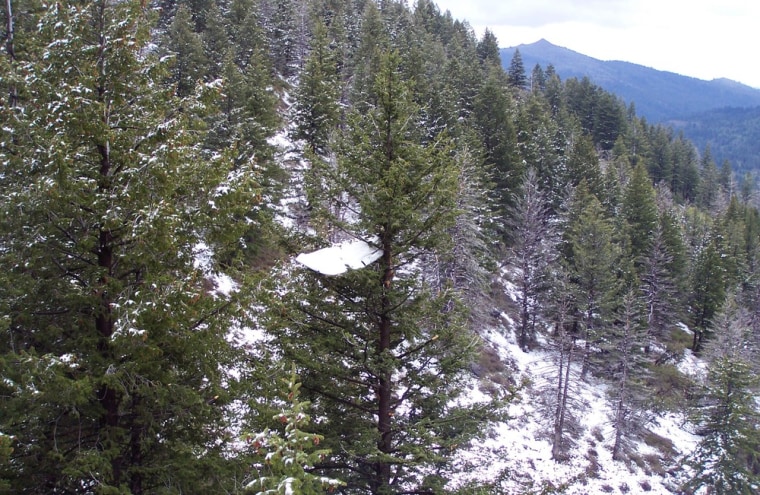 The three were flown one at a time to a landing area about a half-mile from War Eagle Mountain in southwest Idaho's Owyhee County.
The first person came out about noon and the last at about 2 p.m., and each was transferred to a medical helicopter and flown to Saint Alphonsus Regional Medical Center in Boise where they were listed in stable condition.
It's unclear what caused the Cessna to go down. Photos taken by rescuers showed significant damage, including a broken front windshield.
Authorities identified the trio as Brian Brown of Wilton, Calif., his wife Jayann Brown and their 26-year-old daughter Heather, the Idaho Statesman reported.
'Surprisingly good condition'
Brian Brown is a captain at the Cosumnes Community Services District Fire Department in Elk Grove, Calif. He is also deputy chief of operation and training with the nearby volunteer Wilton Fire Protection District.
Owyhee County Sheriff Daryl Crandall told KTVB that the three relatives were "surprisingly good condition."
Wilton Fire Chief Tom Dark said the couple was flying with their youngest daughter to Mountain Home to visit their oldest daughter. He was relieved they were in stable condition.
"That was our first concern, how he and the family were doing," said Dark. "Knowing what a good pilot he is, something had to have happened."
Dark said it was probably an unusual experience for Brown, a firefighter for more than two decades, to be on the other end of a rescue.
"When the shoe is on the other foot it's kind of strange," he said.
The Associated Press and msnbc.com staff contributed to this report.
More content from msnbc.com and NBC News: