KABUL, Afghanistan — At least six people have been killed and 87 injured following three explosions at a funeral in Kabul on Saturday, the Ministry of Interior said.
Mourners were paying their respects to Salim Ayzadyar, the son of an Afghan senator, when three suicide bombers detonated explosives, Afghan chief executive Abdullah Abdullah told state television.
PHOTOS: Three Blasts in Kabul Rock Funeral for Politician's Son
Abdullah, who is the country's second-most powerful man, was also at the funeral but was unharmed.
Simonetta Gola a spokesperson for Emergency Hospital told NBC News they had received 16 patients, but could not confirm their conditions.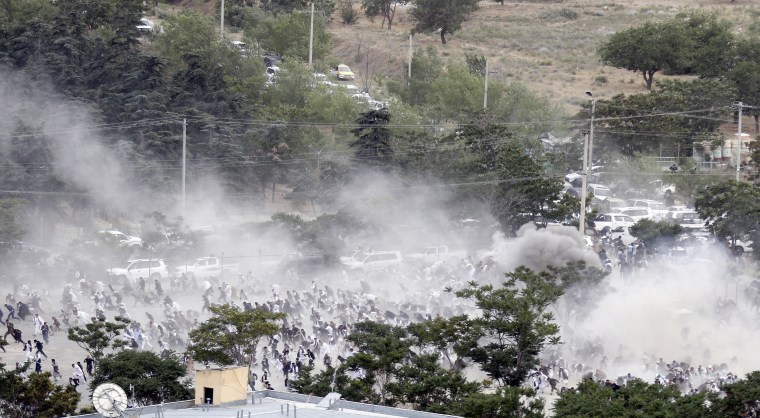 Ayzadyar died during violent clashes between Afghan police and protesters at a demonstration in Kabul on Friday.
More than a thousand demonstrators descended into the streets to demand more security in the capital after a rush-hour suicide bomb killed at least 90 people and wounded more than 450 on Wednesday, according to the Associated Press.
Related: Kabul Bomb: Explosion Near German Embassy Kills Dozens
The demonstration left seven people dead and 10 others injured, according to Najeeb Danish the spokesperson for the Afghan Ministry of the Interior.
Most of the casualties of Wednesday's blast were civilians and many of those killed were women and children, according to authorities.
Eleven U.S. citizen contractor personnel were injured, but none of the injuries are considered life threatening, a U.S. State Department official said.
No one has claimed responsibility for the attack.
Ahmed Mengli reported from Kabul and Saphora Smith reported from London.