During this heated political climate, the latest tropical storm to take aim at the Caribbean islands is grabbing attention for more than the heavy rain and winds it's predicted to pack.
Its name — Don — was quickly noticed for sharing a moniker with the U.S. president after officially becoming the fourth tropical storm to form in the Atlantic this season on Monday.
"I hadn't even thought about that," Max Mayfield, the former National Hurricane Center director who chaired the committee that added the name Don to the storm list, told The Associated Press. "I guarantee you that it has no connection to Donald Trump."
While some news outlets poked fun at the presidential association — the AP tweeted that the "Hurricane center calls Tropical Storm Don 'small' and 'not particularly well organized'" — there's no denying that it's just a coincidence.
That's because storm names are preapproved and reused regularly, according to the National Oceanic and Atmospheric Administration.
The United States first began using female names for storms in 1953, and then added male names in 1979 when identifying the ones that form in the Atlantic. The World Meteorological Organization is the entity that decides names — and there are already six lists of male and female ones that are rotated every year.
Storms in a single season are named by going through the alphabet, beginning with the letter A, and alternating between female and male.
The name Don was first used in 2011 when it replaced Dennis, which was retired after 2005.
Related: Here's Why You May Hear More About Storms This Summer
The only time a name is taken out of the rotation is when it "is so deadly or costly that the future use of its name on a different storm would be inappropriate," according to NOAA.
For instance, the names Andrew, Katrina and Sandy have all been retired because of the memorable destruction they created in 1992, 2005 and 2012, respectively.
Don isn't the only politically-related name to come into play during a presidency. There was a Hurricane Bill in 1997 when Bill Clinton was in the White House. Georges was also on the list of available names when George H.W. Bush was president, although it was retired in 1998 after it barreled through the Caribbean at 155 mph and killed hundreds.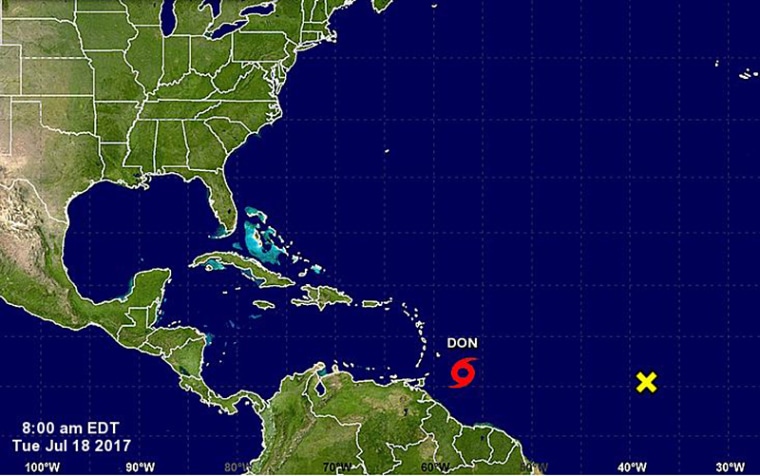 Additionally — and coincidentally — Hilary is on deck to be named the next Pacific Ocean storm that forms.
Meanwhile, meteorologists aren't expecting Tropical Storm Don to blow through with enough intensity that the name would have to be retired.
According to The Weather Channel, it remains a "small tropical cyclone, with tropical storm-force winds extending only up to 35 miles from the center of circulation." Tropical storm warnings were in effect Tuesday for Grenada, St. Vincent and surrounding Windward Islands as Don was expected to sweep west, with the possibility of flooding and mudslides.
The tropical storm was about 40 miles southeast of Grenada as of 8 p.m. Tuesday with maximum sustained winds of 40 mph, and was moving west at around 23 mph, according to the National Hurricane Center. It is forecast to weaken and become a trough of low pressure Tuesday night or Wednesday.
"Don is no threat to the United States," The Weather Channel said.
Still, plenty of observers on social media were taking advantage of mocking the "low energy" storm's political link: