The Trump administration wants to cap the number of refugees admitted into the U.S. next year at 45,000 — a dramatic cut in the number of applications processed by the U.S. in recent years, two administration officials tell NBC News.
The officials said the cap has been set below the State Department's recommended ceiling of 50,000 for fiscal year 2018, as laid out in the administration's travel ban.
One official said that Trump adviser Stephen Miller, a vocal advocate for immigration restrictions, was a driving force in bringing that number down.
The new cap is pending Trump's final approval and is subject to last minute change, the officials said, speaking on the condition of anonymity to discuss policy decisions.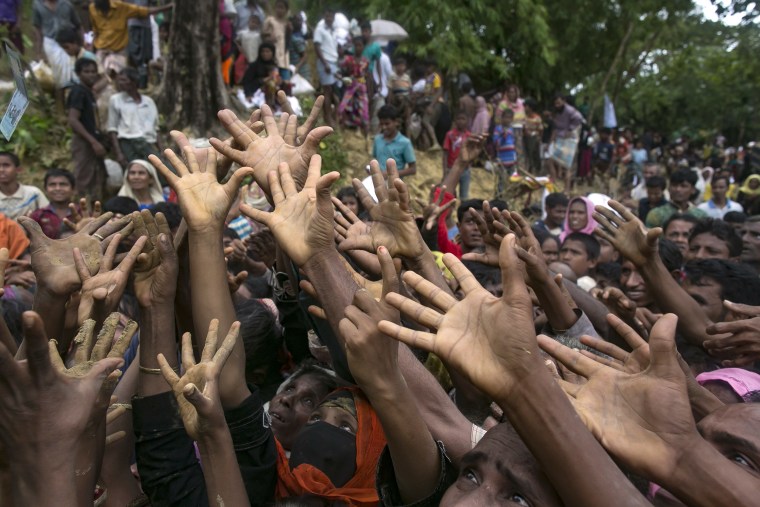 The administration will need to notify Congress of the change but has full authority to set the limit on its own.
The number is significantly lower than the 110,000 President Barack Obama had aimed for in fiscal year 2017.
The White House and State Department didn't immediately reply to requests for comment. The decision was first reported by The Wall Street Journal on Tuesday evening.
Immigration advocates say security screenings to enter the United States as a refugee are among the most rigorous for any category of immigrant and many who have already been vetted by the United Nations High Commissioner on Refugees are left waiting years for resettlement.
Trump temporarily halted refugee resettlement from all countries in his travel ban, which was disputed in federal court.
On Monday, Trump restricted travel to the United States from eight countries based on a security review that determined the countries do not provide enough information about their nationals. Those countries are Iran, Libya, Somalia, Syria, Yemen, Chad, North Korea and Venezuela.