SEOUL, South Korea — President Donald Trump agreed Thursday to suspend joint military drills with South Korea during next month's Winter Olympics following a phone call with his counterpart Moon Jae-in, according to officials in Seoul and the Pentagon.
The two leaders also discussed possible bilateral talks between North and South Korea ahead of the games, which are due to begin in Pyeongchang on Feb. 9.
It follows this week's "nuclear button" Twitter fight between Trump and North Korean leader Kim Jong Un, and comes after Moon hinted in a Dec. 19 interview with NBC News that the joint military exercises should be pushed back if Kim avoided "provocations" such as missile tests.
"We will work closely with the United States during the process of inter-Korean dialogue," Moon said Thursday in a statement released by his officials. "We are confident that this process will help to create an atmosphere of dialogue between the United States and North Korea to resolve the North Korean nuclear issue."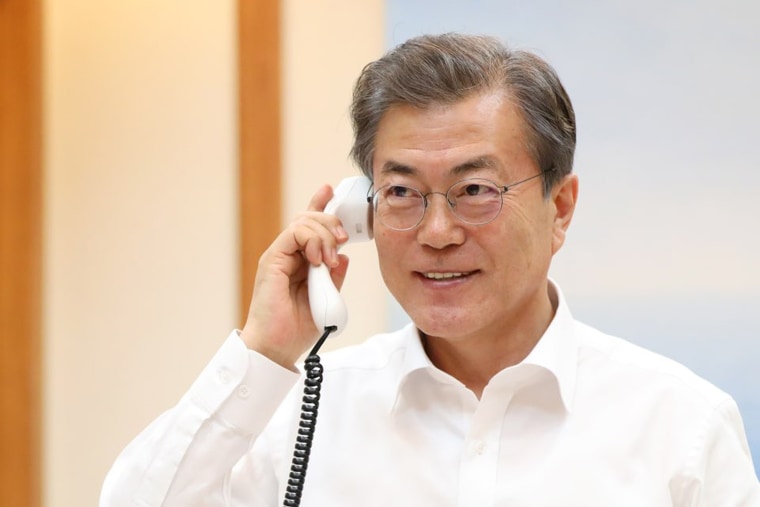 U.S. officials confirmed Trump's move.
According to a readout of the call released by the White House, Moon and Trump "agreed to continue the campaign of maximum pressure against North Korea and to not repeat mistakes of the past."
Separately, Pentagon spokesman Col. Robert Manning III said the "Department of Defense supports the President's decision and what is in the best interest of the [South Korea]-U.S. alliance."
Related: North Korea's proposed talks don't mean Kim will give up nukes
Moon's statement also revealed that Trump said he would send a senior delegation, including his family members, to the Pyeongchang games.
"I would like to inform the Korean people that I was honored to speak at the Korean National Assembly," it quoted Trump as saying. "I heard a lot of great comments about my speech at the Korean National Assembly."
The U.S. and South Korea frequently hold military exercises to test their readiness should a conflict break out with North Korea. The biggest are held each spring — known as Key Resolve and Foal Eagle — involving about 17,000 U.S. troops and more than 300,000 South Koreans.
The North has offered to freeze its nuclear and missile programs in exchange for the U.S. and South Korea halting these drills, which it sees as a rehearsal for an invasion. Russia and China also back what they call a "dual suspension" solution to the standoff.
Ensuring that the Winter Olympics take place without interruption from North Korea is a primary concern for South Korea. On Tuesday, it proposed that delegations from North and South meet ahead of the games in what would be the first such meeting since 2015.
Kim also suggested talks in a New Year's Day speech in which he expressed hope that the Winter Games would be a success and that a North Korean delegation would take part.
Mac William Bishop reported from Seoul. Alastair Jamieson reported from London. Hans Nichols reported from Washington.