SEOUL, South Korea — President Donald Trump said Tuesday that there had been progress on resolving the North Korea nuclear crisis and called on Pyongyang to "make a deal."
"I really believe it makes sense for North Korea to come to the table and make a deal that's good for people of North Korea and people of the world," he told reporters as he stood alongside South Korea's President Moon Jae-in. "I do see certain movement, yes, but let's see what happens."
Trump also called on world leaders to address the North Korean threat together, calling it "a world-wide threat that requires world-wide action."
Trump is in South Korea as part of an 11-day regional trip where he will visit five countries. After visiting South Korea, Trump will make his way to Beijing. After that, he heads to Vietnam and the Philippines.
From the time he touched down in Seoul, Trump focused on North Korea, striking an optimistic tone with U.S. and South Korean troops during a stop at Camp Humphreys.
"Ultimately, it will all work out because it always works out. It has to work out," he said.
President Moon said he hoped that Trump's visit to the Korean Peninsula would mark "a turning point in resolving the North Korean nuclear issue."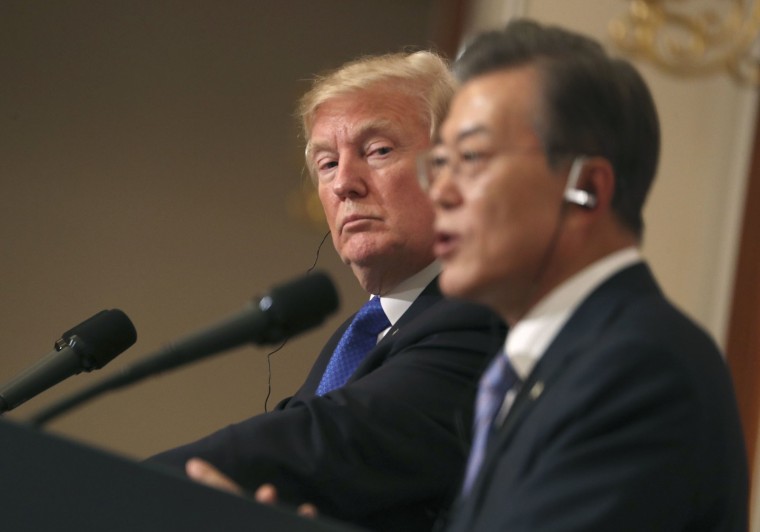 He praised the U.S. president for his focus on the issue, with Trump promising the urgent crisis would be "front and center" in their talks.
The two leaders were full of warm words on their countries' relationship at the press conference, with Trump thanking Moon for his hospitality and calling South Korea a partner and friend.
"We cannot allow North Korea to threaten all that we have built," Trump told Moon.
A key U.S. ally, South Korea is home to more than 50 million people. Some 28,000 American troops are stationed in the country. Seoul, its capital, is just 30 miles from the North Korean border and in range of thousands of artillery pieces that are trained on the city.
North and South Korea are technically still in a state of conflict since the Korean War ended in an armistice, rather than a peace treaty, in 1953. In the decades since the Koreas were partitioned, the North has become an impoverished, militarized pariah, while the South has embraced technology, capitalism and deep ties with the Western world.
Trump's visit comes amid rising tensions in the region and after a summer of hot rhetoric from Trump who promised to meet provocations from North Korean leader Kim Jong Un with "fire and fury."
White House advisers didn't expect to hear less of Trump's fiery talk during this trip — and even Trump defended its use.
Declaring an end to the "era of strategic patience" with Pyongyang during a press conference in Tokyo on Monday, Trump said that his "rhetoric is very strong, but look what's happened with weak rhetoric over the last 25 years."
North Korea has said in public statements that it wants an official end to the Korean War. It also wants full normalization of relations with the U.S. and to be treated with respect and as an equal in the global arena.
Related: War With Kim Jong Un 'Must Not Happen,' South Korea Says
Trump and Moon also discussed their countries' trade agreements. During the press conference Trump criticized the current agreement, calling it "unsuccessful and not very good for the U.S."
Ali Vitali reported from Seoul. Rachel Elbaum reported from London.
CORRECTION (Nov. 7, 4:50 a.m.): An earlier version of this article misstated the length of Trump's Asia trip. It will last 11 days, not 13 days.