Angry clashes erupted in the West Bank on Thursday as the Middle East braced for violence over President Donald Trump's contentious decision to recognize Jerusalem as the capital of Israel.
U.S. embassies around the world were on alert for protests after the announcement, which sparked uproar among world leaders and upended decades of American policy.
In Bethlehem, Israeli police fired tear gas to disperse demonstrators while Palestinians set tires alight and threw rocks in Ramallah. In Jerusalem, about 20 chanting protesters at the historic Damascus Gate were ordered to leave by police.
There were no immediate reports of injuries. But Friday, the Muslim holy day, could provide an important test when Palestinians gather en masse for weekly prayers.
The powerful Palestinian Islamist group Hamas called for a new intifada — or uprising — against Israel while a prominent Iraqi militia Harakat Hezbollah al-Nujaba said Trump's "stupid decision" could become a "legitimate reason" to attack U.S. forces in Iraq.
American flags were burned at protests outside the U.S. Consulate in Istanbul and in Cairo and Gaza City late Wednesday, while Iraq on Thursday summoned the U.S. ambassador in Baghdad over the issue.
The State Department updated its "worldwide caution" advice late Wednesday and sent an internal cable deferring nonessential travel to Israel, Jerusalem and the West Bank through Dec. 20, officials told NBC News.
The U.S. Embassy in Jordan said that it had "temporarily suspended routine public services" and that "all embassy travel outside Amman, both official and personal, has been prohibited until further notice."
In the Baqaa refugee camp on Amman's outskirts, hundreds of Palestinians roamed the streets overnight, denouncing Trump and urging Jordan to scrap its 1994 peace treaty with Israel. "Down with America ... America is the mother of terror," they chanted.
Israel's security force, the IDF, sent reinforcements to the West Bank as part of "readiness to possible developments" in response to the decision.
Turkey said America had dropped a grenade in the Middle East. "The United States has pulled the pin on a bomb ready to blow in the region," Prime Minister Binali Yildirim told a conference in Ankara.
Trump's announcement also put in motion a move of the U.S. embassy to the holy city from Tel Aviv — a process that aides have said could take years. It marked follow-through by Trump on a major campaign promise he'd made that had been closely followed by Israel and by evangelical Christians in the U.S.
Ahead of the announcement, Defense Secretary James Mattis and Secretary of State Rex Tillerson had voiced concerns about the threat it would create for American personnel in the region.
Related: Trump's Jerusalem move undermines U.S. interests, analysts say
Since the 1979 Camp David Accords, U.S. presidents have refused to recognize Jerusalem as the capital of Israel or move the U.S. embassy. The U.S. approach has been that Jerusalem's status should be negotiated between the Israelis and Palestinians.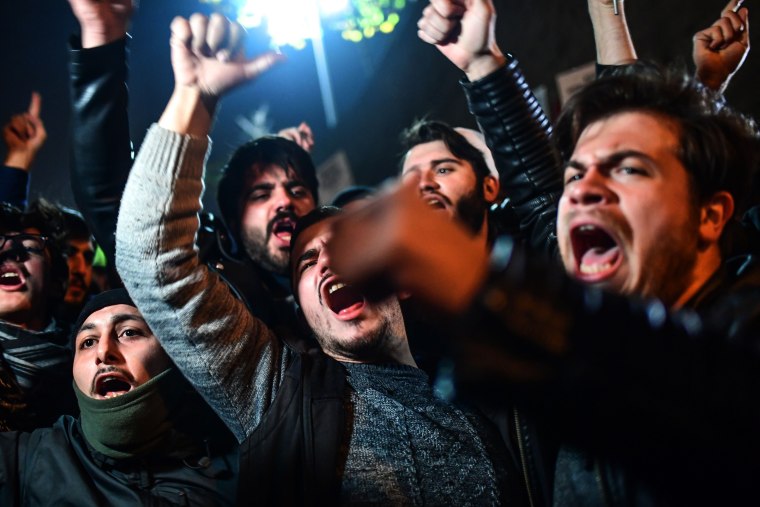 The Palestinians have sought the city's eastern sector, captured by Israel in the 1967 Mideast war, as the capital of a future independent state. They fear Trump's declaration essentially imposes on them a disastrous solution for one of the core issues in the Israeli-Palestinian conflict.
U.S. ally Saudi Arabia joined the chorus of concern Thursday, saying it followed Trump's decision "with deep sorrow" and warned of "dangerous consequences."
Lebanese militant group Hezbollah said the move closed all paths to negotiations. Hassan Fadlallah, spokesman for the group's lawmakers, said the only way for Arabs to restore their rights was now through armed "resistance."
Tillerson defended Trump's move, saying it reflected a longstanding reality. Speaking on the sidelines of an Organization for Security and Cooperation in Europe conference in Vienna, he said the U.S. would still support a two-state solution to the Israeli-Palestinian conflict "if that's the desire of the two parties."
There were also anti-U.S. rallies in Muslim-majority Pakistan on Thursday, including in the cities of Islamabad and Peshawar.