Donald Trump's pledge to move the U.S. Embassy from Tel Aviv to Jerusalem poses monumental challenges in one of the world's most tense environments, according to experts.
Relocating the diplomatic outpost to the holy city is "a very big priority" for the president-elect, aide Kellyanne Conway told radio host Hugh Hewitt earlier this week.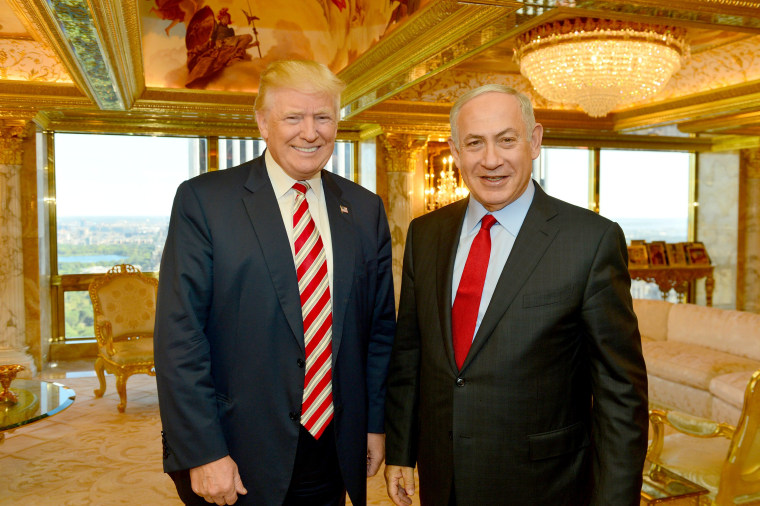 David Friedman, Trump's pick for ambassador to Israel, reinforced this commitment Thursday, saying he looks forward to serving "from the U.S. Embassy in Israel's eternal capital, Jerusalem."
Trump is not the first president to make this promise. But if he follows through where others have reneged, he would please some Israelis who have long since been frustrated with the international community for not recognizing Jerusalem as their capital city.
It would also likely enrage the Arab world, largely because the Palestinians see East Jerusalem as the capital of their future state.
"This could set off demonstrations in Arab cities and capitals throughout the Middle East and the Muslim world beyond," according to Professor Chuck Freilich at the Interdisciplinary Center Herzliya, an Israeli university.
Building anything is a challenge in tension-wrought Jerusalem, where any shovel that breaks ground has a good chance of hitting a site with significance to at least one religion.
But a U.S. Embassy isn't just any building.
"It will be very, very costly to build and very, very costly to defend"
A diplomatic mission in the city would have to be fitted with state-of-the-art security measures, would likely cost hundreds of millions of dollars and take years to complete.
"I think it's going to be a tremendous challenge, and the biggest challenge is going to be the design of it," said Christopher Hagon, managing director of Incident Management Group, a Florida-based security consultancy. "You cannot guess at it — you have to extrapolate every possibility and work all these things through."
Hagon, who was personal protection officer to Britain's Queen Elizabeth II in the 1980s, said the building would need three levels of security: physical, technical, and procedural.
Physical measures, he said, are anything that would stop a would-be bomber or gunman entering the premises. This includes the design of the nearby roads, the presence of armed personnel, and a likely network of blast-proof doors and windows.
"If someone gets to the innermost barrier, then you have a likely catastrophe," Hagon said.
The technical measures involve detecting assailants — security cameras, sensors and infrared beams guarding the premises.
If someone does gain access, that's when the procedural measures kick in: "In short, what are you going to do about it?" Hagon said.
Furthermore, while the project is underway, every person — right down to the last construction worker — would have to be vetted, he added. The fear is that rogue contractors could build weaknesses into the structure or even hide bugs in its wiring.
"You have really got to look at the people who are putting this stuff in and ask where their loyalties lie," Hagon said.
This is not just a precaution. There were almost 500 attacks against U.S. diplomatic facilities between 1987 and 2013, according to a report issued last week by the House Committee on Oversight and Government Reform, which criticized the cost of building modern embassies.
The worst of these attacks came in 1998, when 224 people were killed in near-simultaneous bombings of the American embassies in Kenya and Tanzania. This attack served as a wake-up call for the U.S. government.
"Embassies, simply put, are not regular buildings," according to Tim Bradley, another managing partner at Incident Management Group. "They are the seat of foreign governments in the host country, and as such, actors who oppose the U.S. government would most likely look at the embassy as a symbolic target."
While warranted, embassy security measures come at a cost, although it's hard to estimate a ballpark figure for the Jerusalem move.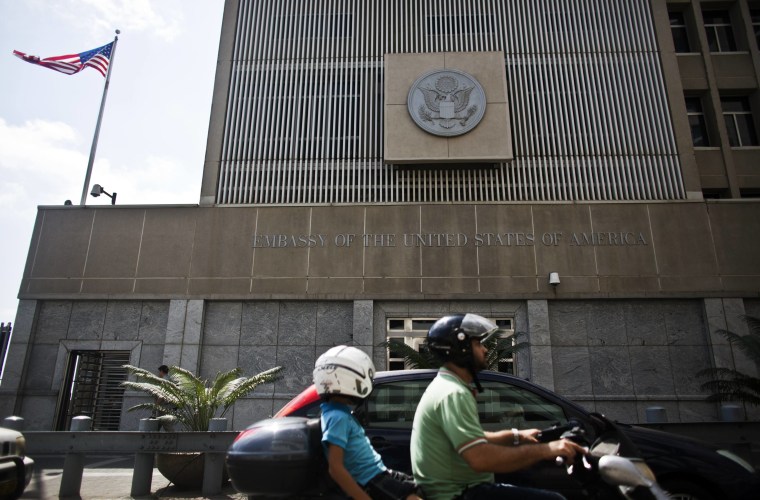 Trump's plan appears to be in its very early stages, and the current U.S. Embassy in Tel Aviv would not give NBC News any information regarding its size or number of employees.
"It will be very, very costly to build and very, very costly to defend," according to Jane Loeffler, an architectural historian and author of "The Architecture of Diplomacy: Building America's Embassies."
She added that "it's a lot of money to spend on symbolism, and it's a symbolism that works both ways," referring to the conflicting territorial claims in the region.
For comparison, the new U.S. Embassy in London that's scheduled to open in February will house 1,000 employees, is projected to cost more than $1 billion, and has been under construction for more than three years.
Related: Qataris Will Spend $1.4B to Turn U.S. Embassy Into Hotel
Five years ago in Mexico City, the State Department paid $120 million for a piece of land to use as its new embassy compound, according to last week's House report. Despite spending another $56 million on the project, it said, the contractors have yet to break ground.
For Trump, a president-elect who has railed against the costs of Boeing's Air Force One deal and the F-35 fighter jet program, the symbolic embassy move is going to come with a hefty price tag.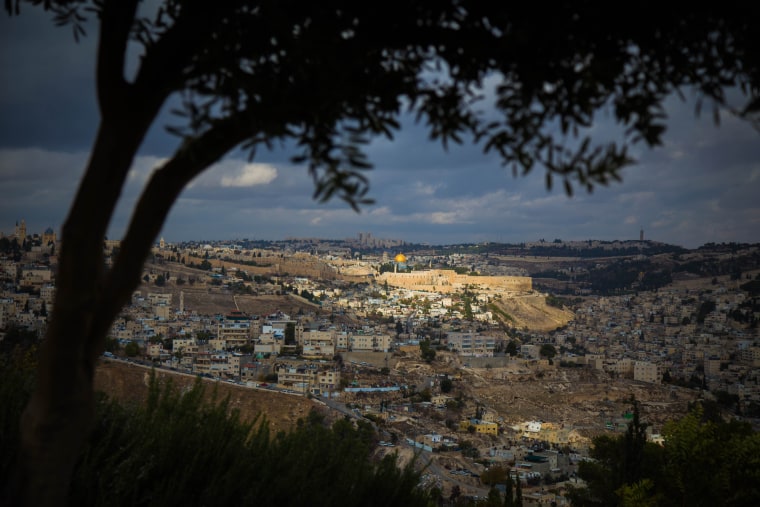 It's not just security that might inflate the cost of a Jerusalem embassy, but also aesthetics.
The House report, titled "Over-Budget Overseas: The State Department's Failure to Protect Our Diplomats," alleged that the spiraling cost of embassies worsened after the State Department introduced its "Design Excellence" program in 2011.
This was an attempt to get away from the previous template of bunker-style buildings, which caused John Kerry to lament in 2009 that "we're building some of the ugliest embassies I've ever seen."
According to the new program, "embassies should represent the best in American architecture, design, engineering, technology, sustainability, art, and cultural heritage."
The result of this can be seen at the new London embassy, which its architect describes as a "transparent, crystalline cube," which represents a "holistic fusion of urbanism."
The complex also features a half-moat, curving walkways and a 4.9-acre garden plaza.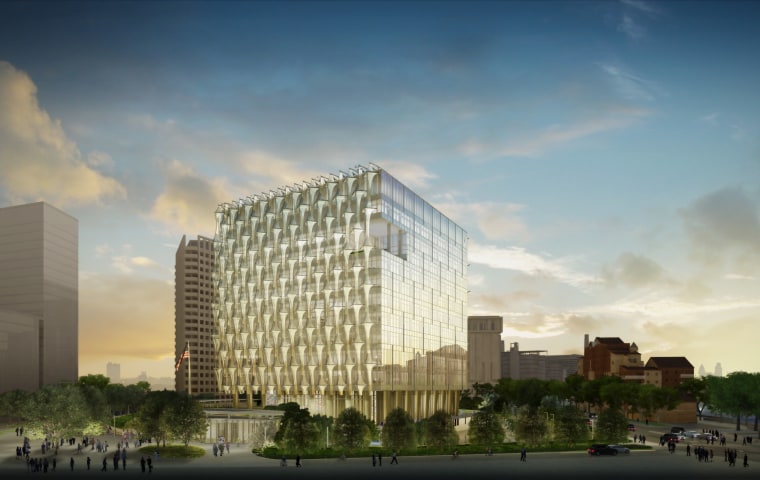 According to the House report, however, this "Design Excellence" process "costs too much and takes too long," and projects often face "millions of dollars in design costs and months of delay."
Timing may also be an issue for Trump, according to Barbara A. Nadel, an award-winning New York architect and security consultant
"U.S. embassies are complex building types subject to many site planning, design, construction and security considerations," Nadel said. "They take years to plan, design and build."
Despite his bold statements, it's still far from certain whether Trump will go through with his plan.
Since 1995, all U.S. presidents have been required by law to move the embassy to Jerusalem, but all have used a rolling six-month waiver to avoid the legislation.
George W. Bush and Bill Clinton said they would go through with it, but never did. And most foreign powers agree that Jerusalem's fate should be decided as part of the peace process.
Trump's rhetoric has been bold, however, giving hope to many in Israel and beyond who back the move.
"Moving the embassy is the right thing to do," Jerusalem Mayor Nir Barkat told NBC News this week. "It's a statement that he has been making and I'm sure that sooner or later [the embassy] will move to Jerusalem."
Barkat said he has already been in discussions with the Trump team, both before and after the election.
Local media has suggested the city's Diplomat Hotel has been scoped as a possible site, and The Times of Israel noted this week that in 1989 the U.S. took out a 99-year lease on a plot of land intended one day for a new embassy location.
According to the newspaper, Palestinians regard the lot as stolen property. Supporters of the move, including the city's mayor, are unshaken.
"Here is what I learned in the Middle East: You've got to do the right thing," Barkat said. "Do the right thing, what's good for Jerusalem, what's good for the Middle East, [and] everything else will sort itself out."