President Donald Trump and Russian Vladimir Putin will hold their first summit in Helsinki, the Finnish capital, on July 16, both governments announced Thursday.
The meeting will be their first not on the sidelines of a larger gathering of world leaders.
"The two leaders will discuss relations between the United States and Russia and a range of national security issues," a White House statement said.
The Kremlin said the pair would talk about the "prospects for the development of relations between the two countries and current international issues," Russia's state news agency Tass reported.
Trump told reporters Wednesday that topics of discussion would include Syria and Ukraine.
He did not answer a question about whether he would raise the issue of special counsel Robert Mueller's investigation into the Kremlin's election interference and the Trump campaign's alleged ties to Russia.
Before details of the meeting were announced Thursday, the president tweeted about the investigation, writing that "Russia continues to say they had nothing to do with meddling in our election!"
Trump has met Putin in-person twice — once at the Group of 20 nations summit in Germany last July and later at the Asia-Pacific summit in Vietnam last November.
Their first dedicated meeting will come after a busy six days in Europe for Trump, starting with the NATO summit in Brussels on July 11 and 12, then his visit to the United Kingdom on July 13.
The president has repeatedly and bluntly criticized his European allies and called on them to spend more on defense. He has also given mixed messages on NATO's crucial mutual defense clause, explicitly endorsing it last year after months of apparent hesitancy.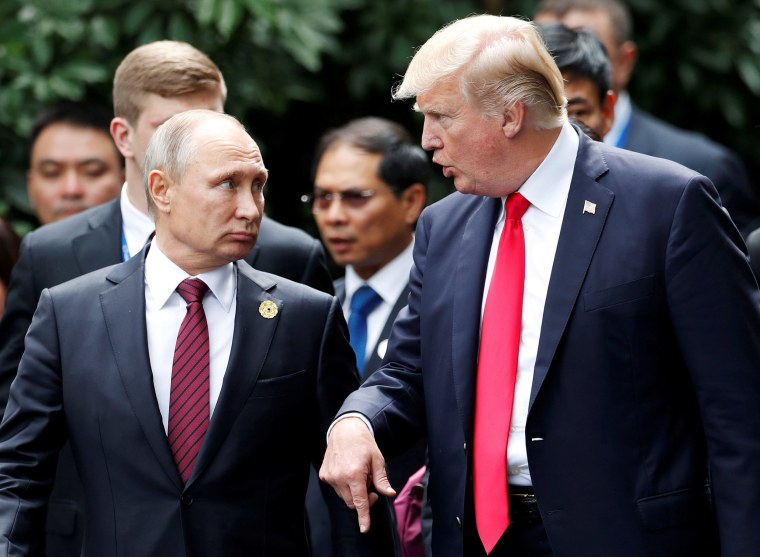 Other NATO members have been unsettled by Trump's rhetoric, as well this month's G-7 summit, which saw Trump leave early and then pull out of the culminating agreement amid a flurry of tweets.
Earlier this year, Trump slapped sanctions on Russia and expelled dozens of diplomats. More recently, he suggested that Moscow be reinstated into the G-7 after it was expelled in 2014 for annexing Crimea.
Allies are now nervously eyeing Trump's trip to Europe, according to Heather A. Conley, director of the Europe Program at the Center for Strategic and International Studies.
"The difficulties before, during and after the G-7 summit raised the stakes enormously for the president's visit to Brussels, the U.K. and potential U.S.-Russia Summit in Helsinki," she said, speaking before the meeting with Putin was confirmed.