BEIJING — President Donald Trump has finally reached out to Chinese President Xi Jinping — via a letter.
Trump wished "the Chinese people a happy Lantern Festival and prosperous Year of the Rooster" in Wednesday's letter, was notable for its timing.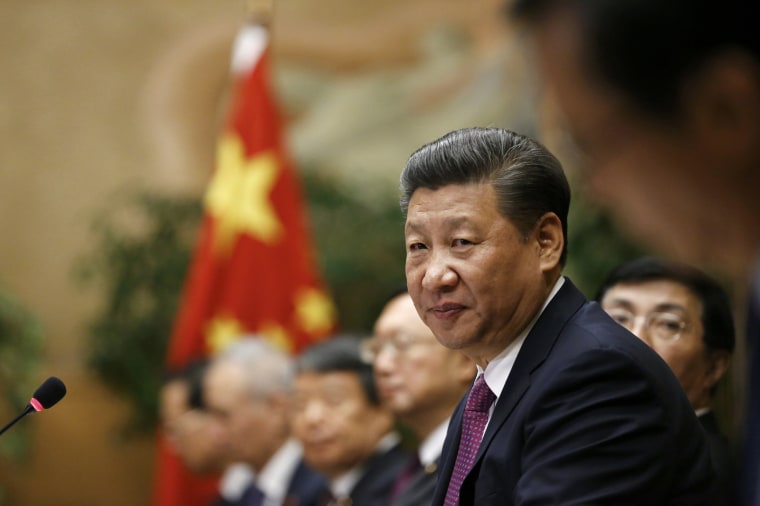 The new president has spoken by telephone to more than a dozen foreign leaders, but this was his first direct outreach to Xi, leader of the world's most populous nation and its second-largest economy.
While no reason has been given for the delay, relations between the world's two largest trading partners have been strained, with Trump unleashing a stream of anti-China remarks on trade, security and territorial ambition on the campaign trail and since becoming president.
Related: China Is Both a Threat and an Opportunity for Trump
The new president has accused China of unfair trade practices and deliberately undervaluing its currency, criticized its military build-up in the South China Seas and alleged that it is doing too little to pressure neighbor North Korea over its nuclear and missile programs.
Trump also upended four decades of diplomatic protocol by questioning the One China policy on Taiwan and by speaking by phone with Tsai Ing-wen, the president of Taiwan, which China claims as its own territory.
So the muted language in Wednesday's letter stood in sharp contrast to the slew of anti-China remarks from Trump.
In it, Trump wrote that that he looked forward to working with Xi to "develop a constructive relationship that benefits both the United States and China," according to a statement released by the White House.
Officially, China's Foreign Ministry expressed "thanks" for the missive, and spokesman Lu Kang dismissed the idea that it was a poor substitute for a call or even a snub.
"The two countries share wide common interests, and cooperation is the only correct path," he told reporters during a daily government briefing Thursday.
"A friendly signal is better than a provocation," Chu Yin, an associate professor at Beijing's University of International Relations, told the Global Times. "He sent a letter rather than make a phone call, so Trump may still want to keep his distance from China."
Beijing may be marking boundaries, too — China would not want to risk the embarrassment of an awkward call.
Trump's conversation with Australian Prime Minister Malcolm Turnbull was described as "blunt" by a senior White House official. The Associated Press also reported that Trump told Mexicans President Enrique Peña Nieto that he would send troops to deal with "bad hombres" on the border during another phone call.
An awareness of Asian regional rivalries could also play into why Trump extended this gesture to China now.
The letter came just ahead of a visit to the United States by Japanese Prime Minister Shinzo Abe. Trump will hold official meetings with Abe in Washington, D.C., on Friday before they fly on Air Force One for a round of golf at his exclusive Mar-a-Lago resort in Florida. According to Japanese media, the two leaders will eat no fewer than five meals together — a lot for this kind of meeting.
Officials around Xi might be seeking some sort of reaffirmation of the One China policy since Trump's contentious overtures with Taiwan and suggestion that the policy was "negotiable."
"For China, it is not unusual to test the waters of a new administration," Victor Gao, an interpreter for former Chinese President Deng Xiaoping, told NBC News on Thursday. "China has no reason to rock the boat."
This cautious attitude pervaded the coverage of the message throughout China.
While the tone in Chinese media geared to an English-speaking audience was positive — suggesting the letter is a conciliatory signal between the world's largest trading partners — the main Chinese-language evening newscast, by state-run CCTV, made no mention of the message.