When President-elect Donald Trump spoke to Taiwanese President Tsai Ing-wen on Friday, he not only broke decades of U.S. protocol, he also opened the door to potential trouble with China — which has long refused to recognize the controversial island as a separate nation.
The phone call, described by Taiwan's presidential spokesperson as a "friendly talk," is believed to be the first time a U.S. president or president-elect has had contact with a Taiwanese leader since before the U.S. cut off diplomatic relations with Taiwan in 1979.
For China and Taiwan, the tension stretches back much further than that.
An island unto itself
Taiwan — located just over 100 miles off China, across the Taiwan Strait — has a population of more than 23 million people and is an economic powerhouse, despite its history of political woes. Over the years, it bounced between Japanese and Chinese rule, and after World War II, was put under martial law by the Chinese mainland.
The island of Taiwan, whose government refers to itself as the Republic of China (ROC) — not to be confused with mainland China — became home to the Chinese nationalists led by Chiang Kai-shek after they were pushed out of the mainland by Mao Zedong's communist forces in 1949.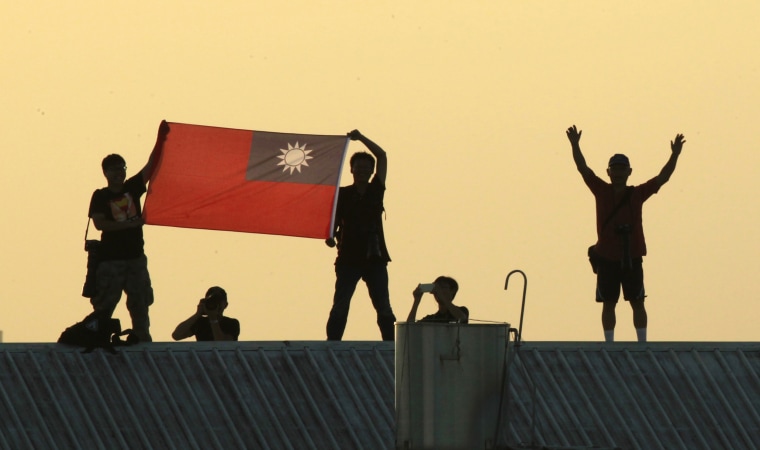 By the time Taiwan began to untangle itself from martial law in the 1970s, there had been widespread human rights violations, including protesters killed for marching for free democracy independent of communist rule.
Taiwan had been a one-party authoritarian state until it came to an official end in 2000 with the election of an opposition party candidate as president.
But it views its future differently from how the mainland does. China feels there's a "one country, two systems" structure in place at the moment and that Taiwan will eventually be folded back into China entirely, while Taiwan maintains it should have its own government and become its own country.
How the U.S. views Taiwan
The U.S. has taken China's side for years: It recognized the People's Republic of China as the sole legal government in 1979 when it ended diplomatic relations with Taiwan.
A spokesperson for the White House's National Security Council said after Trump's phone call that the administration remains "firmly committed to our 'one China' policy."
"There is no change to our longstanding policy on cross-Strait issues," spokesman Ned Price said Friday.
How this could affect U.S.-China relations
In light of the region's sensitive relations, Trump's phone call quickly setting off diplomatic alarm bells.
China's Foreign Minister Wang Yi referred to the call as a "petty" move by Tsai.
"The One China principle is the foundation for healthy development of Sino-U.S. relations. We don't wish for anything to obstruct or ruin this foundation," Wang said. Beijing filed a complaint with the U.S. over the break in protocol, a spokesman for the foreign ministry said.
In America, Democrats pounced on Trump.
"His foolish phone call threatens our national security," the Democratic National Committee said in a statement.
Related: Donald Trump's Call With Taiwan President Was No Surprise: Official
"The wrong message could be received, so he should be fully briefed by the State Department before those communications," added Sen. Ben Cardin, D-Md., who's on the Senate Foreign Relations Committee.
Top Trump adviser Kellyanne Conway insisted Trump was "fully knowledgeable" about the situation prior to the phone call.
"His foolish phone call threatens our national security."
While the U.S. does not recognize Taiwan as an independent nation, it sold the island $12 billion worth of arms in the 1970s as part of an agreement that commits Washington to helping Taiwan defend itself.
Trump took to Twitter to downplay the phone call.
"Interesting how the U.S. sells Taiwan billions of dollars of military equipment but I should not accept a congratulatory call," he tweeted.