President Donald Trump's immigration ban has not just stranded travelers. It's also dashed the dreams of thousands of people around the world.
Here are some of their stories.
'A terrible error in the history of the U.S.'
After two years planning, the Suleiman family were turned back to Iraq when they tried to board a flight from Cairo to New York.
"I have prepared for this journey and this immigration for two years," said Fouad Suleiman, a father of three who previously worked as a translator for USAID. "I sold my house, I sold my properties. The most annoying thing that I feel guilty about ... my kids left their school. So one whole year will be, I don't know what to say.''
That job allowed the 52-year-old Suleiman to apply to emigrate to the U.S. via a program known as the Special Immigrant Visa. It was created by U.S. lawmakers to help the thousands of Iraqis who risked their lives helping Americans after the 2003 invasion.
He applied for U.S. visas for himself, his wife, 10-year-old and 17-year-old daughters and a 19-year-old son in September 2014. The paperwork came through on Dec. 6, 2016.
Once they heard rumblings about Trump's intention to ban Iraqis from going to the U.S., the family hustled and moved their travel plans forward.
PHOTOS: 'Trump Out, Refugees In': Ban Sparks Protests Across the Nation
They were booked on a flight from the Egyptian capital to New York's JFK airport on Saturday, just hours after Trump's executive order went into effect. They were told they could not board the flight to New York and were turned back to Irbil, Iraq.
"I believe it's a terrible error in the United States, a terrible error in the history of the United States," Suleiman said. "I thought America is an institution and democracy. I see like... autocracy."
His youngest daughter, Shad, had studied English at an international school in Iraq and was very excited about moving to the U.S.
Asked what she wanted to be when she grew up in America, she did not hesitate with her response: "Astronaut."
Now their new life has been put on indefinite hold.
'I'm really worried about the future of the U.S.'
"My home is in America. I'm paying rent for my apartment in New York, but I can't go there right now," said Saira Rafiei, a 32-year-old Iranian who is now stuck in Tehran.
Rafiei has been enjoying what she called the "rigorous atmosphere of American academia" since 2010.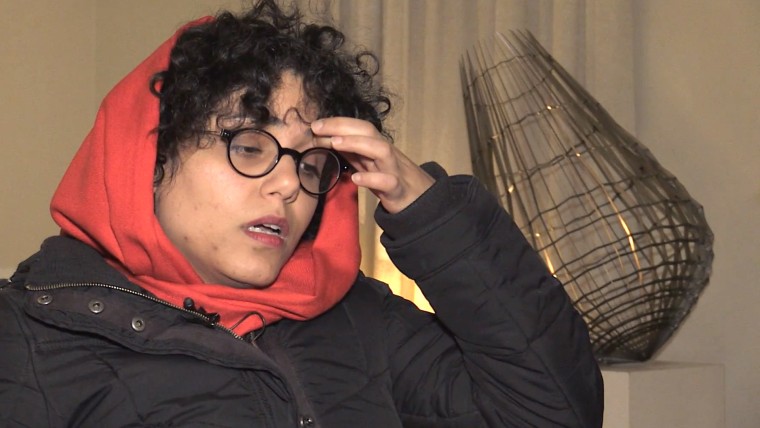 She was initially a student at New York University and she is now doing her Ph.D. in political science at The City University of New York.
Rafiei has an F1 student visa that is valid for multiple entries in and out of the United States for another two years.
She had been in Tehran and was scheduled to fly back to New York via Abu Dhabi on Saturday when she and a group of other Iranian students were blocked from boarding the plane.
Rafiei was told to sign a document or else her visa would be revoked. She described the experience as "humiliating" and said she felt like she was treated like a criminal — despite the fact that she and many of the other Iranian passengers had valid visas and green cards.
"You somehow have this feeling that you can't trust the U.S. government because the U.S. government doesn't even respect its own policies," Rafiei said. "As I said, some of these people had green cards and they thought that they could go there without any problems."
Rafiei's final dissertation paper for her Ph.D. is on Trump and authoritarian movements.
For months she's been listening to the billionaire's speeches but had thought of him as a showman. Since the weekend, she's nervous.
"I think his policies, his agendas are really dangerous," Rafiei said. "I'm really worried about the future of the U.S. and the whole world."
As for her future, she said she doesn't know what is going to happen.
"Of course I want to go back there because I really love my school. My friends are there, I have worked hard to get into that school," Rafiei said. "I'm not optimistic, but I wish I can there again."
'Unjust Conditions'
Oscar-nominated Iranian director Asghar Farhadi said he will skip next month's Academy Awards following Trump's executive order, saying he would not attend even if granted an exception to the travel ban.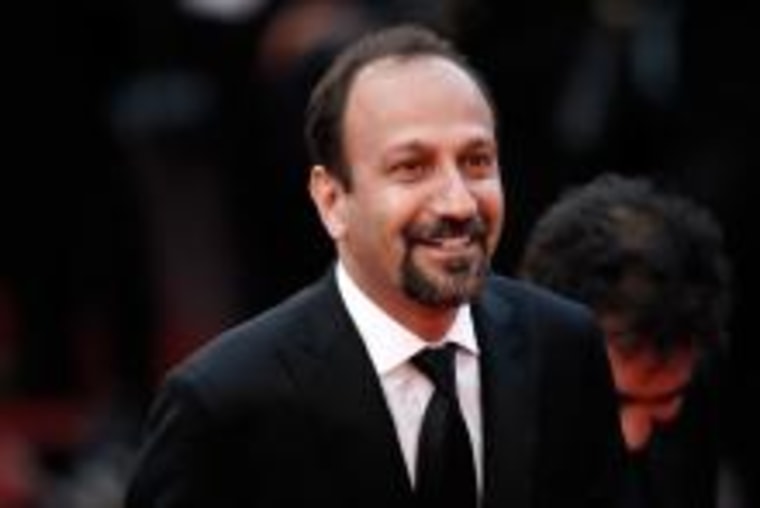 In a statement to the New York Times, Farhadi said he previously planned on attending the event with his cinematographer.
"I have decided to not attend the Academy Awards ceremony alongside my fellow members of the cinematic community," Farhadi, whose movie "The Salesman" is up for Best Foreign Language Film, told the Times. "I hereby express my condemnation of the unjust conditions forced upon some of my compatriots and the citizens of the other six countries trying to legally enter the United States of America and hope that the current situation will not give rise to further divide between nations."
Farhadi's 2012 film "The Separation" won an Oscar for Best Foreign Film five years ago.
Syrian girls miss their fatherRazan Alghandour, a 26-year-old Syrian, and her two daughters were anxiously awaiting a long-awaited reunion with her husband and the girls' father in the States on Saturday when it was thwarted because of what she was told was "the new executive order."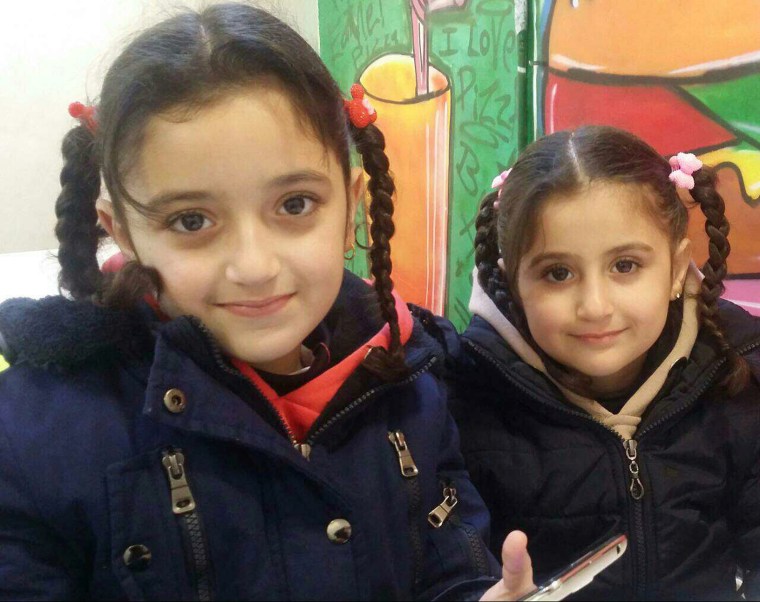 Alghandour and her girls, Hanan Kassar, 8, and Layan Kassar, 5, had received visas at the U.S. Embassy in Amman, Jordan on Jan. 23, 2017.
They had flown from Amman to Kiev, Ukraine where they were to connect with a flight to New York. But when they tried to board the plane on Saturday, they were turned away and sent back to Amman.
Now her husband, Fadi Kassar, is sitting in Milford, CT. devastated that his wife and children have not been able to join him. He wept as he spoke to NBC News in Connecticut on Saturday.
"It's the reaction of every father. Every father wants to see his kids," Kassar said through a translator.
"Now they are back in Jordan. They don't have luggage. They don't have clothes to wear. They don't have anything," Kassar said.
Trump's executive order suspended Syrians from coming to the U.S. indefinitely.
The family has been apart for over two years; Kassar began his own odyssey to reach the U.S. in 2014 and was finally granted political asylum after spending a month in detention.
The family has keep up communication through the Internet.
"But that's nothing," Alghandour told NBC News in Amman. "They want to be with their father and see him, they miss him.'
Kassar hopes Trump rethinks the ban.
"I want him [Trump] to know that in America there are human rights. And we are honest and nice people. And we love America and we love the American people," Kassar said.
Orthodox Christian Syrians went back to Damascus 'with dignity'
After waiting 13 years for permanent residence visas to live in the U.S., Syrians Jozfin Alshahaf, a 60-year-old retired elementary teacher, and her husband Basam Abou Asali, a 62-year-old merchant of oriental handicrafts, were ready to go.
But when the Orthodox Christian couple arrived in Philadelphia on Saturday and the authorities told them they had to go back to Syria, they were incredulous.
"I said, 'Are you joking?'" Alshahaf told NBC News by phone from Damascus Monday.
She was told they had two options: to get back on a plane to Damascus or spend the night in jail.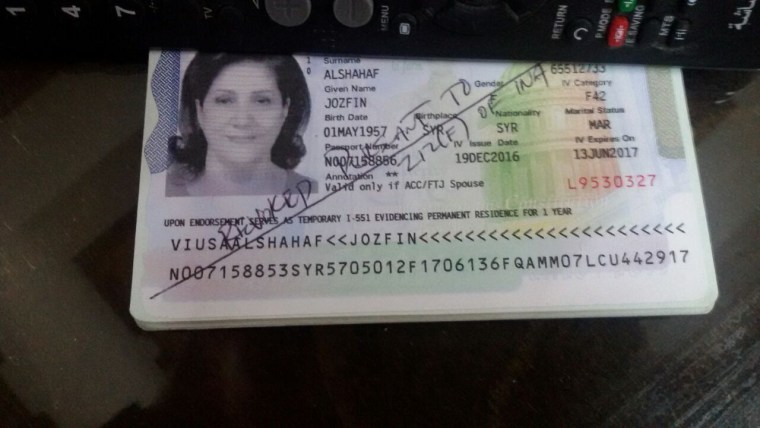 "I told him [the immigration official], 'We came with dignity from our country and we will return with dignity to our country. We didn't do anything. We returned back and we didn't want to stay."
Alshahaf had family waiting to meet them at the airport in Philadelphia and she said that when she asked if could call them or a lawyer, she was told, "No."
"We were looking forward to going there and we felt we did not need to be treated like that," Alshahaf said. "We know that America is a country of democracy. We know that America is a country of freedom and when we were treated that way, that image was gone, gone."
Trump's executive order suspended Syrians from coming to the U.S. indefinitely. But Trump had told the Christian Broadcasting Network on Friday that under his administration, Christians would be given priority when applying for refugee status in the United States.
Alshahaf's brother-in-law in Allentown, PA. is following up on the case with lawyers.