The Pentagon boasted Saturday that its coordinated show of military force obliterated key chemical weapons facilities in Syria and set back the country's chemical weapons capabilities "for years."
But military and Middle East experts say the predawn onslaught — touted by the Defense Department as "precise, overwhelming and effective" — appears to have been little more than an empty gesture and likely did not do much to alter Syrian President Bashar al-Assad's military calculus.
Gen. Douglas Lute, the former U.S. ambassador to NATO, said that Assad's threshold for pain is very high because "he's in a fight for his life" to maintain control of his country, which has been mired in a seven-year civil war.
The airstrikes, which targeted three facilities involved in research or storage of chemical weapons in western Syria, won't disable him from taking further action — whether chemical or conventional, Lute said.
"I think he's feeling reasonably good right now," Lute said of Assad. "Some of his facilities were struck, but it doesn't really challenge his hold on the country."
President Donald Trump on Friday ordered the military to strike targets in Syria in conjunction with France and the United Kingdom after a suspected chemical weapons attack reportedly killed dozens of Syrians. According to the Pentagon, those targets included a scientific research center in the capital of Damascus, a chemical weapons storage facility near the city of Homs, and a chemical weapons equipment and military outpost also near Homs.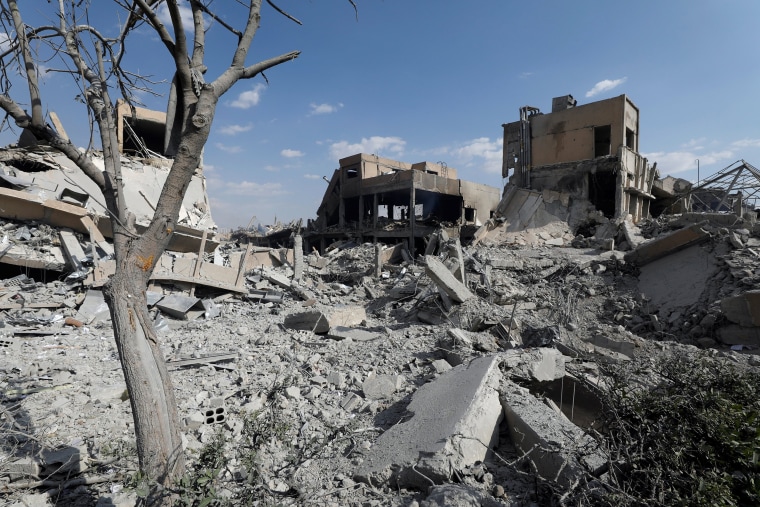 But experts said it's unclear how long of an impact the strike would have on Assad's weapon capabilities and whether it would dissuade him, as intended, from using chemical weapons in the future. Syria has repeatedly denied using chemical weapons against its people.
They also said the so-called red line that the Trump administration is drawing, meant as a marker for reprisals, could be problematic.
"People will see [the reasoning for the strike] and say, 'Does that mean that Bashar al-Assad has the green light to use conventional munitions against defenseless civilians?'" said former Ambassador Lincoln Bloomfield, who served in the past three Republican administrations, most recently as the assistant secretary of state for political-military affairs under President George W. Bush.
Assad, meanwhile, appeared unruffled Saturday as he strolled into the presidential palace in Damascus, briefcase in hand and mere miles from where some of the missiles struck chemical weapons depots hours earlier, according to a video released on Twitter by the Syrian regime.
While the attack may have destroyed the facilities where Syria combines its chemical agents, the strike likely will only cripple the country's ability to deploy certain agents, such as sarin gas, experts told NBC News.
Sarin was not the only agent used in the alleged chemical attack last week on the rebel stronghold of Douma, east of Damascus, senior Trump administration officials said Saturday.
Defense Secretary James Mattis told reporters Friday that chlorine gas was also used. Experts say that it's a common industrial chemical that is not difficult to produce and can be added to a barrel bomb or improvised artillery rocket.
It's unlikely Syria's ability to produce or find the chemical were inhibited by the airstrikes in any way, said Justin Bronk, a research fellow at the Royal United Services Institute in London.
The widespread use of chlorine for commercial purposes means that it is not included in the Chemical Weapons Convention that came into effect in 1997, a point readily cited by the Russian and Syrian governments. But the use of it as a gas in war or as an attachment to an explosive does constitute a war crime, experts said, and it's a simple weapon that has roots that go as far back as World War I.
That's why some experts don't think the strategic strike on chemical weapons facilities in Syria will have a long-term effect on the Assad regime, including its military operations.
"I don't think [their chemical weapons] capability will have been affected significantly at all," Bronk said. "And the delivery mechanism that is the Syrian Air Force — we have not seen much in terms of bases being hit as opposed to chemical facilities. The aircraft were mostly evacuated so they would have remained untouched."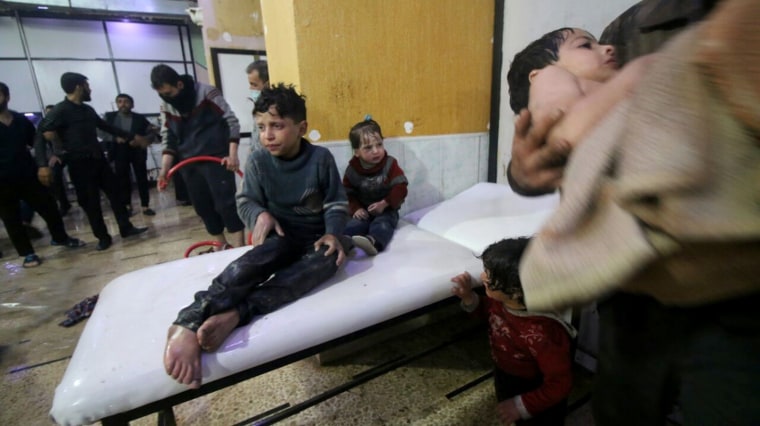 That evacuation likely occurred soon after Trump telegraphed the coming military punch with a tweet this week that alluded to striking inside Syria. But it's also likely due to the coordination between the U.S., the U.K. and France, experts say.
And many see that as the silver lining. The stated support of NATO Chief Jens Stoltenberg for the operation also helped boost a relationship between the United States and its Western allies.
"When you need to move together in a concerted coordinated way and have an effect, you need to do that with allies because this is not a pickup game," Lute said. "This is why you maintain alliances and invest in alliances because on occasion you need them."
But it's still unclear what the United States and its allies will do next.
The White House's strategic apprehension to take greater control in the Syrian conflict is informed by "a lingering exhaustion going back many years," said Bloomfield, who listed off the United States' multiple conflicts in the Middle East since the turn of the century.
"There's a sense the United States should either do nothing in some of these situations or the minimum necessary," he said. "There are few people who have a stronger strategic appetite in respect to these problems in the world."