LONDON — A 20-foot-tall inflatable orange baby with the face of President Donald Trump will float over Britain's Parliament next week, one of many acts of protest planned to coincide with Trump's first visit to the U.K. since taking office.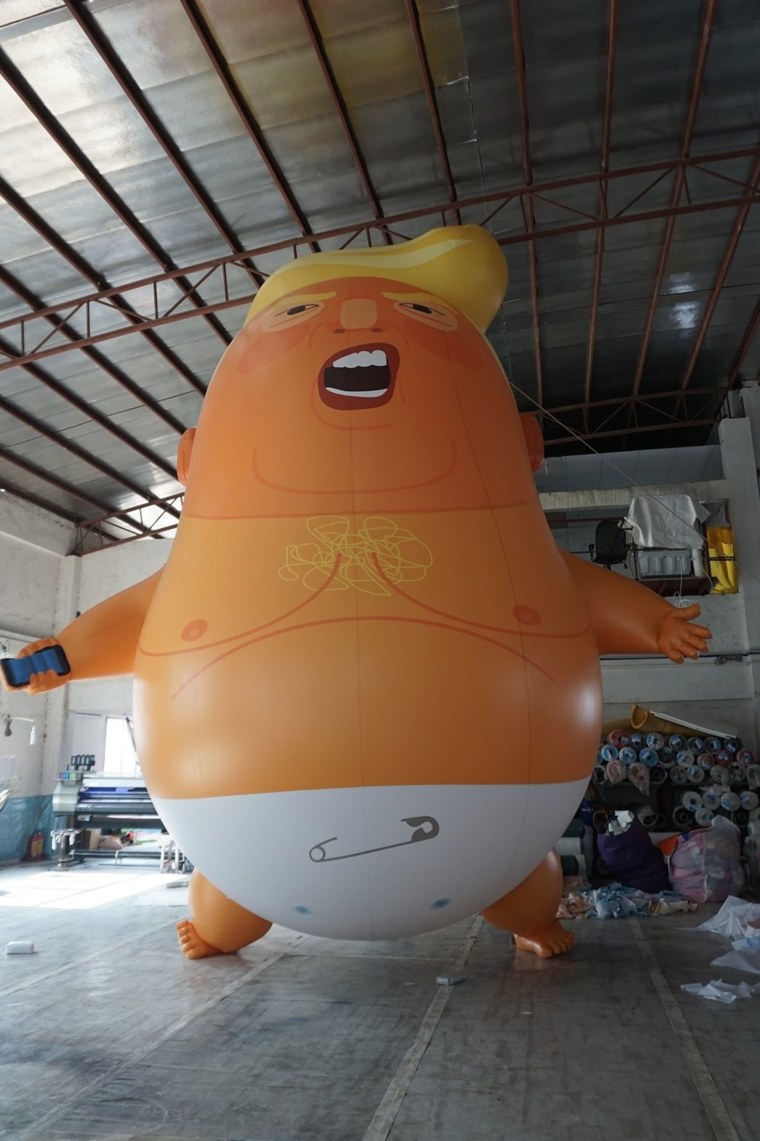 Tens of thousands of demonstrators are expected to march in London, Scotland and elsewhere during his trip, which takes place amid a growing transatlantic trade war and global dismay at the treatment of immigrant families at the U.S. border.
Britain is keen to reinforce its special relationship with Washington as it prepares to leave the European Union, a divorce that will shape the country's standing in the world.
But Trump's visit has already been scaled down after months of back-and-forth; the president canceled plans to open the new U.S. Embassy in January and his official state visit — opposed in a petition by at least 1.9 million Brits — appears to be on ice.
Trump will instead pay a working visit on July 13 for bilateral talks with British Prime Minister Theresa May, a meeting with the queen and possibly a round of golf in Scotland where he owns two resorts.
Sir Christopher Meyer, a former British ambassador to Washington and author of "D.C. Confidential," said Trump's "deeply controversial" reputation made it "unlikely he'll be strolling around Trafalgar Square" or any other prominent sites that could pose a security risk.
"The easiest answer to avoiding demonstrators is using helicopters," he said. "That makes it possible to get about without being much bothered by protests at all."
Ridicule
Mass anti-Trump marches have been more than a year in the planning, after May first extended an invitation for Trump to visit the U.K. in early 2017.
The largest are planned in London, where organizers of Together Against Trump estimate up to 100,000 people, including labor unions and rights groups, will march through the center of the city to Trafalgar Square.
The people behind last year's successful Women's March are staging a Bring The Noise rally earlier on the same day to end in Parliament Square, opposite the House of Commons. (You can already buy the T-shirt.)
"We're planning a proper British welcome for Trump," said Shola Mos-Shogbamimu, 42, a co-organizer of the march and founder of Women in Leadership.
"Change for tolerance, justice and equality is no longer jurisdictional but global," she said. "We are our brothers' and sisters' keepers. I cannot stand by and be complicit through silence as intolerance, injustice and discrimination shape hostile policies, laws and environments for many. If all I have is my voice and vote, I will make them count."
A quieter but eye-catching protest is planned by Leo Murray, 41, who received permission Thursday to fly a helium-filled blimp of Trump as a baby during the visit.
"Moral outrage has no affect on Trump because he has no shame, he's immune to it," the climate campaigner said. "But he has a tremendously fragile ego so ridicule is an effective form of protest," he added.
"So we want to make sure he knows that all of Britain is looking down on him and laughing at him."
Crowdsourced funding for the specially commissioned $6,500 balloon was easily achieved, but Murray has yet to secure permission from city officials to tether the blimp to Parliament Square. However, he remains confident that his "Trump Baby" will be in the skies over London. "This is exactly the kind of nonviolent but effective protest that they should be encouraging," he said.
'Deeply controversial'
Permission for the blimp came from London Mayor Sadiq Khan's Greater London Authority. Khan is among a series of high-profile British figures to have publicly clashed with Trump over everything from immigration to health care.
Londoners were angered by the president's politicization of the deadly London Bridge terror attack in June 2017 in which he called Khan "pathetic" even as the city mourned the eight victims. The two had locked horns previously. Khan, a Muslim, said in 2016 that Trump's proposed travel ban on Muslim nations was "ignorant." Trump, then still a candidate, responded by challenging Khan to an IQ test.
Last month, the president said in a speech to the National Rifle Association that British hospitals were "like a war zone" because of stabbing wounds — an assertion apparently based on the comments of a doctor. "Knives, knives, knives, knives," Trump said.
He has also been rebuked, twice, by May: in January, for retweeting inflammatory anti-Muslim and anti-immigrant videos originally shared by a far-right U.K. political group, and again on Wednesday when she called the separation of children from their parents at the U.S. border "deeply disturbing" and "wrong."
"Trump is a disruptor in diplomatic relations just as he is at home," said Meyer, the former ambassador. "He is deeply controversial overseas and anyone who bothers to read poll figures from the U.K. will see that public opinion of him in Britain is very low."
However, he added: "It is my view that none of that is an argument for withdrawing an invitation to turn up. There is a clear need to talk candidly with him."
Indeed Trump's not the first American president to visit the U.K. at a time of controversy. When President George W. Bush arrived for a full state visit in 2003, months after the invasion of Iraq, he was met by widespread anti-war protests but still attended a formal banquet with the queen.
"If we can complete a full state visit under those circumstances then it should be possible to keep Trump away from the mob," Meyer said.
British officials are reportedly pushing for Trump to visit May at her official country residence, Chequers, 40 miles northwest of London, rather than at 10 Downing Street.
The queen's home at Windsor Castle, where Prince Harry married Meghan Markle on May 19, might also be favored by the Secret Service over Buckingham Palace because of its more secure location. "Trump can inspect all the royal guards he wants there," Meyer said.
'Shared values'
On the windblown cliffs of western Scotland, there are whispers that Trump could also squeeze in a round of golf during his brief trip.
He owns two golf resorts in the country — Turnberry in Ayrshire and Menie in Aberdeenshire — and his mother, Mary, was born on the remote Scottish island of Lewis before emigrating to America.
Trump will reportedly spend the night at Turnberry before returning across the Atlantic. But in Scotland there are more planned protests.
Kirsty Haigh of Scotland Unite Against Trump, said, "Trump likes to talk up his Scottish connections, but we are going to show that his politics are not welcome here."
Among those attending demonstration in Glasgow will be Andrea Mullaney, 43, and her 2-year-old son. "When you have a child that is the same age as those crying and being put in cages at the U.S. border it makes you think how horrific that is and we have to make it clear that this kind of behavior is beyond the pale," she said.
She said the fact Trump was not a British leader did not diminish the need for protest. "People marched against apartheid and the Iraq war," she said. "The international community has got a role to play in showing that what Trump stands for is out of order.
"Besides, Scotland has been protesting Trump long before he was president; he has had business interests here and has shown that he doesn't care about the local environment."
Ian Blackford, a senior Scottish National Party lawmaker, said Scotland's historic ties to the U.S. would not "be undermined by the policies of one president."
"We share values with the American people of equality, diversity and support for human rights and must always stand up for those values when they are threatened," he said.
Others remain incredulous that Trump still has an open invitation to return for a full state visit, complete with public ceremonies, at a later date.
Opposition Labour Party leader Jeremy Corbyn said in an interview with Sky News on Friday that the trip should be delayed over Trump's immigration policies.
"I wouldn't have invited him and I think the prime minister's got ample reasons to withhold the invitation if she wants to," Corbyn said.
"We need to say very clearly to Donald Trump, We live in a multicultural society, we're proud of it. Get over it and start living in one yourself."
In the House of Commons on Wednesday, Labour Party lawmaker Gavin Shuker asked May: "What does this man have to do to have the invitation … revoked?"
The prime minister replied: "When we disagree with the United States, we tell them so. But we also have some key shared interests … and it is right that we are able to sit down and discuss those with the president of a country with which we have had a longstanding — and will continue to have a longstanding — special relationship."
So Trump will come to Britain, and Brits will almost certainly be out in force to make their feelings clear.