As speculations swirl about the health of North Korean leader Kim Jong Un, President Donald Trump said he was aware of how he is doing.
"I do know how he's doing, relatively speaking," Trump said during a Rose Garden news conference Monday after saying, "I can't talk about it now."
Trump also speculated that more news of the leader would be coming soon.
"You'll probably be hearing in the not-too-distant future," he said.
Kim failed to attend his late grandfather's birthday celebrations on April 15, a significant date in North Korea's calendar known as "Day of the Sun," and he has not made an appearance since.
Several U.S. officials told NBC News last week that U.S. intelligence reporting indicated that Kim had recently undergone cardiovascular surgery.
South Korean President Moon Jae-in's office responded to the reports, denying that Kim was ill. Several other officials have since made similar statements to quell the rumors.
Air Force Gen. John Hyten, vice chairman of the U.S. Joint Chiefs of Staff, said Wednesday that Kim remained in control of North Korea.
"Kim Jong Un is still on full control of North Korea nuclear forces and North Korea military forces, and I have no reason not to believe that," Hyten said in a briefing.
In China, North Korea's biggest ally, state media CCTV reported Monday that Kim had sent a letter thanking construction workers for their role in development in the city of Samjiyon. CCTV cited a North Korean newspaper for reporting on the letter.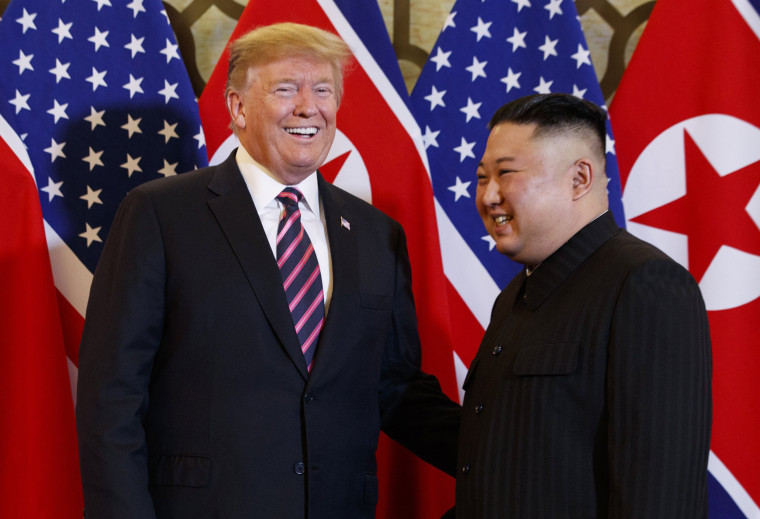 Verifying events from inside North Korea is difficult to impossible, as it is one of the most secretive nations on Earth.
On Tuesday, South Korea's minister for North Korean affairs said that although Kim has never previously skipped Day of the Sun celebrations, his absence from ceremonies is not particularly unusual.
"Many anniversary events, including celebrations and a banquet, had been canceled because of coronavirus concerns," Unification Minister Kim Yeon-chul said at a parliamentary hearing.
He added that since mid-January, there have been at least two times when Kim was out of sight for nearly 20 days. "I don't think that's particularly unusual given the current [coronavirus] situation."
Download the NBC News app for breaking news and politics
Trump, who last year became the first U.S. president to step onto North Korean soil since the 1953 armistice divided the peninsula, echoed his previous regards on Monday.
"I just wish him well. I've had a very good relationship with Kim Jong Un," he said.