President Donald Trump said Saturday that he will withdraw from a landmark arms control agreement the United States signed with the Soviet Union, accusing Russia of violating the pact.
The Cold War-era treaty required both countries to eliminate short-range and intermediate-range nuclear and conventional missiles from their arsenals.
"Russia has not, unfortunately, honored the agreement, so we're going to terminate the agreement, and we're going to pull out," Trump told reporters after a rally in Nevada.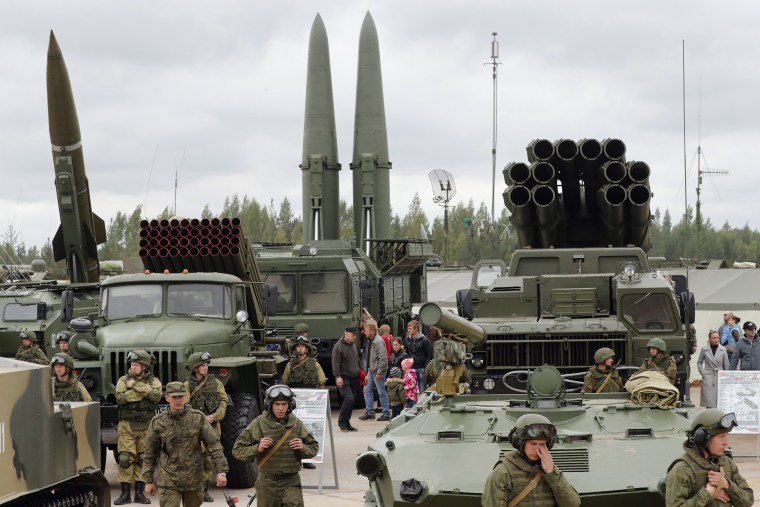 The agreement has constrained the U.S. from developing new weapons, but Trump said Saturday that the U.S. would begin developing them unless Russia and China agree not to possess or develop the weapons. China is not currently party to the pact.
"We'll have to develop those weapons, unless Russia comes to us, and China comes to us, and they all come to us and they say 'let's really get smart and let's none of us develop those weapons,'" he told reporters.
"If Russia's doing it, and if China's doing it, and we're adhering to the agreement, that's unacceptable," he added.
Trump didn't provide details about violations, but in 2017 White House national security officials said Russia had deployed a cruise missile in violation of the treaty. Earlier, the Obama administration accused the Russians of violating the pact by developing and testing a prohibited cruise missile.
Russia has repeatedly denied that it has violated the treaty and has accused the United States of not being in compliance.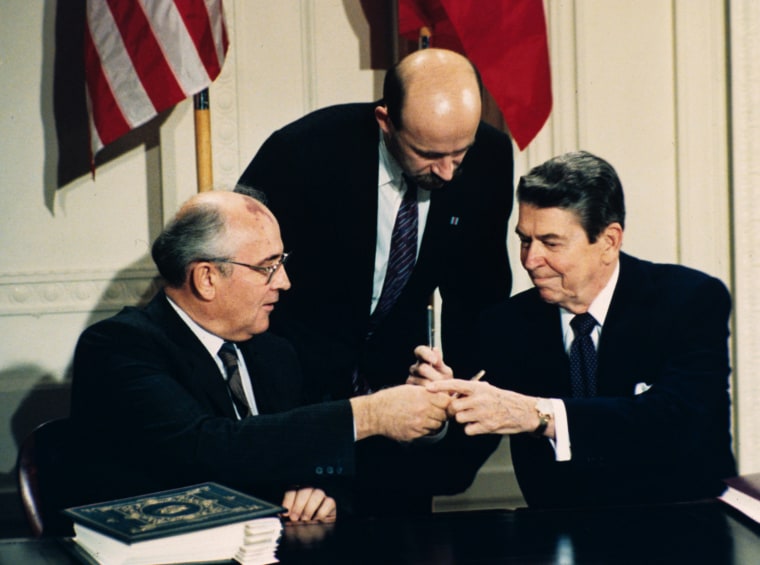 Russian Deputy Foreign Minister Sergei Ryabkov hit back at Trump on Sunday, accusing Washington of blackmail and claiming U.S. withdrawal from the nuclear agreement would be "a very dangerous step."
"We condemn the ongoing attempts by blackmail to achieve concessions from Russia," Ryabkov was quoted as saying by Russian state news agency TASS.
He said the Trump move "will cause the most serious condemnation from all members of the international community who are committed to security and stability."
"Apparently, the inability and unwillingness to negotiate with us on a reasonable basis are pushing certain forces in Washington to bring the country's leadership to a decision on the formal withdrawal from the treaty," he said. "This would be a very dangerous step."
Germany's Foreign Minister Heiko Maas said Sunday the U.S. should consider the consequences, both for Europe and for future disarmament efforts, of pulling out of the treaty.
"The treaty ... has for 30 years been an important pillar of our European security architecture," Maas said in a statement issued on Sunday. "We have often urged Russia to address serious allegations that it is violating the agreement. We now urge the U.S. to consider the possible consequences."
The Campaign for Nuclear Disarmament also condemned Trump's decision.
"This is a reckless move by Trump," CND General Secretary Kate Hudson said in a statement on Sunday.
"Tearing up the Intermediate-Range Nuclear Forces Treaty will mark the end of the restraints on nuclear arsenals achieved in the 1980s. The danger is that we will see spiraling arsenals on a Cold War scale."
Tom Plant, director of proliferation and nuclear policy at the London-based Royal United Services Institute think tank, described Trump's decision to pull out of the pact as "premature."
Plant said that while most NATO members accept that Russia has been violating the agreement, Moscow was still partly constrained by the pact as it tried to maintain the appearance of legitimacy.
"This is handing a bit of a freebie to the Kremlin," he said. "It feels like a bit of a blunder."
Plant suggested that withdrawing from the pact may be useful to the U.S. in the Asia Pacific region, where more ground-based missile systems may help "deter Chinese aggression" in places like the South China Sea.
"The INF is a bilateral treaty with global scope, so China is not bound by it but the U.S. and Russia remain bound by it even in the Asia Pacific," he said.
Trump's announcement came as his National Security Adviser John Bolton was headed Saturday to Russia, Azerbaijan, Armenia and Georgia. His first stop is Moscow, where he'll meet with Russian leaders, including Foreign Minister Sergei Lavrov and Security Council Secretary Nikolai Patrushev.
Moscow-Washington relations remain frosty over the Ukrainian crisis, the war in Syria and allegations of Russian meddling in the 2016 presidential race and upcoming U.S. midterm elections.