HAMBURG, Germany — After months of questions about their relationship, President Donald Trump and Russian President Vladimir Putin shared their first handshake at the G-20 summit Friday.
Meanwhile, protests at the annual event caused problems for First Lady Melania Trump.
Her spokeswoman said she was unable to leave her residence because it had not been cleared by local police. "It's unfortunate," said her spokeswoman, Stephanie Grisham.
The handshake between Trump and Putin comes ahead of their highly-anticipated meeting at the sidelines of the G-20 summit, a gathering of leading rich and developing economies that is hosted this year in Hamburg, Germany. It also comes after months of investigations into alleged Russian meddling in the 2016 election.
The Trump-Putin meeting was scheduled for the afternoon (morning ET) of the first day of the summit.
In the morning, a procession of world leaders arrived at the G-20 and each was greeted by German Chancellor Angela Merkel.
Among them, she greeted Putin and then Trump. The U.S. president has traded criticism with Merkel, with the German leader most recently calling out his decision to withdraw from the global Paris Climate Accord.
But on Friday at the G-20, Trump told Merkel: "You're doing a great job."
Trump also met with Mexican President Enrique Pena Nieto and the two leaders discussed NAFTA as well as regional concerns such as illegal migration, the impact of drug trafficking and Venezuela's economic crisis.
Trump, when asked by a reporter, stated he "absolutely" wanted Mexico to pay for building a controversial border wall between the two countries.
Allegations of collusion between Trump's presidential campaign and the Russian government hang over the much-anticipated meeting between the two leaders. These accusations, which Trump calls "fake news," are being investigated by special counsel Robert Mueller as well as House and Senate intelligence committees.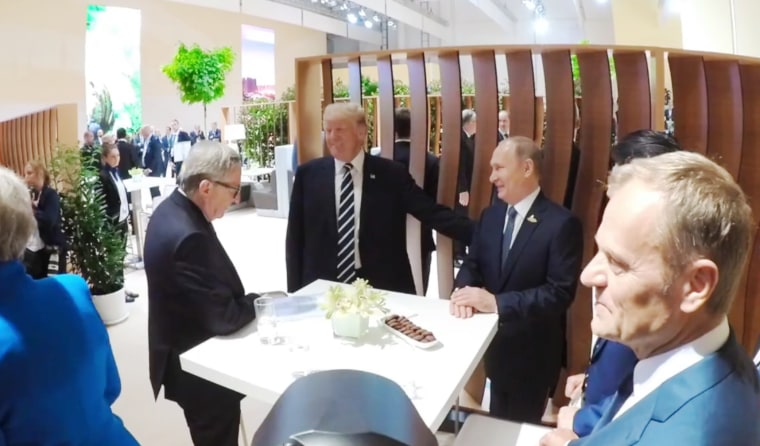 U.S. intelligence agencies have concluded that Putin ordered the campaign to influence the 2016 presidential election and that he wanted Trump to win, something Russia has repeatedly and vehemently denied.
Related: Donald Trump in Poland Takes on North Korea, Russia
Away from the corridors of power, this week's G-20 summit has already been marked by clashes between demonstrators and local security officials.
Anti-globalization activists set dozens of cars ablaze and tried to block delegations from entering the summit.
Dozens of officers built moving lines around the city using water cannons to force away protesters from streets. Some were physically moved for hundreds of yards from a protest sit-in in front of the first security checkpoint near the summit grounds.
PHOTOS: 'Welcome to Hell' Protesters Clash on Eve of G-20
Early Friday, activists shot firecrackers at a police helicopter and only narrowly missed it, police said. Windows at the Mongolian consulate were also broken and the wheels of a car belonging to the Canadian delegation were punctured.
On Thursday, 111 police officers were injured and 29 people arrested following clashes that involved upward of 10,000 people.
Alexander Smith reported from London and Mansur Mirovalev reported from Moscow.